Happy Friday everyone, I hope you have had a good week so far and have something fun planned for the weekend? Are you feeling Christmassy yet or is it too early for you? It's never too early to start Christmas in my opinion, so this weekend we are off for a spot of ice skating, Christmas decoration shopping, as well as watching the light switch on in Sheffield city centre. Dexter has a sleepover this evening, while Nik and I are off to the Cinema to see the new Black Panther film, and we are all off to a friends house for a fondue and a sleepover tomorrow evening, so it's a fun filled weekend all round! Happy Days! Let's not forget today's wedding though, as it's a thing of beauty. Cindy and Joey were married on 2nd April 2022 in Sylmar,  LA. They held a DIY, family friendly ranch wedding with loads of personality, bursting with colour and a wonderful array of animals. The whole mood was 'casual and comfortable' and turned out to be a fantastic day. Big thanks to Holly Castillo Photography for the fab pictures.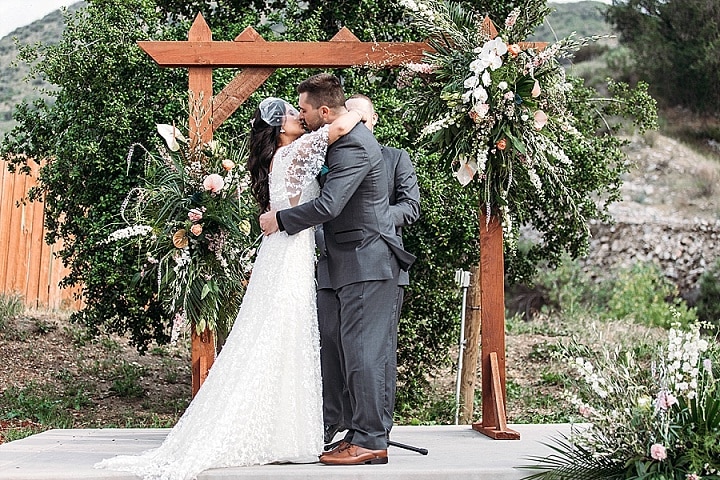 Cindy and Joey have known each other for a decade, becoming close friends almost instantly after meeting and beginning their lives in Los Angles. Cindy and Joey met through Jose (the wedding officiant), a close friend of Cindy's from high school that she FREQUENTLY visited while he attended film school in Orlando. Joey and Jose became good friends while in film school and then roommates (for 4 years) while living in LA. Cindy never lived far from the two.
As the couple worked hard to navigate adulthood in this crazy city, they became closer as friends and shared A LOT of their time together. Cindy and Joey dated on and off during their 20s (what a time!), sharing many pivotal and exciting experiences, and knew that there was some force that always brought them back together. It was no wonder to a lot of people that knew Joey and Cindy well that they would (FINALLY) commit to each other.
Right as the pandemic was beginning in the US, in early March 2020, Cindy and Joey had been dating steadily (for the upteenth time around) for a few years and decided to move in together, merging with Cindy's two cats and Joey's dog in their new home. After roughing it through all the challenges of that year and surviving (and thriving) in the same space, Joey popped the question during a quarantine dinner at home that was so special. Now, they cannot be more thrilled to celebrate their union with all of their family and friends together.
When Cindy and Joey were planning their wedding, the main goal for both of them was to have an epic, fun party (with the best music), where all of their family and friends could come together and celebrate their love and also their love for everyone there. Cindy did most of the planning, incorporating her favorite colors and wanting the mood and setting to be casual and comfortable for all. They only visited one venue, Reptacular Ranch, and knew immediately that the space and its unique amenities would fit perfectly with their envisioned vibe. The couple also used the help of their talented loved ones: the musicians and DJ were friends and family, and their amazing florist was a close friend. Their couples' dance was even choreographed by family. To make everything complete, they included Cuban food (Cindy's background) and desserts from their favorite bakery, Porto's (also Cuban).
Supplier Shout Outs
Holly Castillo Photography