It's that time of year again when we go a bit dark and moody on the blog. With Halloween just around the corner I thought it was about time we celebrated something a bit seasonal and look at some gothic inspired Halloween wedding ideas. We LOVE Halloween in our house, it's actually Nik's favourite holiday! Our house is decorated, the 6 ft inflatable pumpkin is adorning our drive outside and the treats are ready for Monday! So lets look all things dark and mysterious! Dark green velvet, black wedding cakes and deep purple invitation suites, all can be seen in today's shoot. The shoot took place on 16th January 2022 at Smithfield Winery in Virginia, it was Captured by Dakotah Van Doran Photo
and submitted by Homegrown Happenings by Hallie.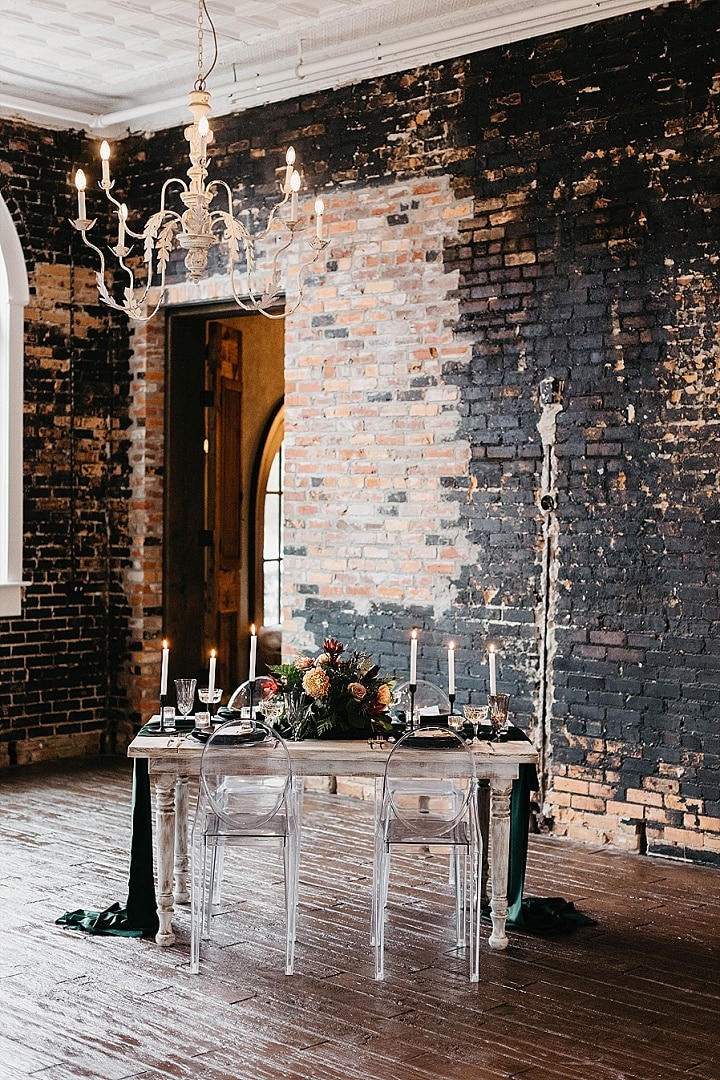 Hallie the planner tells us more about the shoot 
This elegant and moody inspired shoot took place at the stunning Smithfield winery that provided the most gorgeous backdrop. We were unique in the pairings of colours, florals, furniture, tableware gowns, hair and make-up styles, and venue. The venue itself is stunning that a ton of décor was not needed. Instead I choose to compliment Smithfield Winery's exposed brick walls. Less is sometimes more, especially in this case.
This venue was intricately designed by engineer, owner and wine maker, Natasha Weiss. Each piece inside this venue from the doorways, wood, brick, etc were hand picked by Natasha and it flows together so beautifully. I choose elegant dresses, dark lipped make-up and elegant but simple hairstyles to compliment the bridal gowns. Old Hollywood glam inspired me for the bride and groom couple and they did not disappoint.
Immediately when receiving these galleries I knew these needed to be published for everyone to see the pure greatness that occurred at our shoot. Collaborating with such talented business professionals and seeing your vision come to life is such a joy. I hope you all enjoy our work as much as we loved doing it!
Supplier Shout Outs