Happy Tuesday everyone, today I am taking you over to Wales, Bangor to be exact near Snowdonia for this delightful wedding, set on the bride and grooms friends farmland. This was Nia and Llyr's 2nd wedding, the first was cancelled due to Covid, so this is their wedding 2.0 and what a wonderful wedding it is. They went for natural tones, against the barn backdrop, lots of dried flowers and some super pretty handmade projects. Big thanks to Cat Arwel Photohgraphy for the lovely photos.
Nia and Llyr were married on 21st May 2022 (after a cancellation due to covid in June 2021) at Tyn Y Ffridd Farm in Bangor, near Snowdonia (our friend's place). 'After a lockdown postponement our friends offered us their place, we couldn't resist. It had such charm and character. We all worked hard over the next 12 months to get it wedding ready… and there we have it. We both love DIY and the barn/industrial vibes so this was just perfect. We had 110 guests and 12 months to plan with a couple added on with a new venue after cancellation.'
How they met
Mutual friends at the local cricket club! Been together since August 2009.
The proposal
Excerpt from the ceremony….On Christmas Day morning 2014 during a trip to the French Alps with the Thomas Family, Nia and Llyr headed out to the slopes on the first ski lift.  When they reached the top, Llyr was having a problem with his boot, and he bent down to fix it.  Nia growing impatient, told him to "hurry up" and went down the slope without him!  Llyr followed and again, they took the lift to the top only for Nia to see Llyr was having trouble with his boot again.  This time she was kind enough to wait for him and sat down. Llyr bent down to fix his boot but instead pulled something from his bag and turned to Nia on bended knee.  With a beautiful ring in his hands, he asked "will you be Mrs Jones?" Nia of course said yes!
How did you allocate your budget?
Initially did some research on suppliers to gauge costs and the rest Llyr kept a close eye on with a spreadsheet. We tried to do as much as we could DIY and sourcing items second hand or from other people.
Where did you splurge and where did you save?
Splurge:
Music – had a friend sing at reception drinks with a guitarist. So special and created a lovely relaxed atmosphere. We had The Duplettes (3 piece) play our first dance – Me & Mrs Jones – and two 1 hour sets. They were incredible and everyone loved them! Straight after, we had a silent disco till the early hours!
Food – Llyr's Aunty made homemade welsh cakes and we had vegan bara brith from a gorgeous supplier in South Wales. Our caterer on Friday night was the venue's housekeeper/come foodie 'Waffa' who put on a huge Iranian feast for us! The caterers on the day we're local, based in Llandudno 'Outside Catering' to which the flavours could not be beaten and service impeccable. The food just kept coming and no one went hungry. The evening food was a huge grazing table full of cheese… we love cheese so the abundance of it was inevitable!
Location – majority of the guests could stay on site. This was really important to us. Tyn Y Ffridd had so many options for everyone. From self-catering cottages, to tipi tents and bring your own campervan. Can't recommend the venue enough. So many spaces, so much space. The celebrations began on the Thursday with close friends and family all arriving to help set up. It was such fun. There were 3 prime locations at the venue too, to split the day up and make the day flow; the ceremony Barn, the Cowshed for reception drinks, and lastly the Farm Hub for dinner and dancing. It was seamless and meant set-up and breakdown was done in easy, simple steps/sections. Because with a DIY wedding the breakdown is commonly overlooked!!
Saved: 
Flowers – all dried and eco friendly. Plus a huge saving on real flowers. Also did a trip to Aldi and Tesco for a scattering of fresh flowers across the venue.
Bar/drinks – we provided welcome drinks, reception drinks and wine on tables, , but we asked guests to bring a bottle of spirits and a couple of litres of mixers to stock our DIY bar. This meant an open bar for the whole time. We had a couple of friends work the bar (with bar experience) and keep the area tidy, and it meant no one needed to bring any cash with them. The drinks flowed, there were a lot of shots! All our alcohol was purchased in bulk from Macro. And the champagne reception was gifted by Father of the Bride.
Bridal party – 1 bestman, our daughter as maid of honour and our son as paige boy. That was it.
Wedding stationery – invites by whatsapp, and downloaded a template for everything else spending time editing and printing ourselves.
How did you choose your photographer?
I (bride) knew the photographer after meeting through a mutual friend, and following Cat on Instagram we loved the vibe so it was a no brainer. Cat was phenomenal throughout the planning, completely understanding with the cancelled covid wedding, and blended into the background, quietly capturing the wedding and everyone so naturally on the day. Absolutely amazing.
The dress
Dress – needle and thread (purchased via net a porter) Shoes – Dune online. Earrings – Monica Vivander. Veil – etsy wanted simple but needed to make sure the colour was right for the dress as it was not a white/ivory dress. Matched to perfection. Shapewear – love heist studios, they had lots of options and it was what I needed for the dress.
The suit and bridesmaids
Suit – local tailor Trevor Jones, Ruthin. Tie – Liberty's. Jacket – gifted from a friend
Bridesmaids 3 dresses – numerous costume changes – all purchased via vinted Shoes – monsoon
Theme or colour scheme
Natural palette – went with a dried flower and cotton napkins vibe. Tried to do as much ourselves with what we had (napkins were old baby muslins!)
Flowers 
Dried and environmentally friendly, that last for a lifetime. I've shared them amongst friends and family thereafter and they're great keepsakes. We scoured facebook marketplace, car boot sales and other local selling groups for old bottles.
Decoration 
Festoon lighting and paper lanterns were the go to for the day. We didn't need much as the location sold itself with its quirky décor and pieces. Used dried flowers throughout too.
Food 
Canapes – homemade welsh cakes and bara brith
Dinner – Sharing Platters: Barbecued Spiced Chicken with yogurt, Rough Pulled Pork with pickles, Poached Salmon and Asparagus Caesar Salad, Classic Plum tomato, black olive and Greek Feta Salad, Warm Rosemary and Rock Salt Sauteed New potatoes, Warm Olive and Dundried Tomato Foccacia Bread.
Dessert: Key Lime Pie and Raspberry Compote
Evening: Grazing table board with lots of cheese!!
Entertainment
Bouncy castle for kids
Who supplied the stationery?
Used Canva to design a lot. And did a lot ourselves.
Where did you go on your honeymoon?
We had a minimoon in the Grosvenor in Chester, 2 night break away full luxury and relax without the children. It was just perfect.
Personal touches
The signage, pallets, big wooden 'L' & 'N', sliced tree trunks in ceremony barn, all handmade/DIY.
Little anecdotes of our time together behind each of the table names.
The children at little personalised glass bottles to drink from and activity packs on the table.
Thank you notes to all guests as they arrived on the benches.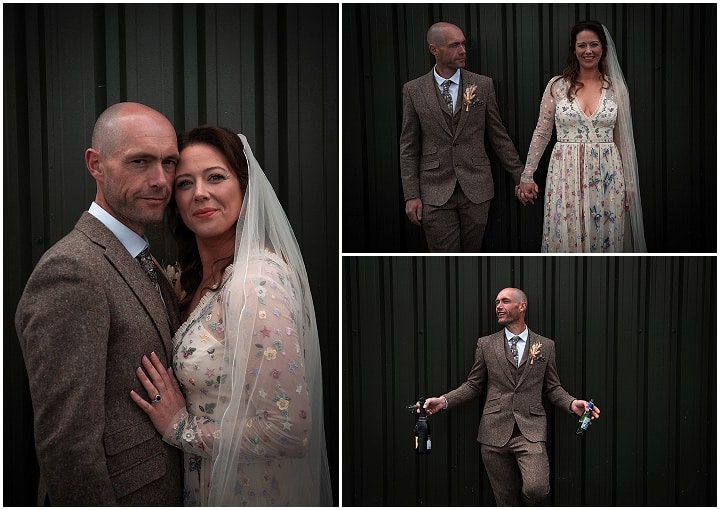 Special moments
Our daughter played the keyboard as I walked down the aisle with my dad. It was so special, and thank goodness we did a rehearsal the evening before, so we could walk the walk and let the tears flow before the big day.
The kids, Molly and Noah gave us the rings during the ceremony.
Bride and groom did a joint speech.
Bride and groom at dusk going off for a photoshoot. It was perfect and time for us to reflect for a few minutes.
Having all of family and friends help out and set-up. Honestly couldn't have done it all without them. The whole weekend was a huge team effort. Hearts are so full of thanks and gratitude to our nearest and dearest.
Advice for other couples
Walk the walk before the big day. I was so nervous about being a complete emotional wreck on the day, and I'm a very emotional person. I was anxious about being overwhelmed, and going through the motions beforehand just made it so much more enjoyable and I could take everything in, instead of being nervous.
To all brides… Get up and say something! When will you ever be surrounded by people that you love and they love you! Its an audience that wants to hear what you have to say, so say it. No matter how small. Take the mic. Stand up!
Communication with your other half is critical. Be open be honest and get involved.
Biggest surprise 
How much everyone loved the silent disco. IT was just fantastic. And meant guest to party all night long without disturbing the sleeping children on site. It worked perfectly.
How long it took to get ready on the morning and how people were there to help! Give yourself enough time, and enjoy it!
How there were no hiccups. Especially given it was a DIY wedding with a lot of suppliers to rely on. The fine planning and preparation meant the day was flawless and everyone had the best time!!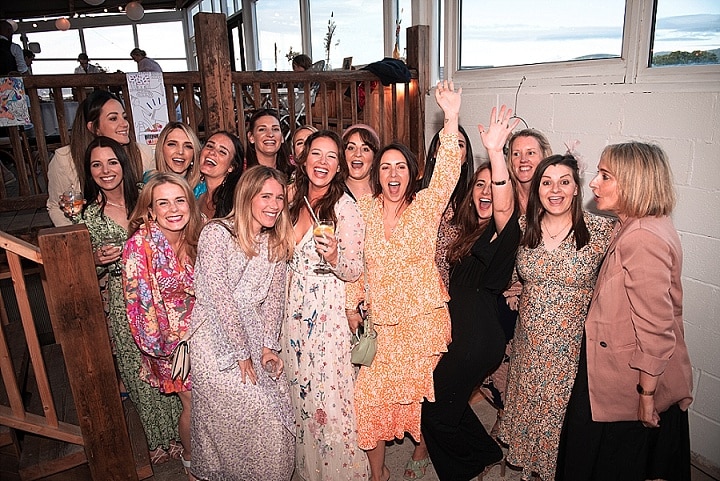 Supplier Shout Outs