Happy Thursday everyone. Now we have gotten over the heat wave how are you all feeling? It got to 39 degrees here in Sheffield on Tuesday!! It was crazy! And now I am off to more hot weather as I am currently on my way to Disneyland Paris with Dexter and his stage school friends. 39 of them are performing tomorrow and Saturday at Disneyland Paris, he has been rehearsing for 7 months bless him, so the time is finally here, I am soooo excited! If you are interested in seeing my Disney adventures then pop over to my Instagram stories to see what we get up to. Now on with today's wedding and it's the turn of Brooke and Brandon who were married on 15th May 2021 in Eaton, Ohio. They wanted a chilled day, so chose a low key backyard picnic wedding with a beautiful outdoor ceremony, what an absolute treat! Big thanks to Eastlyn & Joshua for the gorgeous pictures.
A midmorning ceremony hidden in a hollow, followed by a visually stunning charcuterie picnic on long floor tables; hot cinnamon rolls and fresh espresso under sunshine and wispy clouds.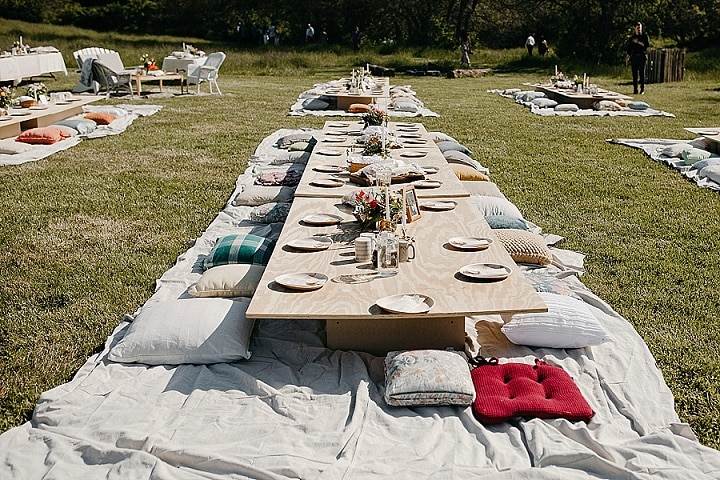 Eastlyn the photographer tells us more
Brooke & Brandon's wedding vision came together so beautifully. This couple planned the most beautiful morning wedding on their family-own farmed outside Dayton, Ohio. Using vintage thrifted pieces, handmade long floor tables, with pillows, rugs and blankets for their guests to sit on, the couple, along with their family, crafted a casual, yet aesthetically pleasing picnic brunch reception. From visually stunning charcuterie boards, to warm cinnamon rolls and a fun coffee cart, to all the vibrantly colourful flowers, their whimsical vision came together, creating a relaxed, joyful Spring celebration of their love.
Brooke's words: "Having the low picnic tables felt like a dream that was unrealistic but I'm so thankful we went with it. It created a casual, effortless space for people to hang out. On top of that, I loved the vibrancy of the many colours I chose to incorporate into my day! Altogether it felt young and fresh.
I chose to give each of my guests a thrifted mug. I've collected thrifted mugs for years and I thought this would be a useful, cost-effective gift to give away. Our guests were able to choose their mug from their assigned table. Then they used them for coffee during the reception."
Supplier Shout Outs
Eastlyn & Joshua