Today's styled shoot is EPIC!!! I see a lot of styled shoots, especially over the last 12 months when weddings have been few and far between. But when I saw this shoot land in my in box, I just knew I had to share it with you straight way!  The shoot took place on 9th of May 2021 at The Canary Shed in Essex and with the inspiration behind it being Las Vegas, you know this shoot is going to be one to remember! From the neon lights, to the glitter balls, the AMAZING wedding dress and veil to the outstanding decoration, not to mention the cake, the side car, the confetti and the dancing! WOW!! If you are looking for some alternative wedding inspiration then today is your lucky day! Big thanks to Marta Ilardo Photography for the awesome photos.
It was a non-traditional wedding shoot featuring a real couple – Kendal and Dean. And it was a neon, wild west, Las Vegas feel colourful extravaganza!
Marta tells us more about the shoot
I feel very inspired by couples who want a non-traditional weddings with bold colours and statement dresses. Not to mention a humanist celebrant and the smoke bombs. What's not to love? My inspiration was Las Vegas. I wanted to show a super fun wedding with loads of colour, laughter and a real couple. You can't fake love!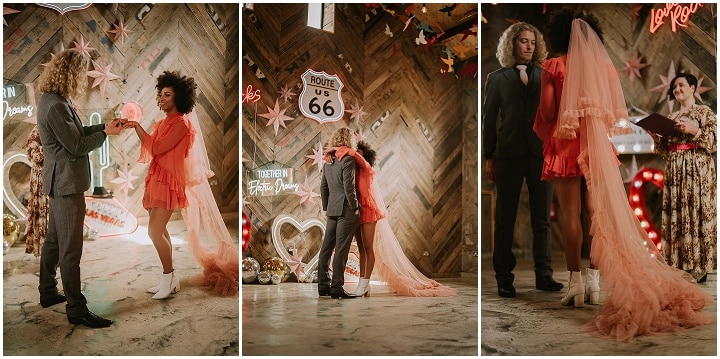 Supplier Shout Outs