Choosing your wedding look is one of the most fun aspects of your wedding planning. However, there are also a lot of decisions to be made. There is so much focus on choosing the right dress to go with your style, shape and type of wedding, but there are many other factors to think about. Hair and make up also play a big part, shoes, accessories and of course your wedding jewellery. Once you have your dress locked down, then it is up to the jewellery you choose to really make you feel like the most fabulous of brides. Today we are going to be looking at the many options of jewellery on offer to you and what things to consider when choosing it.
How to Choose you Wedding Jewellery 
Jewellery Variations
There is so much choice when it comes to wedding jewellery these days. From metals, to stones, to the way you wear them. You may choose to go for a classic look with diamonds and platinum, or you may want to mix it up with coloured gems and a chunkier look.
Jewellery you can choose from:
Hair jewellery. You can wear a headband, hair vine, tiara, flower crown made of metal flowers, hair combs, hair pins, the choice is endless.
Hand Jewellery. Try to avoid wearing too many rings on your engagement hand as this will detract attention away form your brand new wedding ring.
Bracelets. If you want to stay away from too many rings on your big day, then why not look at a statement bracelet instead or something classic and timeless.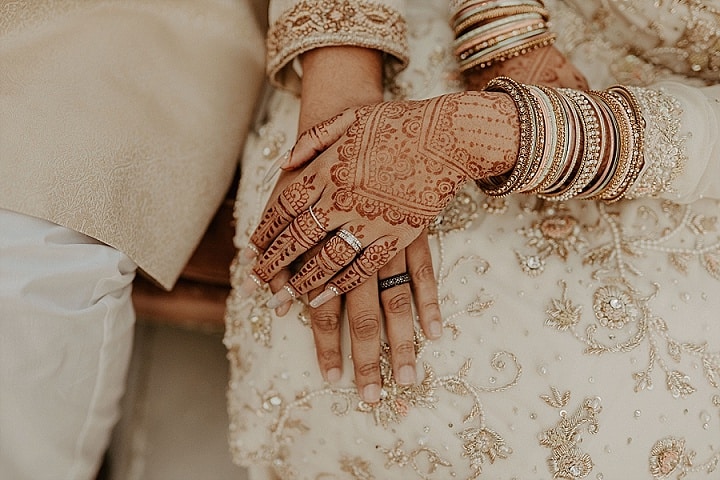 Earrings. Stud or halo Moissanite earrings or any other kind will do. There is so much choice. The size of earrings may be dictated by how you wear your hair, you may want something bigger if your hair is down or smaller if your hair is up.  You may want to go for something subtle and classic if your dress is big and detailed. On the other, if your dress is fuss free, you may want to make a statement with something big and bold.
Necklaces. Again the necklace will be dictated by the style of the dress. If you have a high neck line or a lot of detail around the neck, you may decide on no necklace at all. However, if your neck is on show and you have a strapless gown, then you may decide to add some drama with a big statement necklace. You may want to add colour with coloured gems or you may decide that something more classic is your style.
Brooches. These can be added to any outfit to add that extra touch of bling. If your dress is plain but you want that extra touch, then a brooch could be the answer.
Foot jewellery. If you are having a boho style wedding, or a beach wedding chances are you will choose to go barefoot. If you want to pretty up your feet then why not choose some gorgeous foot jewellery. This can be lace, or any kind of metal jewellery.
Selection Criteria
Now we have gone over the different types of jewellery we can look at how to go about choosing what is right for you. The main point to consider is the jewellery must highlight the dress you are wearing, it must compliment it not to detract attention away from it. Try to avoid wearing too many rings on your engagement hand as this will detract attention away form your brand new wedding ring.
Here are some general rules for choosing wedding jewellery:
Match your metals – Some metals look better with certain dress colours. Ivory goes best with gold, as it highlights the creamy tint of the fabric. If you are wearing a pure white dress, choose accents in silver or platinum or with pearl detailing. If the dress you chose is already embellished with beadwork, let that dictate the colours of your accessories.
Less is more – If you think you may have too much on, then you probably have. You don't need everything; headband, veil, comb's, necklace, earrings. Pick a couple of items to focus on, or keep them all small, so you see the dress first not the jewellery.
Ditch the Jewellery – Maybe metals and jewels aren't your thing? Then what about a belt or sash instead? Or what about a flower crown for a more boho look. The possibilities are endless.
Stick with what you know – The main thing is to feel confident on your wedding and day and feel like you. So don't stray too far away form what you normally wear. If you wear loads of jewellery normally then try and incorporate some of what you normally wear into you wedding look. On the other hand if you don't wear anything then don't start on your wedding day, keep it simple.
Remember that you should wear the jewellery, it shouldn't wear you! Make sure whatever you choose suits your styled and most of all compliments your wedding dress. Your jewellery can be as simple or as flamboyant as you wish, as classic or as fashionable as makes you happy. 
this is a collaborative post