If you are in the midst of your wedding planning then choosing your wedding outfit may be top of the planning list. If you have already found your outfit, well done. But what about your jewellery? Whether you choose a flowing Boho gown or are tempted by a 90s style minimalist dress, don't forget to choose the right wedding jewellery. There is so much choice, but the jewellery you choose should enhance your outfit, work with it, not against it. You need to consider your personality, the style of the dress, and the type of wedding you are having and make sure your wedding jewellery works for you. Today we are looking at minimalist wedding jewellery trends and why this may be a better option for your wedding day.
Wedding Jewellery For Brides in 2021 Will Be Minimalist and Boho Chic Style
Should a bride's wedding jewelry be extravagant?
The best advice we can give you on that is to only choose jewelry which you'd also wear on any other day. Wedding jewelry doesn't really have to be anything special. What's essential is that you feel natural in it. Its goal is not to turn you into a model in a wedding catalog but to highlight your personality.
It is also good to follow the general rule of only wearing one distinctive piece of jewelry. So if you choose earrings which are a bit more ornate for instance, the other jewelry should be less conspicuous.
Be guided by the neckline
The neckline of the dress will either allow you to wear a necklace or it will leave no room for it. Try to adjust the length of any chain or necklace based on the depth of the neckline. The jewelry should ideally fall below the collarbone but it shouldn't end too close to the edge of the neckline or even to fall into it.
Halter dresses are very popular these days but they leave the cleavage completely covered with their closure at the back of the neck. A necklace is not suitable for this style of dress or for a high boat neckline such as the one we saw on the wedding dress of Duchess Meghan. On the other hand, low necklines or exposed shoulders call for some kind of sparkling accessory. In addition to classic diamonds, you might also let yourself be seduced by gemstones in pastel colors such as light blue aquamarines or pink morganites.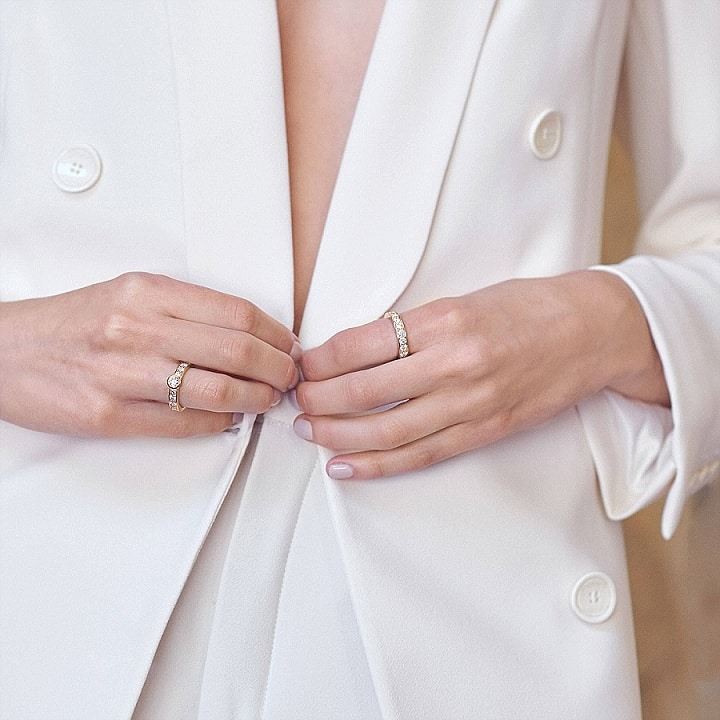 Minimalist jewelry for simple dresses
We've been experiencing a 90s comeback in fashion in recent years and this has also been reflected in wedding trends. Smooth long dresses with spaghetti straps have made a return. At first glance such dresses might need a striking accessory, but they can also work without it.
Try to allow dresses without lace, embroidery and ruffles to stand out with their clean minimalist style and accessorize them only with simple jewelry. For such dresses, you certainly wouldn't go wrong if you bought a set of simple diamond jewelry that would also bring you joy long after the wedding is over. For instance, bezel style minimalist jewelry is thoroughly timeless and ideal.

Boho style and weddings in the country
Don't want to be bound by any rules and prefer a wedding based on your own ideas? There's nothing stopping you from shaking it up when it comes to the jewelry too. Playful jewelry with natural stones will complement hippie or boho style dresses well. And all the colors are allowed. Emerald jewelry or a bracelet made of color sapphires would make an ideal accessory.
And what about pearls
You may have heard of the superstition that discourages people from wearing pearls at a wedding, because they signify tears and bring bad luck to a marriage. But even brides who don't care about such beliefs and wear pearls without worry might find comfort in old legends. The ancient Greeks associated pearls with love and believed that they would bring harmony to a marriage and would protect the bride from tears. So if you love pearls and don't care too much about superstitions, then there's no reason to stop yourself from wearing them.
THis is a collaborative post