Happy Bank Holiday Monday everyone how are you all? I hope you are having a great bank holiday so far and that the sun is shining where you are. We are off out today meeting up with friends which will be lovely what about you? Saturday was my belated 50th birthday party, which was a blast! So many wonderful memories made and a very sore head I had yesterday!! Today I am taking you off to North Carolina for the wonderful wedding of Michelle and Luis, who held a beautiful autumn outdoor farm wedding. The colour scheme of terracotta is just stunning, bang on trend and works perfectly with the farm backdrop. Big thanks to Erin Maynard Photography for the delightful photos.
Our wedding day felt like a triumph. We were finally celebrating with all our family and friends after two hard years of the pandemic. We were also celebrating nine years of growth, friendship, and love.
Michelle and Luis were married on 5th September 2021 at The Farm,  Asheville in North Carolina. 'Asheville has always been a special place for us. We love the mountains. We had 110 guests. We got engaged in June 2019 but didn't really start planning until 2020 (thank goodness). I'd say we had a year and nine months to plan.'
How they met 
Luis and I met in 7th grade! We became good friends in high school but deep inside I knew Luis was meant to be a part of my life– whether it was as a friend or something more. We went our separate ways after high school. I enjoyed my first year of college at UGA but there was always something missing. Each holiday break back home we were pulled back together through our friends and eventually started to hang out again after the end of our freshman year in 2012. We were smitten and determined to make it work. The rest of college included 4-hour road trips between TN and GA and plenty of FaceTime dates. After three years of long-distance, we moved in together in 2015, moved to Pittsburgh, PA, got a dog, moved to Washington, D.C. and finally got married in 2021. This year (2022) marks 10 years together!
The proposal
Under the cover story of taking a personal day to celebrate my birthday in April, I went and bought an engagement ring that would be ready in a couple of months. That summer I had to take a long business trip. I left for Europe in June thinking that I'd propose sometime around our 7th anniversary in July.
Months earlier, when scheduling the trip, I had tacked on a personal vacation to Prague. It was a city I'd always wanted to visit, so I thought it would make for a fun few days. Prague was beautiful, but I couldn't enjoy myself. I realized that something like this wasn't fun without Michelle. I realized that I couldn't wait to propose.
That first night in Prague, a hasty plan came together. Rebooking my travel, I planned to sneak back into the country. I would pick up the ring and surprise Michelle at home. I snuck back into our apartment while Michelle was at work. Keeping up with pretences, I told her I was flying home and would land at JFK shortly after six. Cleaning the apartment and buying all the flowers that would fit on our counter took up most of the afternoon. Realizing I couldn't ask Michelle what time she'd be home, I hid around the corner from the front door for a couple of hours while our dog stared quizzically. Then I heard the doorknob turning, and the rest is history.
Where did you splurge and where did you save?
We tried to put more weight on things that affected our guests' experience such as food, drinks, and location. We wanted a venue that allowed guests to feel comfortable inside and outside. Most of our budget went to the venue/food/drinks. We saved on things such as decoration, signage, and stationary.
How did you choose your photographer?
After looking through her Instagram and website, we knew her candid and natural style was exactly what we were looking for. Erin also guided us through our day. We scheduled most of our photos before the ceremony and did family photos after. Erin made sure to check on us throughout the process and made sure we were comfortable and calm.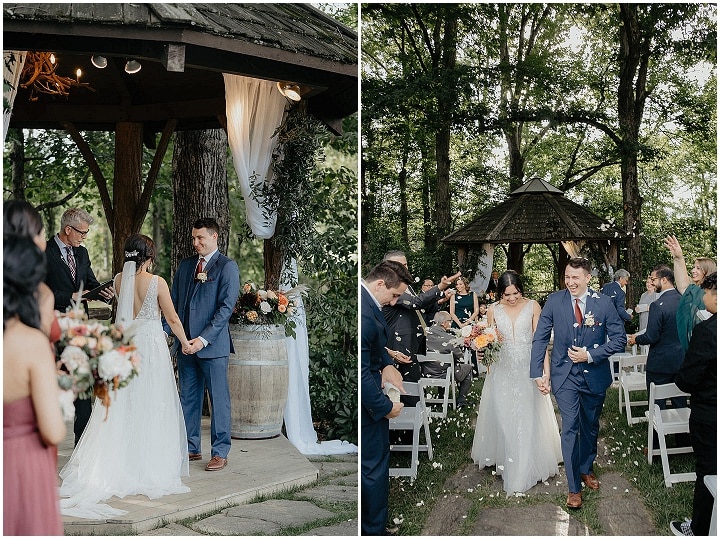 The dress
Dress: Watters. Shoes: Vince Camuto. Hair pin: Jay Kay Braids and Bridal
The suit and bridesmaids
Suits: Generation Tux.  Each bridesmaid chose their own dress. We had a mix of BHLDN, Revelry, Showpo, Lulu's.
Theme or colour scheme
My colour palette cantered around terracotta. I love autumn colours!
Flowers 
Flowers were really important to me. I feel like they can really set the vibe. Mandy at Blue Ridge Blooms really got my vision and wonderful to work with.
Decoration 
I DIY'd my seating chart by painting thrifted vases to look like clay. Each vase had a table number and my guests' names. At their seats, I used little terracotta saucers as name plates.
Food
The Farm's food was INCREDIBLE. We had signature drinks and did a family-style meal. Our guests raved about the food and drinks.
His signature cocktail: Elderflower Old Fashion
Her signature cocktail: Cucumber Gin Lemonade
The mini tacos and empanadas were some favourite apps. Chile-Rubbed Flank Steak with chimichurri and the Potato-Leek Gratin. Desserts: Mini mason parfaits (key lime, chocolate pots de crème, lemon custard
Wedding cake
My aunt made our beautiful wedding cake. It was a three-layer, vanilla-raspberry cake with cream cheese frosting. She even featured our fur-baby, Oliver, on our cake! She used to make my birthday cakes growing up so it was really special!
Entertainment
We had string trio during our ceremony and a DJ for the reception. Our DJ, DJ PLo was amazing. It was important for us to have a bi-lingual DJ having Hispanic families. The mix of Latin and English music was perfect. DJ PLo even played his trumpet during dinner.
Who supplied the stationery?
I designed my save-the-dates, invitations, and signage on Canva using a mix of templates and my own designs.
Where did you go on your honeymoon?
We had to post-pone our big trip to Argentina due to the pandemic, so we did a few days in Cancun right after the wedding. We were able to go to Argentina this January!
Personal touches
Besides the seating chart and stationary, I paid tribute to our parents and grandparents with photos of their wedding day. We look up to their marriages and wanted to include a few of our grandparents who either could not make it or have passed away. It was special to us but I think it meant the world to both of mothers, who have both lost parents.
Special moments 
The entire day was so special to us but one thing that stood out was our little "breather" after the ceremony. It's no secret that your wedding day goes by FAST so we wanted to carve out a little space for just us. After our ceremony and during the cocktail hour, our wedding coordinator and catering manager drove us out to the garden where we had our signature cocktails and appetizers waiting for us. We were able to get a bite to eat and just have a moment to ourselves and take in the fact that we just got married!!
Advice for other couples
Let go when it comes to the day/weekend. You've done everything you can and now it's time to enjoy. Your guests will have fun if you are having fun.
Supplier Shout Outs 
Venue @thefarmevents
Photography @erinmaynardphotography
Videography @peakmntfilms
Planning @kilbrideshannon
Cake @eventsonwheels
DJ @djpatricklopez
Rentals @eastwestvintagerentals
Florals @blueridgeblooms
Officiant @love.and.wisdom.officiants
Transportation @peaklimo and @youngtransportationandtours
Hair and Makeup @powdermepretty
Suits @generationtux
Wedding Dress @whitemagnoliabridal