Today I am taking you to sunny North Carolina for this beautiful and charming wedding that takes place at the brides parents' family farm. Anna and Robert are so lucky that they were able to hold their wedding on the farm, it made the day even more personal. Plus, the family, especially Anna's Father, really pitched in and helped with the set up and running of the day, from the decoration to the food. There are so many super pretty elements to this day. The flowers are gorgeous, the bridal parties outfits, flower crowns, cake and, of course, the delightful first look. All captured beautifully by Jenna of A.J. Dunlap Photography.
It was a very special day that we will always remember. Super grateful for my parents and all their hard work.
Anna and Robert were married on 6th October 2018 at a Family Farm in Rocky Ford, North Carolina.'It was such a beautiful location owned by my family, that it seemed like the obvious choice. We ahd 150 guests, we booked the photographer and florist close to a year in advance the rest we did in about 2
months.'
How they met 
I was hanging out with a friend. We were sitting on the patio at a restaurant and Bobby showed up to eat there as well. My friend introduced us, that was 5 years ago
The proposal
My parents own a mountain house in Boone, North Carolina and Bobby was going to take me there to propose. But at the last minute I decided I wanted to go to lunch haha. We were on the motorcycle and he passed the restaurant and went to the Blue Ridge Parkway. Once we got up there, he said I just wanted to see the view really quick. It was a beautiful day. So I got my phone out to take a picture and when I looked up he was down on one knee! I was in total shock! After lunch he said we do need to go to your parents' mountain house though… I was like OK? When we got there he had roses, chocolate and champagne.
Where did you splurge and where did you save?
Splurge- photographer (worth it)
Save- location (free)
How did you choose your photographer?
Instagram. My sister showed me a lot of photographs of peoples' weddings and I fell in love with A.J./Jenna's style.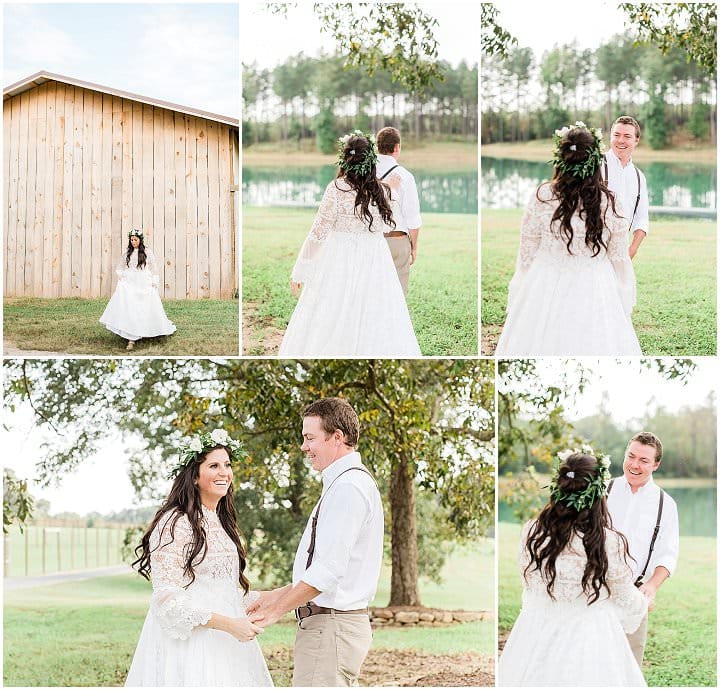 The dress 
Dress- bottom/skirt of the dress was my mom's dress from 1985. We cut the top off and the lace top was from Amazon ha! No shoes (barefoot for ceremony). Accessories- blue ring was Bobby's mom's. His dad gave it to her when she found out she was pregnant with him. Earrings – family friend have me on my wedding day. Floral head band from the florist.
The suit and bridesmaids
Men- very casual white button down and tan jeans from Belk. Personalized suspenders from Etsy.
Girls- Show Me Your Mumu bridesmaid dresses.
Theme or colour scheme
Neutrals / earthy
Flowers 
Lots of white hydrangea, wheat grass, honey comb, lilies and cranberry (my bouquet), white roses and lots of greenery.
Decoration 
Lots of flowers, Lights, Mason jars, Wooden slabs, Homemade signs, My dad made the arbor we stood under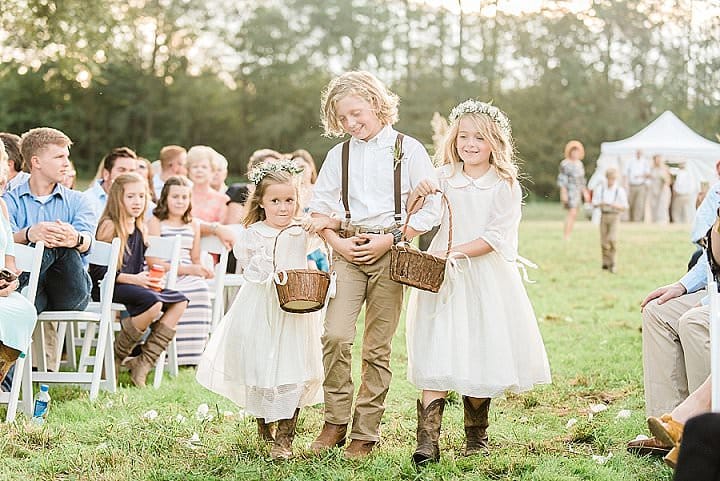 Food
My dad cooked – chicken, beans, coleslaw, potatoes and of course cake
Wedding cake
Stacey's Cakes. We had a top cake to cut which was the classic cake flavor and then an assortment of
cupcakes. Lemon, chocolate, and carrot.
Entertainment
DJ- Wanda Thompson
Who supplied the stationery?
We ordered them through Hallmark.
Special moments
Our Vows. Family friends flying in for the wedding. Letters our wedding party gave us to read on our honeymoon.
Advice for other couples
Try not to stress every detail. No doubt there will be hiccups along the way but it all comes together on the day of the wedding perfectly.
Biggest surprise 
My dad made a huge "Lovejoy" sign that was hanging from the arbor. I didn't know about it until I came out of the tent to walk down the aisle.
Supplier Shout Outs
For more information on A.J. Dunlap Photography go to
www.ajdunlap.com / www.ajdunlap.com/blog / [email protected] / (919) 609-5868 / FACEBOOK /  INSTAGRAM / PINTEREST 
We are a wedding and family photography team based in Wake Forest, North Carolina. We are passionate about capturing couples and their genuine story through timeless photographs. We want our images to make you feel something and take you back to that exact moment. Our style is made up of warm light and authentic moments, and we photograph our couples and families from a lifestyle approach.