I have another special wedding to share with you today as it is one that I personally worked on this year. It was actually the last wedding of the wedding season for me, so it holds very strong memories.
Sometimes when I first start working with a couple they have already found their photographer, personally I like to help a couple find a photographer as it's something I feel that is so important to the day. When I met with Dani and Rob for the first time I didn't have to worry  as they told me they were about to book the rather amazing Joanna Brown, which I was over the moon about. It was a joy to work with Joanna and her assistant Lisa Jane on the wedding, and they both kept me sain on what was a ridiculously hot day in October (remember that heat wave we had at the beginning of October?…not the best weather to be setting up in a Tipi!) You can see Joanna's take on the day with more photos HERE
Dani and rob booked me 9 months before their wedding day for my On The Day Co-ordination package They wanted to make sure that neither them or their families had anything to worry about on the day and the running of the wedding was looked after by a professional. They were married on 1st October 2011 at Christ Church, Bryn-y-Maen. With the reception at Pentrehobyn Hall, Mold  with 105 guests, It took just under a year to  plan the wedding.
Personally the wedding was a great one, the sun shone, it was a stunning venue, Dani and Rob looked amazing, a really great wedding to end the season with. As well as Joanna I'd like to give a massive shout out to Cath Skates who is by far the best catering company I have ever worked with. I have never seen an opertaion like it…..the kitchen was out of this world, the staff were spot on and the food…OMG I die! and a personal thank you to Cath herself who kept me topped up with canapes for a good 2 hours!
Dani and Rob describe their day as  'Quite simply the best day of our lives'
How they met
We met on a sunny photo shoot for the Ford Transit in Benidorm Spain(!) which Dani's advertising agency commissioned. Rob was the assistant to the photographer at the time. That was 5 ½ years ago now.
The proposal
Under the guise of my 30th birthday, Rob planned a surprise trip for the two of us to Venice. I had no idea where we were going until we got to the airport! After we arrived, we took a private water taxi into the city to the amazingly luxurious Danieli hotel. We spent the day wandering around the streets, looking at the sights and then went for a fabulous meal where we feasted on Osso Buco, homemade pasta and lots of red wine! As another little surprise, Rob had booked tickets to a Vivaldi concert at the Gran Teatro La Fenice which was outstanding. When we got back to the hotel that night, he dropped down on one knee with the most fabulous ring I've ever seen and asked me to be his wife. I said yes, cried my eyes out and then
we both jumped up and down on the bed like two little kids. It was so wonderful.
Venue
4 generations of Rob's family were married at the church and it has played host to numerous other important family occasions, we couldn't imagine our marriage taking place anywhere else than that wonderful church on the hill with the view of the sea.
The Dress
The dress was called Enero from Rosa Clara which was purchased at Miss Bush Bridal in Ripley, Surrey.
The shoes were from Miu Miu. My hair clip was made from a vintage brooch which I bought from Magpie Vintage. My diamond necklace was a present from Rob on the day.
The suit and bridesmaids
The suit was from Moss Bross, all the guys wore the same. The bridesmaid dresses were from Coast and the shoes from Kurt Geiger.
Theme
Sort of… I knew I wanted to have a black sash on my dress pretty early on so we used that as a theme for bridal party's outfits. Then it filtered down into other elements like the seat covers for the tent. Other than that, I liked a more rustic, natural feel for the tepee, flowers etc. I guess I just sort of muddled stuff together and hoped it would turn out ok. Thankfully it did!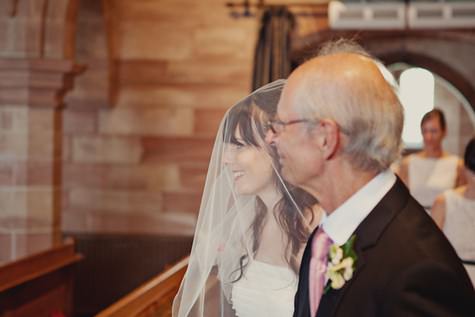 Food
Cath Skates and her team did our food. She was absolutely amazing!
MAINS: Extra aged Welsh black beef fillet marinated in bay, garlic, black peppercorns and olive oil, grilled rosy pink and served on slate trays with a rosemary aioli
CHOICE OF SIDES:Lemony roasted potatoes with rosemary, Roast butternut squash with chilli and thyme, California Caesar salad with sourdough, croutons and shaved reggiano, Salmon marinated in maple, chilli and soy cooked on planks of cedar wood with a ginger and wasabi aioli
CHOICE OF SIDES: Wild rice salad with shitake and ginger Green bean, edamame and sugar snap peas with a mirin, sesame and coriander vinaigrette
DESSERTS: Stacks of triple chocolate brownies with custard, Piles of gooey meringue nests, Spiced apples, quince, blackberries and pears, Vanilla-scented Chantilly cream
Entertainment
The Funky Doctors – an amazing band from Cheshire who came highly recommended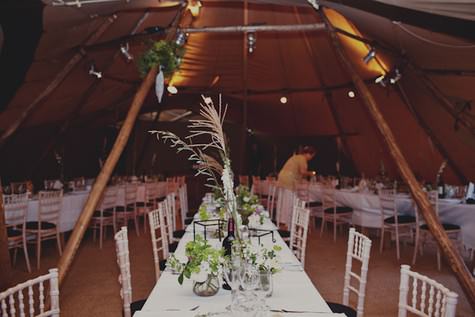 Flowers
My  bouquet was made up of cream anenomes with black centers which came from a local supplier. The rest of the flowers were provided by the fabulous Charlie Ryrie from The Real
Cut Flower Garden
Decoration
Little details like a wishing line, photographs of past family weddings, rattan hearts, fairy lights, candle lanterns.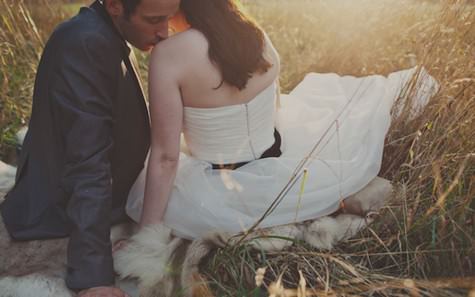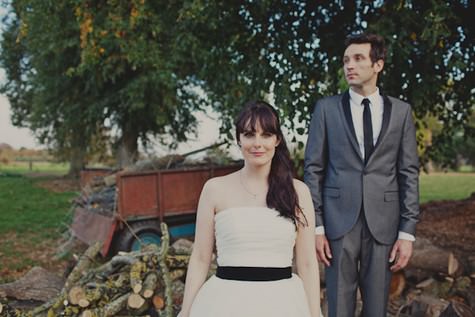 Special moments
For me when I walked up the aisle with my dad. Seeing everyone's smiling faces and Rob welling up at the end of the aisle was magical. I loved Rob's speech, it was so heartfelt and sincere, it had me in tears. I also was so pleased I plucked up the courage to sing 'Make you feel my love' by Bob Dylan to Rob even though I had a stonking cold!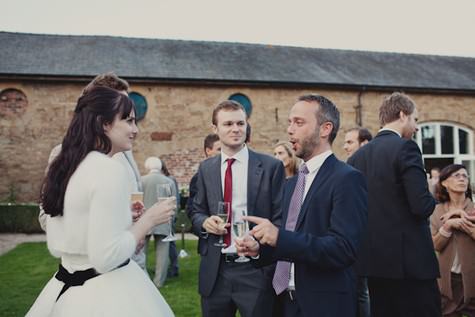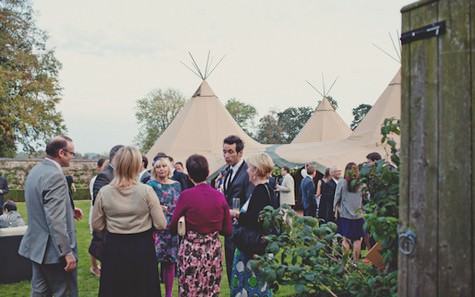 Biggest surprise
Rob and his best man and ushers serenading me with 'Bohemian Rhapsody' – a song that I chose for Rob to sing at karaoke when we were on the shoot in Benidorm. They wore wigs and everything! It was brilliant.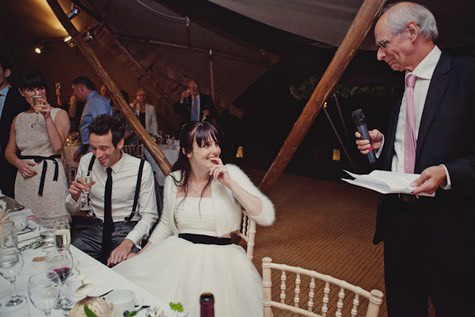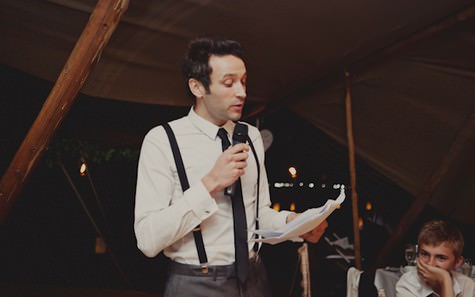 Boho Planning Details
What planning service did you book from me?
On the day co-ordination
What made you decide that you wanted to book a planner?
To take the stress out of the day for not only me but for my family too.
What do you feel were the biggest benefits of having a planner involved with your wedding?
You brought your calm & expertise to the proceedings, you just knew what needed to be done and when.  You reassured me and my mum. You were so helpful with making sure all the finishing touches were done and made sure everything ran smoothly and punctually on the day, from liaising with suppliers to bringing your personal touches like the gifts sign to the table. It was a pleasure having you as part of the day.
Supplier Shout Outs:
Photographer – www.browns-photography.co.uk
Venue – www.pentrehobyn.co.uk
Tipi – www.papakata.co.uk
Catering – www.cscatering.webeden.co.uk
Band – www.thefunkydoctors.co.uk
Flowers – www.cutflowergarden.co.uk
Make up & hair – [email protected]
Co-ordination – www.bohoweddingsandevents.com
Fore more information on Joanna's work go to:
www.browns-photography.co.uk
joannabrownphotography.com
Joanna on FACEBOOK
Joanna on TWITTER
[email protected]
07825 512567