Today I am taking you to Athens for the most delightful styled shoot. The shoot took place on 27th March 2021 and it really is a true fairy tale. Ioanna of For Good Times wedding planning and styling worked with a talented team of wedding suppliers to bring their vision of an enchanted forest wedding to life. They wanted to keep the shoot magical and mysterious with a quiet, tranquil vibe and then fill the area with an abundance of blooms in rich warm colours. The flowers really make the images pop against the greenery of the forest with an ethereal twist to a stunning wedding set up.
Fairy tales can come true and this mystical hidden forest wedding is proof of that.. 
Ioanna the wedding planner and designer tells us more about the shoot
Our dreamy wedding location is seriously a hidden gem. Located in the north suburbs of Athens, I'm convinced that even only a few locals know about it. At first glance it looks like just a simple forest area, but when you walk back through the hidden trails, you'll find the open clearing and IT IS MAGICAL. Quiet, tranquil, and mysterious, it was the perfect place to create an enchanted hidden forest feeling.
In the height of the micro wedding trend, who isn't daydreaming about an intimate celebration with a more relaxed vibe, offering the freedom to think outside the box and the flexibility to use creative ideas to make it more special? Micro weddings were already on the rise before the COVID-19 pandemic and now most of us prefer to do this wedding occasion to stay safe during this crisis and to be creative in a very unique way.  No tight schedules, no huge guest numbers, no formalities and with the option to make the day totally memorable.
I wanted deep rich colors, natural lighting, and a change up from the typical Victorian style setting you usually see this sort of design in. I wanted it to be moody with a feeling of enchantment. Instead of a traditional venue, we ventured out into a hidden forest and created the magic there.
For me, I love to design a "look" but oftentimes that look is inspired by a feeling. In this case, I imagined a sentimental micro wedding where the couple would exchange their vows in the enchanted woods, away from the world, celebrating a love that only a few understand. I pictured the Bride waiting for her groom in a hidden location, admiring the small details of her wedding day, and being married in an intimate setting where everything stops and their love is the only thing that matters.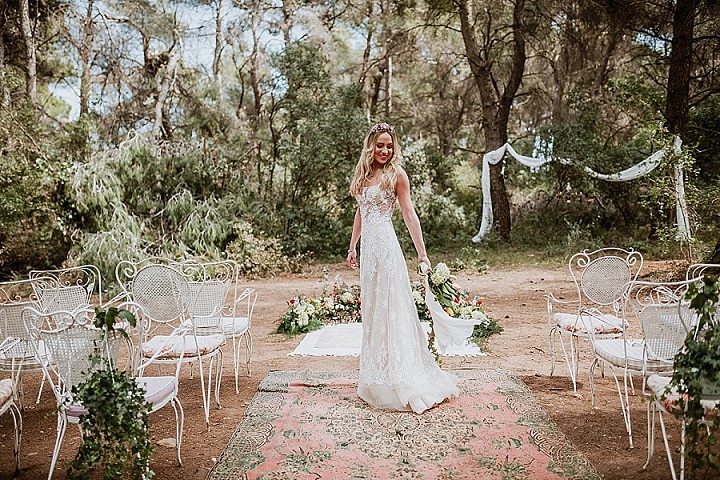 Supplier Shout Outs
For more information on For Good Times
www.forgoodtimes.gr / www.forgoodtimes.gr/blog / [email protected] / FACEBOOK / INSTAGRAM / PINTEREST