It's beginning to feel quite Christmassy here in Boho HQ, so I thought it would be good to share this amazing snow filled party wedding with you, that took place in the forest with both the bride and groom entering on ski's. Katie and Jon were married on 29th February 2020 in the Cascade Mountains. This incredible and adventurous couple decided to host an awesome party in the woods of their 20 acre property in the Cascade mountains. They started the day with a sunrise ski with their nearest and dearest. The bride and groom then skied into the ceremony and everyone partied the night away in their geodesic greenhouse dome. They caught all of their own food for the dinner, including the wild salmon. They then held the most outrageous party that saw all their guests have an amazing time. A truly unique wedding, al captured by Jessica Hill Photography.
Outfits
We wanted to best reflect ourselves and be authentic about it. For the Bride that was having a classic, simple white wedding dress that would flow, but also be super comfortable. For the Groom that was wearing something that reflected a more classic outdoors man look, where he sported a buffalo plaid vest from Pendleton. Both the Bride and Groom being big ski mountaineers decided they would purchase matching puff jackets for the wedding and also wore those throughout the evening. Additionally, they wanted to be able to really wow the audience for the dance – so the Bride changed into a white onesie and both the Bride and Groom threw on wild dance party jackets in the middle of their surprise first dance.
Theme or colour scheme
Our wedding was a reflection of our passions – winter, skiing, community, and being outside. We used these key passions as a thread that wove throughout our entire wedding weekend. From a sunrise ski with friends and family the morning of our Wedding Day, to skiing to the giant Ponderosa Pine tree that served as our alter, that sits on our property outside our cabin , to incorporating a private prayer with my Uncle (who married us), to gathering around a campfire inside our greenhouse dome where family and friends exchanged sentiments about who we were individually and collectively.
Wedding Decor
Our decor was very much DIY and was put together by our amazing community of friends and family. We emphasized on the lighting from tiki torches to guide guests down the wintery paths that moved from our alter down to our reception area to Christmas lights that hung 20-30 feet high around the white pines that greeted folks into our open snowy meadow. We used straw bales for seating (my parents being mountain cowboys hauled these up from the bride's hometown outside of Yakima), we used old fence posts painted with white paint to direct guests where to go, we harnessed the seasonal elements of nature to add to special touches to our tables as well as our hair (e.g. pine cones, pine boughs, and winter daphnes). We also set up outdoor campfires to provide more heat during the wedding ceremony, as well as in the reception area.
Flowers
As mentioned above, we focused on what was in season. We used the following flowers / natural elements to add to the wedding:-winter daphne-helleborne-pinecones-pine boughs-heatherThese flowers were used as table center pieces, woven in my hair, as well as incorporated in a bouquet my dear friend from Alaska created and gave to my Grandma to hand to me during the ceremony.
Personal Touches
I think a lot of it was personalized to reflect our passions. Some more examples included:-kayaks used for sledding (my husband and I love the river almost as much as we love skiing)-large chocolate chip cookies that served as our dessert and were made by a local coffee shop (we had this pre-ski treat on one of our first dates)-definitely backcountry skiing into our wedding (complete with me bushwhacking through trees, as well as hitting a jump into the alter).-breakfast dutch oven potluck – put on by my mom who is a mountain cowgirl and participates in dutch oven cook-offs-taking a shot ski from a homemade ski that reflected the first place Jon and I first met and started skiing (Mt. Baker)-having the wedding on our property and sharing a visual timeline of how we built the yurt and the greenhouse pre-wedding (we finished building our home less than 3 months before the wedding).-we provided the meat by harvesting it ourselves (venison from hunting in my husbands hometown that fall prior to the wedding, as well as sock-eye salmon from when we lived in Alaska earlier that summer)-we choreographed a surprise first dance inside the geodesic dome for friends and family complete with disco ball and strobe lights-our music was curated by our musically talented friends from the ceremony being played by our pals on violins to the opening of the reception being serenaded by acoustic guitar from our close friends who introduced us to each other to finally a good friend of ours who DJs put together a special collection of beats to get down to throughout the evening.-The bride and groom also did a first dance with the bride's 96-year old Grandma – the song Boogie Woogie Bugle Boy -Lastly an igloo was built for the bride and groom to spend the night in after all the festivities ended.
Special Moments
That is super hard. I think there were a lot of special moments during the day. But the few that continue to reel through my mind were the following: Skinning up on my skis through the forest in my wedding dress to have a first look with Jon and meeting my dad along the way who gave me a huge hug before I started the journey up the slope. Seeing Jon in the thick forest, as I pushed through the branches that tangled around me. My uncle lighting sage and sending a prayer up to God about our unity as we inhaled the sage. My mom helping me put on my dress in the yurt. Watching my sisters share a significant passage from one of their favorite books that they believe reflected our union. Dancing with my grandma on my wedding day and watching her light up to the lyrics that clearly transported her to a different time and space.
Advice for other couples
I think going with your gut. I think the best part about a wedding is its gives you a unique opportunity to express what matters most to you and your partner and getting to share that with your larger community.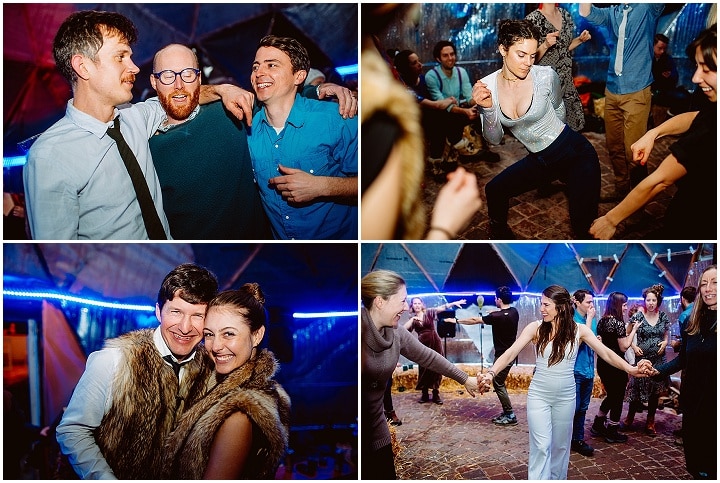 Supplier Shout Outs