Happy Friday everyone! How is it nearly the weekend already, this week has flown by! After many a weekend car shopping and test driving cars we at last ordered one this week. However it wont be here for another 6 months due to stupidly long league times. But at least that means we can stop looking at cars every weekend and move onto the house extension which starts in a couple of weeks. We have so much to order and shop for. Dexter is at a party on Saturday so we are off to look at bathrooms, tiles and taps (oh the glamour!) Sunday we are off to Yorkshire Wildlife Park. What about you? anything wedding related? or just a stack of planning to get through? I am finishing the week with this super romantic lavender filled wedding. Myah and Kodie were married on 11th October 2020 at Hickory Street Annex in Dallas, Texas. They blended a mixture of styles together to create this 'Urban Romance' style wedding, all captured by Charmed Life Photography.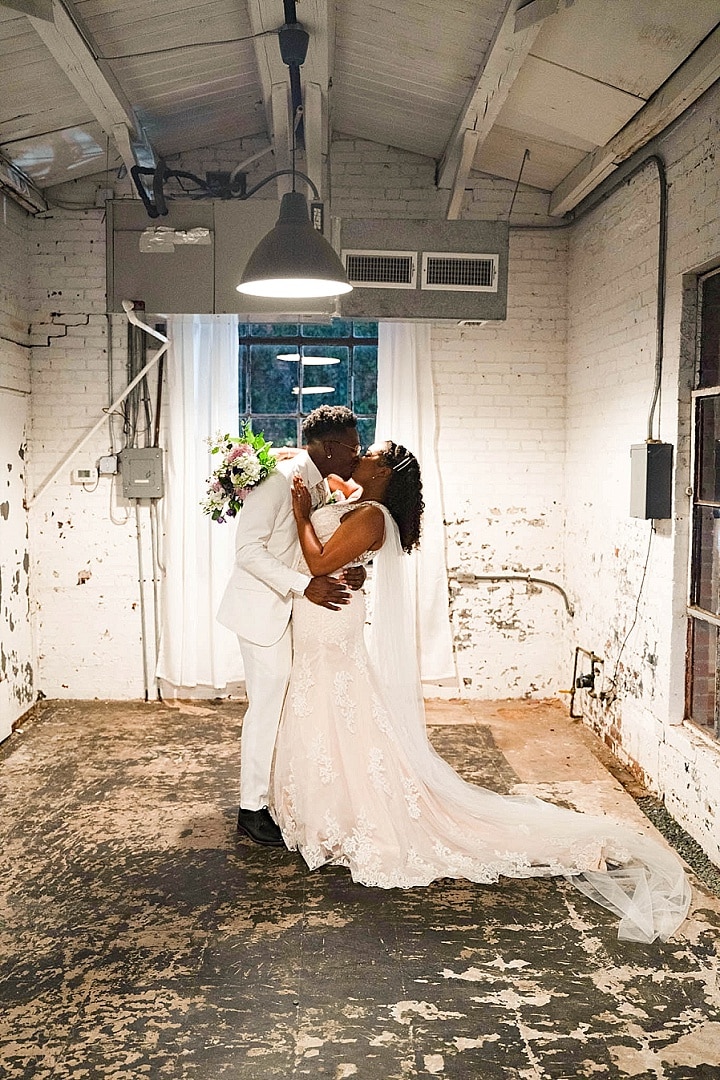 Lisa Haynes from Charmed Life Photography tells us more
When I think back on this wedding, only one word comes to mind….romantic. Love is the air at all wedding, but this one in particular hit differently than the norm. Maybe it was the soft dim lighting of the Edison bulbs that lined the venue; or maybe it was the lavender bouquets that filled the air; or maybe it was just simply the bride and groom who were perfectly blended to become one. The bride tells their love story in her own words and you just can't help but to say, "Awwwwwwwwwwwwww".
How they met
Everything about the way we met was ordained by God. I was in college and babysitting to make money. I took the children to the mall when one wandered off into the store my husband was working in. That's when we met. He recognized me because our best friends were dating. We exchanged numbers but things did not take of until a year later on our first date. After that date we literally hung out every single day. He kept asking me to be his girlfriend and i kept saying no. One night there was a series of mishaps. I saw how he responded to inconveniences. He was so patient and so kind. I told him i was ready to be his girlfriend, he asked me, and I said yes. We continued to be inseparable for the next four and half years.
The proposal
The proposal was perfect. He put so much thought into it, and got help from my family and best friend. It was my favorite month, October. The air was crisp and cool. We had dinner at the revolving Wolfgang Puck restaurant in Dallas. He knew i had been dying to visit the restaurant. After a delicious meal overlooking Downtown Dallas we went to my favorite park for a stroll, Klyde Park. It was beautiful. The night time view of the park consist of the tall elegant buildings, trees that were lit up with beautiful lights, and arches also covered in lights. As we're walking we approach a group of our friends and family. They are holding letter made of lights! the message says "Marry me." I turn to him and he is down on one knee with a beautiful ring. I didn't hear anything he said to me because I was too excited.
Outfits
When it came to my dress I had so many styles in my head. I love 'Say yes to the dress' and knew I wanted to be open to trying on multiple styles. My husband had it made up in his mind that he wanted to wear all white just like my dad did in my parents wedding.
Theme or colour scheme
My vision was a little all over the place. I wanted rustic, I wanted chic Victorian, I wanted boho. For flowers I wanted lavender, succulents, and eucalyptus. We knew we wanted green and purple because they are our favorite colors. Something that was very important to me was my bridesmaids feeling beautiful and confident. I wanted them in elegant emerald green dresses. But I did not want everyone in the same dress, my friends are all different and unique in their own way with different styles and personalities. I wanted them to remain the beautiful individuals they are. They all picked out a satin or a velvet emerald green dress that they loved and showed who they are.My mother's side of the family is catholic so we incorporated the candle lighting ceremony. We were also so happy to be jumping the broom. Culture and history mean a lot to my husband and I. In the brief moment we were able to connect with our ancestors.
Decoration 
A lot of our decor was DIY and I greatly regret it. Buying everything needed for DIY, storing it and assembling everything was expensive and a lot of work. My family and friends had to get everything to the venue, set it up, take it all down and take it home; all in a rush. If I could go back I would have paid the florist the money we spent on DIY. A big part of decor was lighting to set a romantic atmosphere. The various styles of lights were definitely my favorite aspect.
Flowers
The flowers I wanted seemed a bit all over the place. I wanted eucalyptus, succulents, and lavender. Like, what? But the florist was able to  pull it all together into this beautiful bouquet. She also made us an amazing broom to jump over.
Personal touches 
We had the entire day planned out but the most personal part of the day for me was having my grandparents photos placed on the front row. Two have passed away and the other two were unable to make it due to covid. Another very personal aspect was having my younger brother be the officiant for the wedding ceremony. It meant a lot to both of us to have him be the one to join us together under God. A final favorite and very personal part of the wedding was our heart shaped arch. I decided I wanted a heart shaped arch but they all cost so much so my dad built one, just for me and my special day because I am daddy's little girl.
Advice for other couples 
There are so many things I would have done differently. My maid of honor and I spent three hours calculating the numbers of drinks we needed when we could have called Specs, told them our guest count and the ingredients/ drinks we wanted. They would have done the math for us. I also waited to use Zola until we were 6 months out. Zola made things so easy and would have been a great help if I used it when we first started wedding planning. The closer we got the wedding the less I cared about planning and details. I just wanted to be married. It's important to remember what is important. So much will go wrong while planning and even on the wedding day. Just remain focused on being married at the end of the day.
Supplier Shout Outs
For more information on Charmed Life Photography go to