Happy Friday everyone, I do hope you have had a wonderful weeke so far and that you have something fun planned for the weekend ahead of us. I am super excited as I am off to Ragdale Hall on Sunday, 24 hours of pure pampering and relaxation, I can't wait! I will be telling you more about that on the blog in a few weeks time. Now though I have this super cute vintage style wedding from Greg Jackson Photography. Leah and Ian created a beautiful winter wedding by mixing in a large dose of 1920s with a fab industrial Mill. They then added in vintage touches with the stationery and bridal outfits and then brought in some killer cocktails and a beautiful collection of vintage cars. A truly stylish and fun-loving day.
Absolutely perfect, we honestly couldn't have wished for a better day. I was so beautiful to have all of the people we loved the most together in one place enjoying great food, drink and company.
Leah and Ian were married on the 14th February 2016 at The West Mill, Darley Abbey. 'We have always visited the restaurant next door and the park so Darley Abbey is a special place for us. It was perfect when the renovation of the venue was announced as we have often sat looking at the Mill and wishing that someone would do something worth while with it. We visited the West Mill when it was a building site, literally, it had no floor! But we knew as soon as we walked in that it was perfect for us, we would have got married there and then!  The whole day felt calm and well ran and we felt as though the staff were well accommodating with the set up and planning of the day. Everyone who came had something positive to say about the venue, just absolutely beautiful. We had 59 day time guests and a further 90 in the evening. We were engaged in October 2014 so the planning took about a year. Everything came together really easily though, we weren't pouring over magazine every evening. It was a easy going fun planning experience.'
How they met
We have always known each other because Ian went through school with my sister, so they have always been friends. We started dating when Ian came into the pub I was working in and asked me out. Weirdly enough my sister had predicted it that day!
The Proposal
We were having our first family holiday with our little boy, Rupert, at Centre Parcs. We were drinking wine and playing cards silently whilst Rupert slept and Ian proposed.
How did you allocate your budget?
We set ourselves a price that we thought it would come to at the beginning and somehow managed to stick to it.
Where did you splurge and where did you save?
We didn't really hold back, we had a cocktail bar and band but we managed to save money on invitations and stationary as I am a graphic designer. We didn't spend a huge amount on the wedding clothes as we found everything we wanted in high street shops.
Why did you choose your photographer?
I was recommended Greg by another photographer and when we had the first meeting with him we just fell in love with his photos. We wanted a really relaxed approach to the photography, we didn't want to be away from our guests for ages whilst we posed for photos so Greg captured a lot of beautiful natural shots.
The Dress
I borrowed my bracelet from my mum as 'something borrowed', the shoes were just high street shoes but very sparkly. The dress was from a Pearl Boutique in Nottingham. My headdress was from a Save the Date wedding fayre, but I'm not certain of the boutique name unfortunately. It was based in Bakewell Derbyshire.
The Suit
The suits were from Moss Bros in Nottingham and the Bridesmaid dresses were from Quiz in Derby.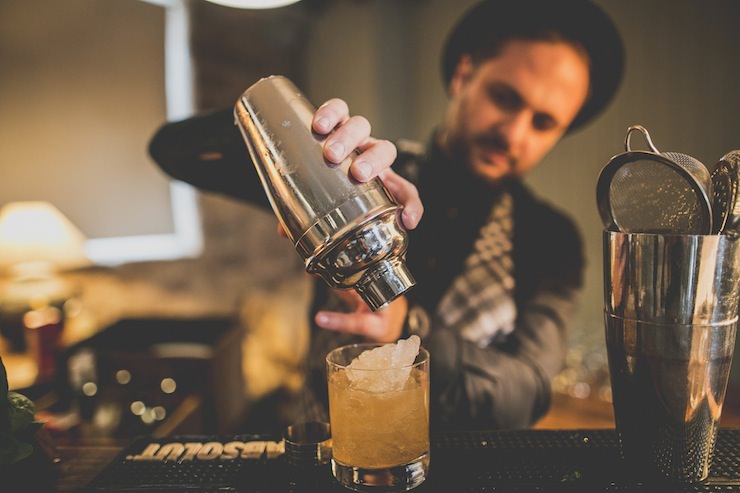 Theme or Colour Scheme
We love Burgh Island in Devon so we wanted an Art Deco style, without it being a fancy dress/theme wedding. We managed this with the stationary, cocktail bar and the bridal party's clothing. Also the cars! Me and my dad travelled in a 1930's Badsworth Landaulet and the bridesmaids and my mum travelled in a Bramwith Landaulet 7 seater, an amazing start to the day!
Flowers
We had Ivory Calla Lilies, Eryngium, Lavender and Asparagus ferns in our bouquets. The button holes were Eryngium and lavender. For the tables we had Dusky Pink Roses, Eryngium, Purple Lisianthus, Gypsophila and purple fern.
Decoration
We didn't have a huge amount of extra decoration as the venue was perfect as it was. We had flowers in the windows and sequin table cloths and runners.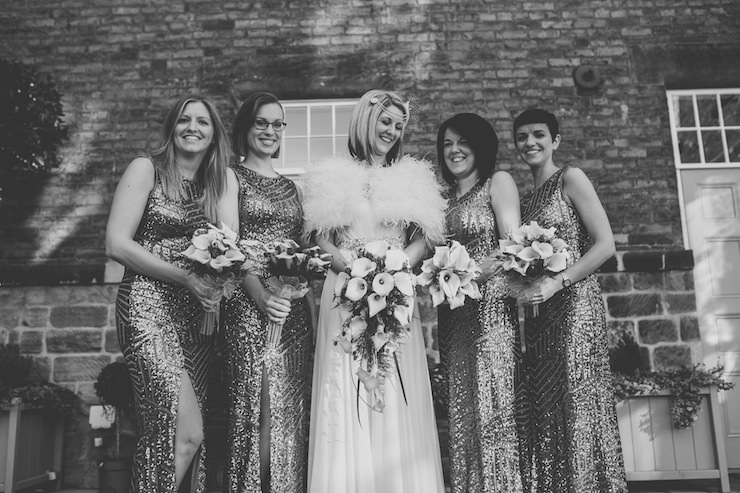 Food
The full menu was:
Smoked Haddock Mousse or Mango and Brie Parcels to start. For the main course there was a choice of French Trimmed Chicken with Thyme Jus, Gressingham Duck Breast with pear and calvados sauce, Roasted Seabass with champagne and dill sauce or Asparagus and Broad Bean Risotto served in a baked pepper. The ladies had strawberry and champagne posset and the gents had salted caramel and chocolate tarte.
Wedding Cake
My friend made the cake, it was three tiers, one of red velvet chocolate cake on traditional fruit cake and one victoria sponge.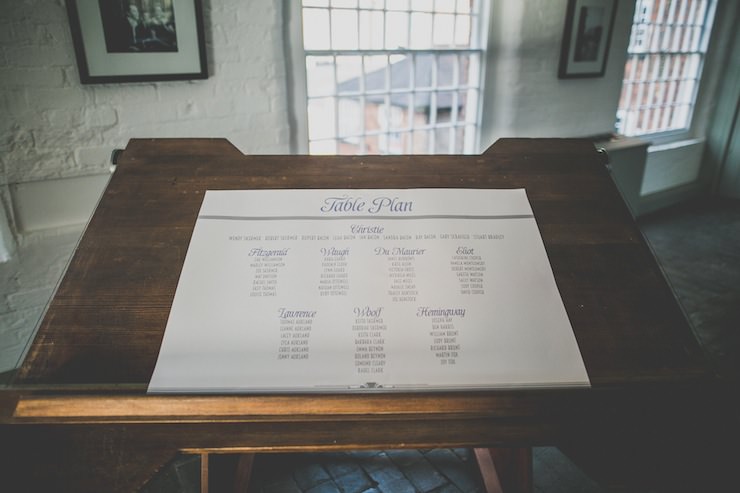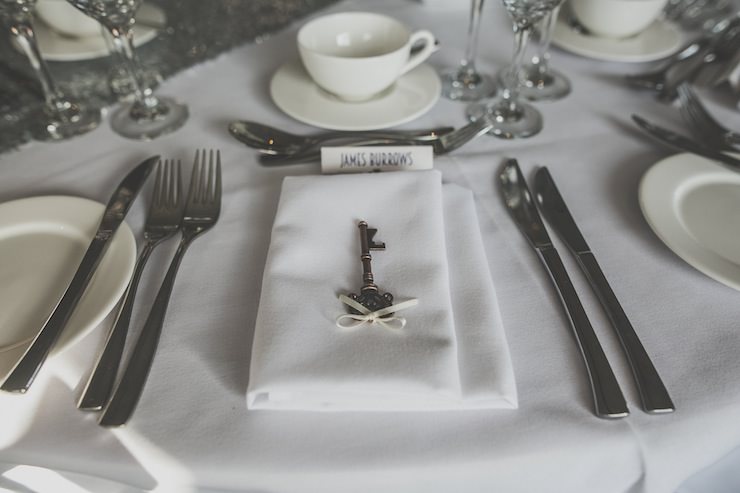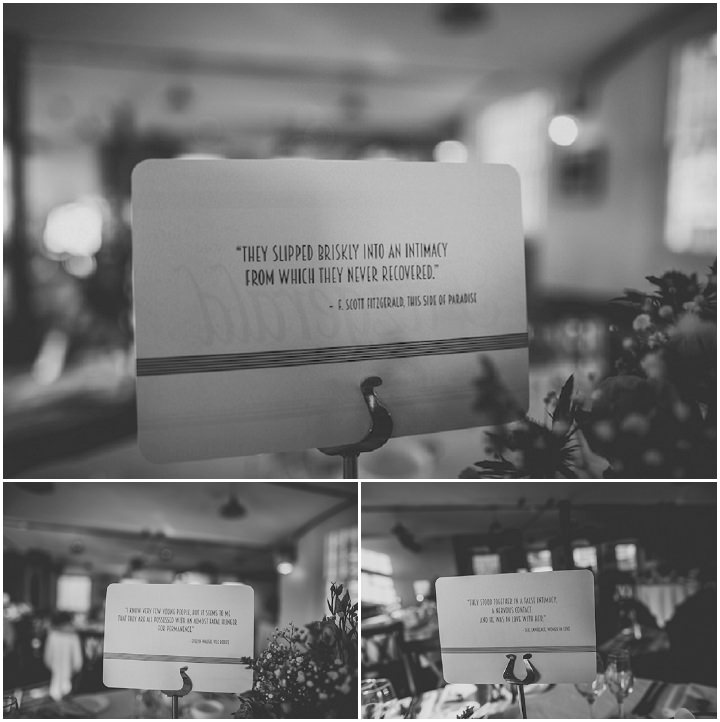 Entertainment
To begin with we had a pianist, Rodger Davis, who played as everyone was arriving and waiting. We also had The Burgundys, a live three piece cover band, and Mambo mobile bars, vintage cocktail bar. This was during the drinks reception to help the day flow and it was a lot of the guests favourite parts of the day.
Stationery
I am a graphic designer and printer so I designed and printed all of my own stationary.
Personal Touches
Stationary as mentioned. Also, me and my mum arranged the flowers for the centre pieces and the windows. My sister framed some little photos of my Uncle and Grandma as well which was a gorgeous touch. They were with me on the tope table and on the ceremony table, without it being too much of a fuss.
Special Moments or Highlights
The drinks reception was brilliant, it was like a little party. It gave us a chance to spend time with everybody before we were seated for the meal. Thomas's cocktails were a huge highlight!
Advice for other couples
Just enjoy the planning and do it together, don't get too uptight about the small things because the day flies by, take a moment to take it all in as a couple! If you enjoy the planning then the day itself can only be a bonus.
Biggest Surprise
My dad's speech was a surprise, I knew that he is brilliant at speeches but I didn't expect it to make me cry with the first line, I am really not a cryer! The best men's speech was also really good, they revealed some stories about Ian that a lot of the guests hadn't heard before!
Supplier Shout Outs
For more information on Greg's work go to: