I have the sweetest wedding for you today from Somerset. It's the gorgeous wedding of Amy and William who were lucky enough to hold the wedding at Amy's parents home. They pitched up a marquee in the gardens and went about making the wedding a festival them, with giant flags, hay bales, beautiful blooms and of course a pink tractor! Not even the rain dampened their spirits, instead of their out-door ceremony, they did it all inside and created their own little bit of rustic outdoor life inside of the beautifully decorated marquee. I just love this wedding, a real winner on every level. Big thanks to Siobhan Amy Photography for the images.
A gathering of our 100 favourite people together under 3 tents (it rained a lot!). The pulling together of our families, friends and the local community to make a wonderful and unforgettable day!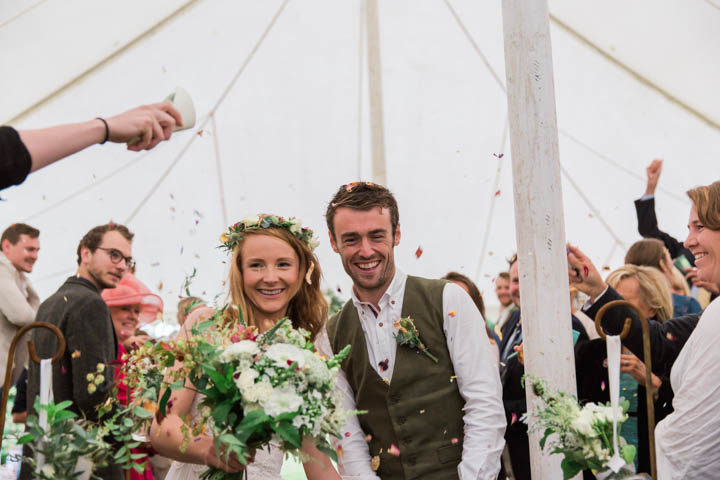 Amy and William were married on the 3rd September 2016 at Cossington House, Somerset (Amy's parents' home). 'Being Amy's family home, we've both got loads of memories from there and we wanted something more personal than a traditional venue – plus the field in front of the house is a beautiful location. We had 100 guests and the wedding took exactly a year to plan.'
How they met
We met at school and started dating aged 17! (so 10 years). 
The proposal
We have always enjoyed holidays to Cornwall, so Will decided this was the place as we have so many memories going back over the years. We were on a walk along the coastpath and ventured out onto the end of the rocks to watch the sea. Will got down on one knee (a careful balancing act!) and asked if I would keep having adventures with him forever. He popped out a gorgeous ring and had a bottle of champagne hidden in his rucksack, which we drank sitting on the rocks in the sunshine.
How did you allocate your budget?
Food is very important to us, so we didn't want to scrimp on the catering and wanted to provide our guests with a proper feast. We also didn't want people to worry about bringing cash, so we decided early on a free bar was important. We also wanted to create a great atmosphere with music, so in the end we had 3 different acts to have live music playing throughout the day.
Where did you splurge and where did you save?
We obviously saved on not having to splash out on a venue, which meant we had no restrictions about which suppliers to use. Will drove over to France to buy the wine which saved a lot.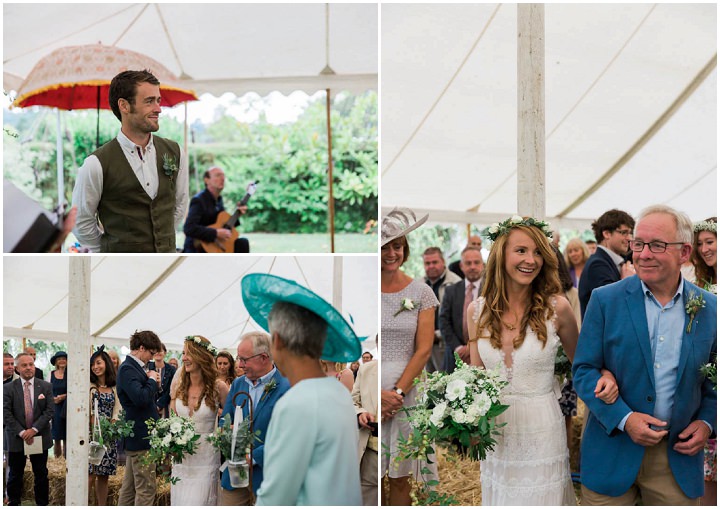 Why did you choose your photographer?
Siobhan is really talented and managed to disappear into the crowd and take amazing snaps which really captured the whole atmosphere of the day. She was relaxed and fun to have around, which is really important when your photographer is with you while you're getting dressed! Her prices were also really competitive and it was great to support someone in the early stages of their business.
The Dress
My dress was by Catherine Deane. Apart from my engagement ring the only jewellery I wore was a gold Alex Monroe bumble bee pendant which Will gave to me the evening before the wedding. I wore some really pretty sandals from Dune on my feet as I wanted something comfy that I wouldn't sink into the grass in!
The Suit and Bridesmaids
Will wore chinos, a white shirt (both Massimo Dutti) and he had a linen olive green waistcoat tailor made for the day by Gillinix.
Theme or Colour Scheme
We went for greens and whites – simple and fresh.
Flowers
I wanted to use seasonal flowers, grown in England rather than imported; arranged in an informal, naturalistic way. We had lots of white hydrangeas and garden roses mixed in with seed pods and herbs like rosemary, sage and mint.
Decoration
We wanted a festival look so we hired some huge, colourful silk flags, which we arranged in groups in the field to blow in the wind. We also had lots of straw bales to use as seats, miles of bunting, home-made signs and a pink tractor!
Food
Post ceremony we had afternoon tea with prosecco. We had the main meal in the evening and we went for a Mediterranean feast theme with lots of sharing platters. The starters were meze platters – stuffed vine leaves, baba ghanoush, falafels, pittas, tzatiki – you get the idea. Main was roast, butterflied leg of Mendip lamb served on platters in the centre of the tables and lots of delicious salads. Dessert was towers of baklava, Turkish delight and nougat all scattered with rose petals and huge platters of fresh fruit. We were conscious to source all our ingredients as locally as possible and created a South West cheese board, accompanied with home-made chutney.
Wedding Cake
A good friend of Amy's mum made the wedding cake and it couldn't have been more what we wanted! It was a 3 tier "naked cake" filled with fresh cream and home-made jam and decorated with fresh flowers and fruit.
Entertainment
We wanted a garden party feel for the afternoon, so we put on a selection of games from giant Jenga, to croquet, to a full size skittle alley made of haybales. To go with the skittle alley we created a "pub" out of haybales and old scaffold boards along a wall of one of the marquees, stocked with local ales and ciders.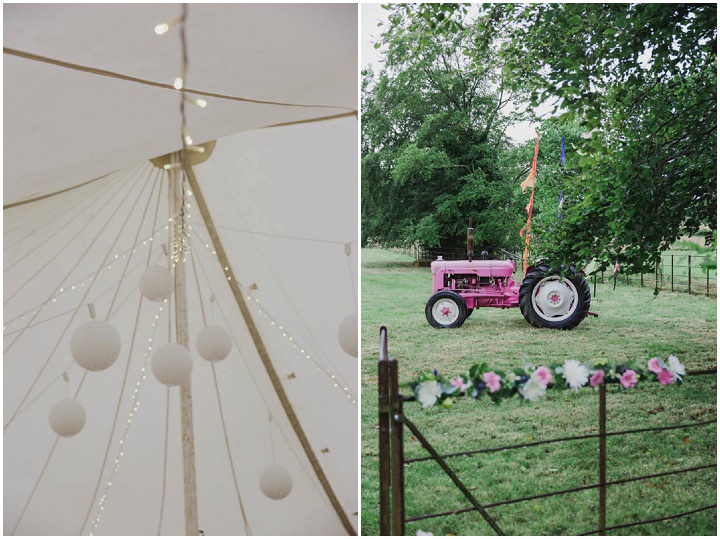 Stationery
We made all the stationary ourselves. For the save the dates we sent little packets of forget-me-not seeds stamped with the date. For the invitations we had some stamps made and created our own design, sealing the envelope with a gold wax bumble bee seal.
Personal Touches
We did as much as we could ourselves, a few things which stand out include:
We made our own wedding rings with the help of Julia Thompson, a local jeweller. We created a design for the rings to incorporate Amy's grandma's yellow gold wedding ring along with white gold, and then spent a whole day with Julia creating the rings.
For the favours, we planted 100 herbs in miniature terracotta pots – a different herb for each table.
The confetti was all made from rose petals grown and dried by Amy's mum.
For a thank you gift we had tea-towels printed after the wedding which featured little self-portraits we asked all of the guests to do on the night (a bit like you used to do at school).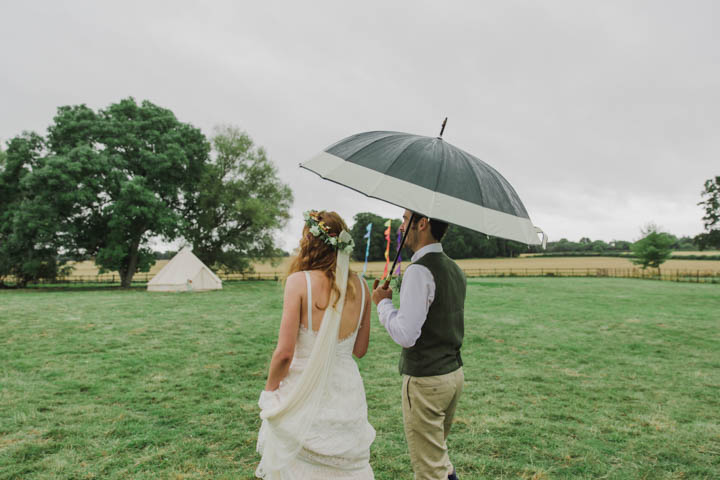 Special Moments or Highlights
The first dance was great fun! We chose James Brown "I Feel Good" and hadn't prepared at all for it, so it was a little nerve-wracking to walk onto the floor! We managed to pull it off and it wasn't long before the whole tent had joined us dancing away!
Advice for other couples
Starting the ceremony at 3pm worked really well for us as there was no standing around for people between events and it didn't turn into an endurance event. Give your guests good food, good music and provide the drink if you can and they will have a good time!
Biggest Surprise
For Amy – walking down the aisle to see Will was wearing a pair of wellies, not his shoes!
For our guests we organised a surprise fly-by and aerobatics display by one of Amy's dad's good friends – the pilot later joined the party.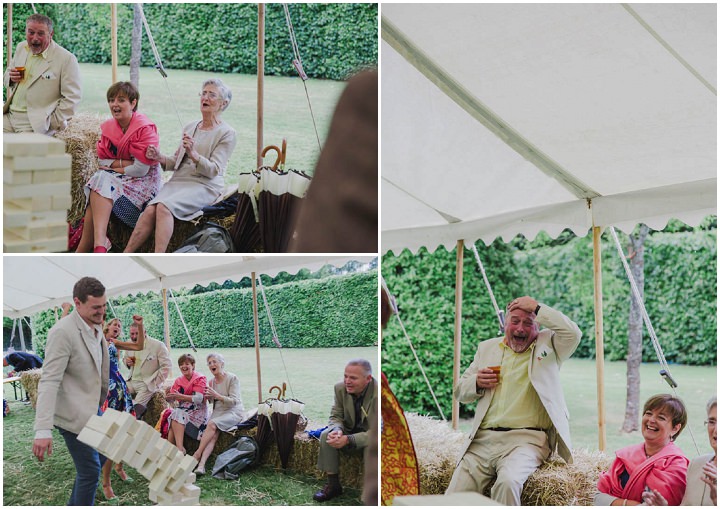 Supplier Shout Outs
For more information on Siobhan's work go to:
www.siobhanamyphotography.com / www.siobhanamyphotography.com/theblog / [email protected] / FACEBOOK / I: @siobhanamyphoto / T: @siobhanamyphoto / PINTEREST
'I'm a natural documentary photographer based in Bristol, covering weddings in the South West, UK and internationally for 2 years now. I love capturing the unplanned and unposed moments of couples special day and documenting the atmosphere on the day!'
Due to an email issue if you have emailed me between the 2nd & 9th of December, please resend it.
X