The sun is shining here in the UK and it is hot, hot, hot!! It looks like another scorcher here today, so make sure you slap on that sunscreen and try and stay cool. As it's holiday's weather, I thought I would take you on a journey: A destination wedding extravaganza to the Dominican Republic. Geneva and Romeo were married on 14th March 2020 at Jellyfish Restaurant in Punta Cana and the whole day from beginning to end is an absolute delight. I do love a beach wedding and this one boasts the most stunning backdrops, the whitest of sands and some pretty cool decoration. As for the adorable couple and their wedding party, so full of life, smiles, love and one hell of a party! Big thanks to Tayler Ashley Photography for the fantastic photos.
Tayler Ashley Photography tells is more about the day 
When Geneva + Romeo asked me if I wanted to join them for their destination wedding in Punta Cana, my answer was HELL YES. Nothing sounds better than white sands and tropical vibes for a spring-time wedding. What I didn't realize was how freaking epic this day would be and how INCREDIBLE her friends and family would be!
I flew out to the Dominican Republic for the weekend and was immediately welcomed by their whole crew. We ate until we couldn't possibly eat any more, drank all the delicious drinks, and got super silly! The morning of the wedding Geneva was the most calm bride ever and I could tell she was just so excited to finally do the damn thing. She looked absolutely gorgeous, seriously beyond words! Their ceremony was on the sand at Jellyfish Restaurant overlooking the stunning turquoise waters. Once Geneva + Romeo said "I-do" the party was onnnnnn! Everyone was enjoying shots of mamajuana and sharing their best stories about the couple.
Honestly, I was unprepared for how LIT this dance party was about to get. Their DJ turned it up and everyone was dropping it low and twerkin' their booties on the dance floor. There were even hand-rolled cigars being made next to the bar! I can't believe how epic their Punta Cana wedding was!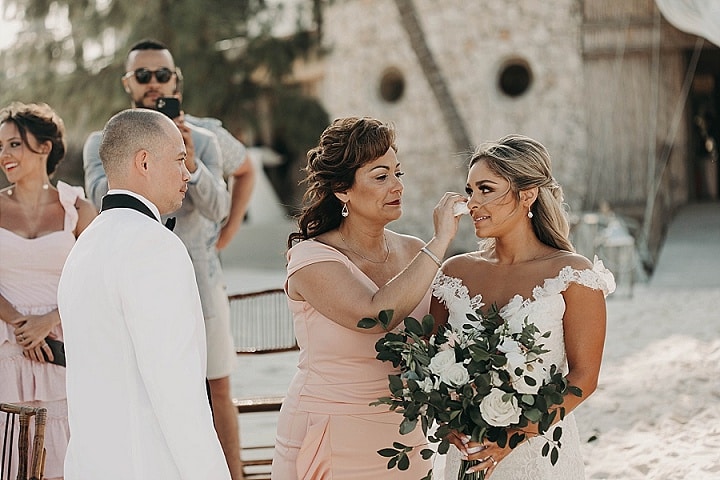 Supplier Shout Outs