Happy Wednesday everyone, I hope you are having a great week so far? I am taking you off to sunny California today, a destination I feature a lot here on the blog and for good reason! Jason and Naomi chose the venue as they needed outdoor space due to the current Covid regulations. Luckily for this gorgeous pair, California has back to back sunshine so a lot more scope for outdoor weddings, unlike here in the UK. They held a super chilled day but filled it with some beautiful decoration. The flowers, the sweet heart table, the signage and stationery all look amazing! Mixing natural elements in with the rest of the decor to keep it low key but suitably glamourous. The whole wedding from the ceremony to the reception is absolutely stunning. Big thanks to Anna Joy Photography for the lovely photos.
Our wedding was so peaceful and surrounded by the people that we love. The entire day felt incredibly easy thanks to all the people we had there supporting us.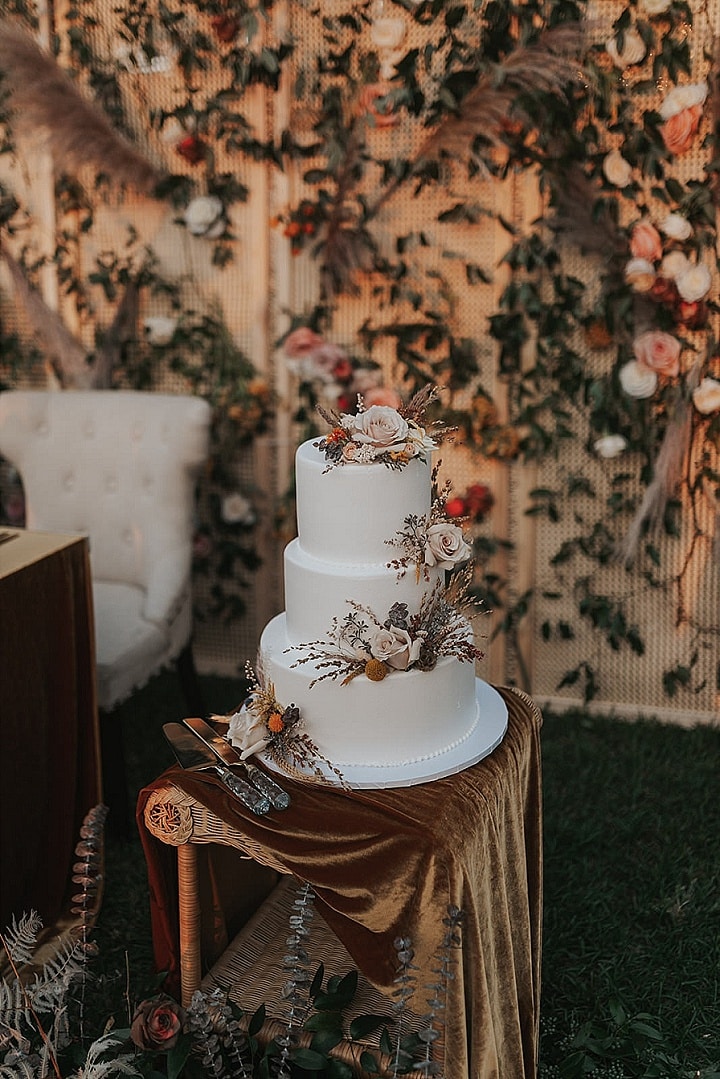 Jason and Naomi were married on 26th September 2020 at Muckenthaler Cultural Center in California. 'It was a beautiful outdoor space and we loved the historical look of the building which was built in the 1920s. We had a little over 100 guests, Despite cutting our number of guests more than half we were lucky to still have this number of people due to it being an outdoor space. It took us several months to plan the wedding, maybe about 6-7?'
How they met
And how long have you been together? We knew of each other in high school but we didn't start dating until after college. We actually ran into each other in Seoul, Korea as we were both on vacation there and decided to grab coffee when we got back to the states. That was in 2014, and we've been together since.
The proposal
Jason planned a surprise on a yacht with some of our mutual friends, and hid my closest friends and brother in the lower decks. They beared through some choppy waters and major sea-sickness to all participate in a really beautiful surprise.
How did you allocate your budget?
We both took responsibility over different parts of the wedding, and had the support of family to help us with what else we needed.
Where did you splurge and where did you save?
We splurged on food, alcohol and flowers. We saved on music and entertainment since it wasn't safe to have a dance floor.
How did you choose your photographer?
Anna Zobrist is our friend who also knew us when we got together. So there was no question for me to choose her. She is so incredibly talented and the warmth and natural candids she takes is what we were looking for.
The dress
dress: Watters Lainie color syrah. Shoes: Paradisi sandals, Kate Spade. Hair accessory: cherry blossom hair piece
The suit and bridesmaids
Suit: Men's Warehouse. Bridesmaids each got their own dresses in different shades/similar colors
Theme or colour scheme
The guys wore blue and the girls stayed in a mauve to blush tone shade. Natural, warm and romantic colour scheme. A lot of natural tones with pops of pinks and yellow.
Flowers
8th Street Florist knocked it out of the park! They combined both fresh and dry flowers in warm, neutral shades to create the perfect boho look, From Pampas grass to quicksand roses and more.
Decoration 
We had a beautiful welcome table with lots of goodies for the guests to keep them safe, and also a QR code for their digital guest book.  The ceremony had panels with cane webbing and floral organically popping out in all different directions. Everything had to be functional but also beautiful.  We tried to keep everything clean, neutral and organic.  This way nothing looked forced.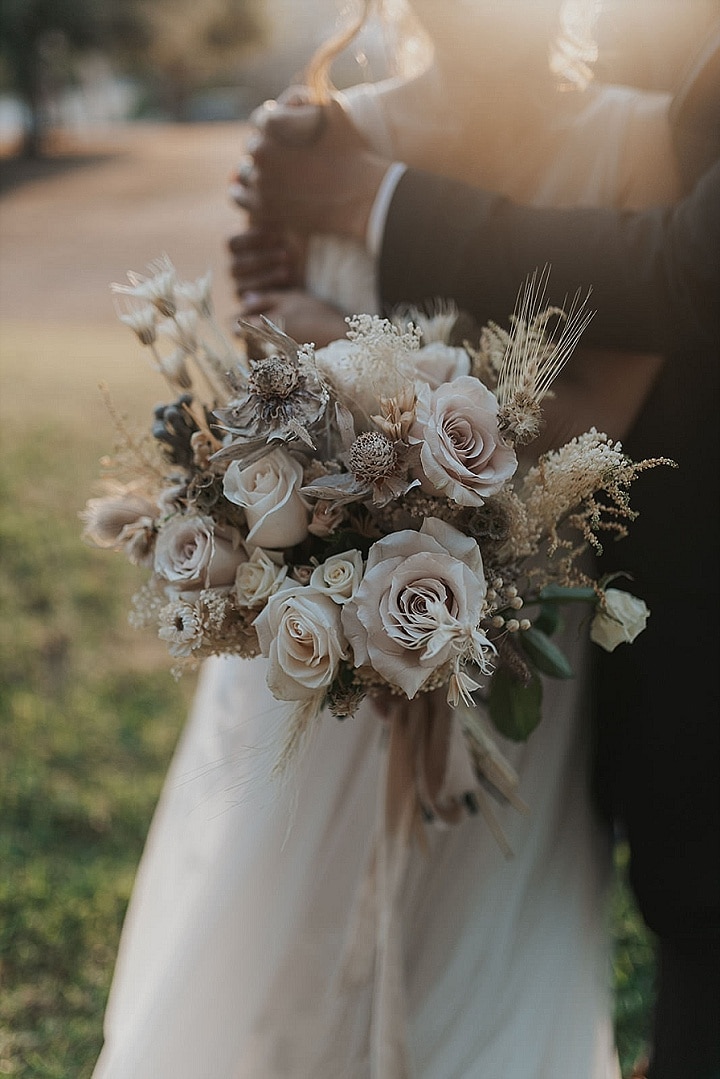 Food 
Appetizers: Burrata, tomato jam, crostini, basil; 2. bacon wrapped medjool dates, piquillo pepper aioli; 3. shrimp & avocado ceviche, tostada.
Salad: Colette's signature.
Entrees: 1. Pan seared tilapia, beurre blanc, citrus; 2. grilled petite tender of beef, chimichurri
Sides: 1. garlic mashed potatoes, 2. grilled vegetable napoleon, feta, balsamic
Wedding cake
Vanilla cake and vanilla buttercream with oreo buttercream filling.
Entertainment
A DJ who was a friend
Who supplied the stationery?
Sky Meadow Place
Where did you go on your honeymoon?
We were going to go to Hawaii but because of restrictions we traveled the coast of California instead and it was SO MUCH FUN! Our favorite moment was moonlight kayaking next to the floating boat homes in Sausalito, CA.
Personal touches
Ellen from Sky Meadow Place and her team did everything…. Everything they did was a personal touch and it was amazing.
Special moments
Our pastor and spiritual mom, Mama O, is African and it was amazing seeing her rile up a quiet, respectful crowd of mostly Koreans to participate in our wedding ceremony. It really felt like a special celebration that everyone was a part of.
The best moment was during the cocktail hour, we just finished taking pictures on the grassy hills with Anna and she ran off to grab us some cocktails. Jason and I sat in the grass watching the sunset together. Some of our wedding party found us. And we all just sat there in the grass, laughing, breathing and taking it all in. It was perfect.
Advice for other couples?
Get a good photographer and planner! It is so worth it. It made a world of a difference for me as the bride because I showed up to my wedding day SO RELAXED. It's because I knew in my heart I was well taken care of and that gave me permission to be at peace.
Biggest surprise
The alcohol…If you have an open bar, and you have happy drinkers in your wedding party/guests, definitely communicate to your wedding party to keep an eye on each other, especially the bride and groom just so everyone's on the same page. We had some surprises that made for ridiculous stories later. Hah!
Supplier Shout Outs
For more information on Anna Joy Photography go to
www.annajoyphotography.com / www.annajoyphotography.com/blog / FACEBOOK / INSTAGRAM / PINTEREST