Happy Friday everyone! I hope you have all had a wonderful week so far! Today is a busy day as it's Dexter's birthday tomorrow, he will be 7! So this afternoon and evening is all about getting the house party ready. We have 10 of his best buds coming for a party in our garden tomorrow, we have a comedy magician booked, who Dexter LOVES!! Then we are off bowling in the afternoon. Sunday we are going to Cadbury's World, which Dexter is super excited about. So a fabulous weekend all round I hope! What about you? Are you off to any weddings? Or is it you getting married? I have the delightful wedding of Frances and Pushpall for you today, they were married on 29th September 2020 at Bakersfield in California. The day was meant to be them and 380 guest but due to Covid they had to scale back their guest list and bring it down to just under 50. The wedding itself didn't lose any of his glamour and stunning decoration though. They chose an amazing colourful palette of bright flowers and table decorations that really makes this wedding pop! I just love it! Big thanks to Fairy Godmother a Wedding & Event Company for the submission and to Alicja and Scout for the wonderful images.
Colleen from Fairy Godmother a Wedding & Event Company tells us more about the day
This fun loving couple went from a large wedding of 380 people to a micro wedding. Set in a lush garden this wedding was an oasis on a bright & sunny September day. Jewel toned goblets & rich green napkins displayed on golden plates stood out brightly on the crisp white tablecloths. A dazzling array of bright floral centerpieces set in golden pedestal vases were arranged on each table. Stunning golden frames held calligraphy written on glass reminding guests of all of the safety guidelines for this social distanced wedding. Surrounding the circular door on the archway were a wreath of florals hanging from a golden archway that was later used behind the couples table at the reception. Despite having to downsize, this wedding was nothing less than glamorous.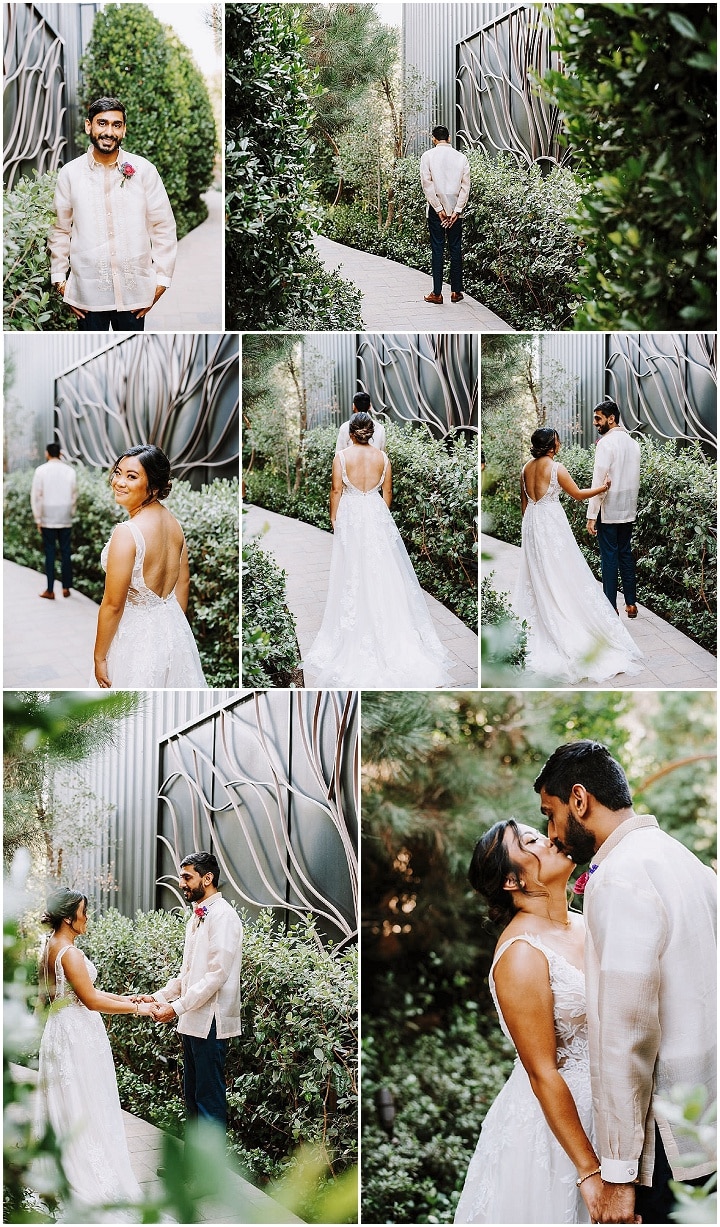 Supplier Shout Outs