Todays wedding is a real beauty, a flower filled outdoor wedding, that I absolutely adore. Elaine and Fletcher were married in California on the 15th October 2016, they chose a beautiful setting for their outdoor ceremony, along with the most amazing outdoor reception. With a tear jerking first look, they started off their wedding day filled with emotion and so much love. The reception brings an amazing outdoor setting, filled with fabulous furniture and most beautiful blooms. It ends with the rain taking over their first dance but oh my, how this just adds to the photos, that have been captured so amazingly by Inner Song Photography. A truly beautiful day, I'm sure you will agree.
More about the day from Elaine the bride:
Fletcher's father, hand-addressed all of our invitations, he hand-wrote each guest's name card and our table names, which we named after the six cities that we have lived in together across the globe. My favorite moment was right before we were announced as the new Mr. & Mrs, just after cocktail hour as our guests were taking their seats for dinner.
We had a moment with just the two of us at the top of the grand outdoor staircase, gazing out at our beloved guests who had traveled from all across the world to celebrate with us. It was such a proud and intimate moment for us to share right at golden hour as the sun was about to set and our awesome DJ Travis Holcombe was soundtracking the moment to perfection.
Just as the plates were being cleared from dinner a light mist began to fall and suddenly all the lights went out. (We found out later we had blown our generator.) But the music was running from a backup generator, so we never missed a beat, and our photographers quickly broke out a couple of spotlights to illuminate the dance floor. It naturally caused the crowd to migrate to the dance floor and it actually created some awesome romantic visuals for our cake cutting and first dance. Then, right on cue, the lights came back on and the mist let up, almost like we had planned it.
Anyway, if your wedding doesn't have at least one near-catastrophe, you might be doing something wrong!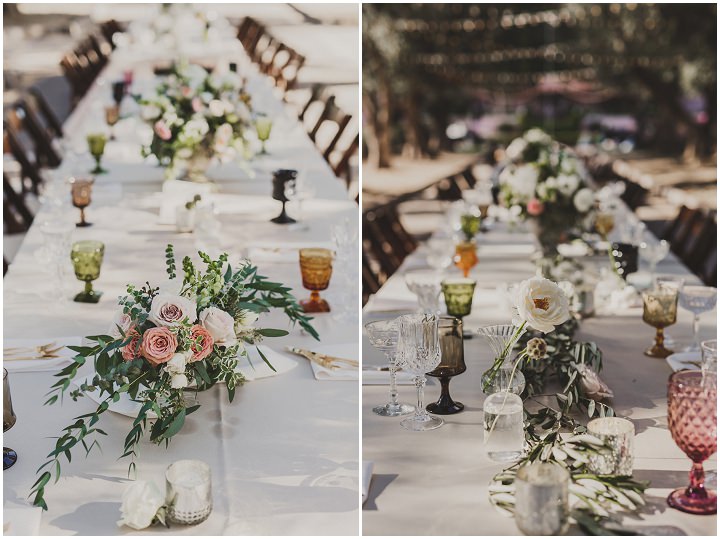 Supplier Shout Outs
For more information about Jess' work go to:
yourinnersong.com / [email protected] / FACEBOOK / PINTEREST