Happy Monday everyone and happy 17th May! For those of you not in the UK you may not get why we are so excited about today, but today is the next stage of things opening back up here in England. I am so excited for all the things we can now do. We have restaurants booked to eat inside, playcentres booked, the cinema, swimming – I cannot wait!!! So many wonderful things to look forward to over the next few weeks! We are a very excited household! It also means that weddings are slowly but surely opening back up too, which is fabulous news! So let's get cracking with today's wedding and I am starting off the week in style with the gorgeous laid back wedding of Jemma and James. This wonderful couple planned a super personal day with lots of handmade projects, from the glitter bar, to the flowers to the 150 origami favours. What a wonderful relaxed day full of wonderful smiles and touching speeches. Big thanks to Kristian Leven for the lovely photos.
A fairy tale coming true marrying my best friend. A whirlwind of emotions which flew by in a blur of glitter, flowers and magic (literally and metaphorically!)
Jemma and James were married on 11th August 2018 at Stoneleigh meadow, Stoneleigh, Warwickshire (directly behind James' mum and dad's garden!) 'It was almost staring us in the face. After viewing a few commercial venues, we realised they didn't really feel special enough and were quite prescriptive regarding food and drink choices. We knew we wanted the ceremony in Stoneleigh church and then it dawned on us that there was a stunning riverside location just next door. We managed to pull some strings and as far as we know we're the only people to have had a wedding in the meadow! Due to our large families and lots of friends with children, it was ~150 in the end, but the great thing about the location and Tents4Elements was how flexible we could be. Harry was so helpful in working out the best configurations to fit everyone in, right up to the last minute.As soon as we had the location secured it was pretty full-on for the best part of a year to plan.'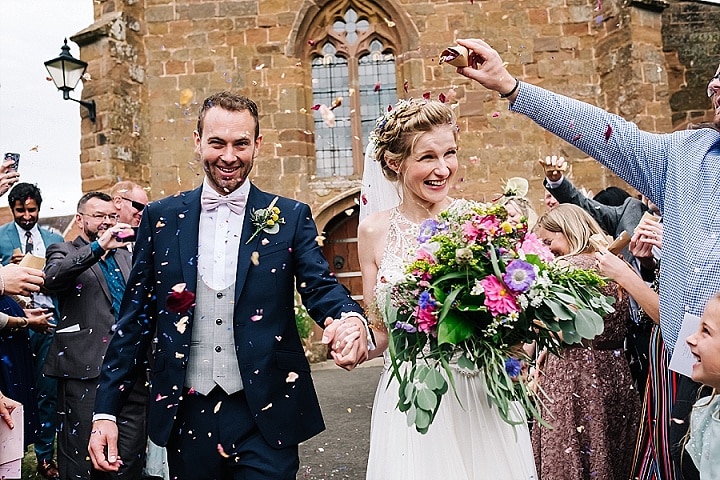 How they met
We first met at the tender age of 7! … It's a long story, but we actually dated during high school! We both went our separate ways for University and fell out of touch … but then nearly a decade later we met up through some mutual friends and never looked back.
The proposal
We were traveling around Indonesia and were in our final stay in Bali. James had the ring hidden inside a Kinder egg for the whole trip! He got down on one knee in a paddy field. That evening we had an amazing meal at a Balinese concert, and it felt like our own celebration!
Where did you splurge and where did you save? 
The dress, the tents, a videographer and a magician…all totally worth it! We saved on flowers and decorations, and generally by organizing most things ourselves.
How did you choose your photographer?  
One of our key values was authenticity and Kristian's reportage style instantly appealed to us. He captured so many incredible moments, making a truly unique document of the day.
Who was your dress by?
Martina Liana. I ended up getting it from The Tailor's Cat in Cambridge as I fell in love with the designer and then hunted down a trunk show. I changed my mind at the very last minute, and I'm so glad I did! It blended my love of vintage glamour and whimsical fun, and was so lovely to move in (plus, I could wear wellies underneath!)
The suit and bridesmaids   
We weren't concerned about conforming to traditional wedding attire, so we found things we liked on the high street and online.
Theme or colour scheme 
Not really – James is a designer and was determined not to have a 'wedding colour palette'. We simply chose items we liked and looked good together.
Flowers
My mum's a keen gardener, so we picked seasonal flowers together and then the whole wedding party got to work growing them! We also dried the petals to create the confetti. She wasn't confident to create the bouquets and button-holes, so these were from an amazing local wholesalers.
Decoration
The flowers were the main decorations – we were saving jars and milk bottles for months! We also decorated the tents with lights and bunting, but the tents themselves look stunning without anything in them!
Food
We wanted food that would be a crowd pleaser but not overly fussy, to fit the feel of the day. We stumbled upon the Lazy Pig's amazing hog roast the previous summer so knew we wanted that in the evening. For the wedding breakfast we chose a hearty selection of chilli, paella, BBQ and salads which were a hit with everyone!
Wedding cake
My mum's friend made the cake – we had our favourite flavours  chocolate, St Clements and carrot cake for the 3 tiers rather than traditional fruit cake.
Entertainment
We had a mind-blowing table magician during the afternoon, as well as a play tent for the little ones (and adults by the evening!) full of  toys – mostly borrowed from friends and family – a photo booth/fancy dress corner, arts and crafts, and loads of balloons and inflatables. In the evening we had a live band Just for Tonight playing party tunes on folky instruments which got everybody dancing. We also made our own playlist, which we still listen to today!
Who supplied the stationery? 
We designed our own stationery and website. James is a designer, which helps, but I also love illustration and created and decoupaged the whole design (featuring lemurs and frogs)!
Where did you go on your honeymoon? 
We had planned a road trip down the West Coast of America, but that summer the wildfires hit. So we ended up booking a last minute break to Ischia – nothing like what we'd normally go for, but it was great to soak up sun and relax with natural thermal pools and amazing dining after such a hectic time
Personal touches
Most things! I loved that both our mums had grown most of the flowers – which I also had in my hair. We made the favours which were origami animals (over 150!), and had a photo stream playing of me and James through the years. There was very little 'off the shelf'.
Special moments   
The planning was really special – bringing our families together, but on the day, there were so many: getting ready in the morning with all my favourites; coming down the stairs and seeing my dad and bridesmaids and their reaction to the dress; the glitter station (which even the photographer got involved in!); seeing James for the first time; seeing my 3 nephews as page boys (and the rustling of mini cheddars during the ceremony!); taking some time out with James before the meal and seeing two swans swimming in the river; having all our friends and family in one place
Advice for other couples
Look for inspiration but do what's important to you: it's your big day. Be prepared that some things may not go to plan, but it won't matter! Make sure you take a few minutes for just you and your other half.
Biggest surprise
The speeches; how emotional it all was; how quickly it was over!!!
Supplier Shout Outs
For more information on Kristian Leven Photography go to 
www.kristianlevenphotography.co.uk / [email protected] / 07743720369 / FACEBOOK / INSTAGRAM