Well hello and welcome to the half way point of the week. Have you survived the wind so far! what a terrible time we are having with it at the moment, I hope it goes away soon so normal outdoor life can resume. Today we have a gorgeous autumnal wedding for you that is filled with some much-needed sunshine! The wedding takes pale at the brides childhood home with the marquee being set up in the back garden, so it is extra specially personal to the couple. Some lovely rustic touches and some gorgeous photography from Kevin Belson Photography.
'The best day of our lives'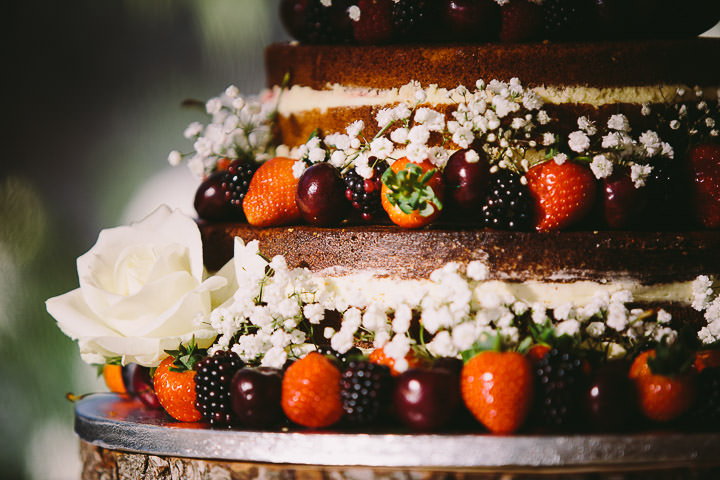 Lizzie and Pete were married on 26th September 2015. The ceremony and reception were held in Lizzie's home village of Flecknoe in Warwickshire. St Mark's Church was where the couple were married by Pete's mum who is a Reverend, before heading back to Lizzie's childhood home at Underwood Cottage in Flecknoe for a marquee reception. 'It was a very easy decision to get married where we did. Pete is a traditionalist and so wanted to marry where Lizzie was from, but the added personal touches of holding the reception in Lizzie's parent's pride and joy of a garden simply added the personal element to the day. We had a total of 120 guests.'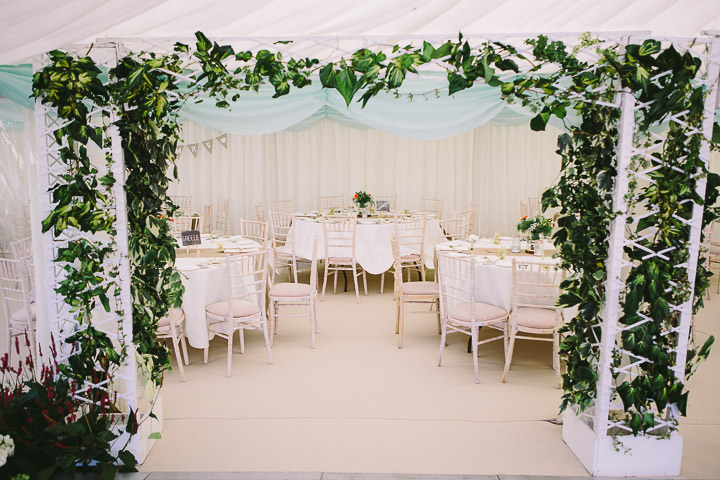 How they met
We were introduced to each other at a Christmas party in December 2013. The host is a very good friend of Pete's and is also Lizzie's cousin! Pete spent the majority of his time cooking and helping Anna in the kitchen whilst Anna's husband Gareth, was telling Lizzie all about Pete! We eventually did a bit of duet singing on the karaoke machine before eventually arranging to meet for breakfast the next morning and sharing a good night kiss!
The Proposal
Pete had been thinking about proposing for a good few months. The ring was ready and burning a hole in his pocket and Lizzie's father Philip had agreed to Pete having Lizzie's hand. Pete had spent a good few weeks away travelling with work and throughout his travels had thought more and more about getting on with things. As Lizzie is a Marine Biologist, Pete wanted her to be in an environment she was comfortable with and so they went for a walk on Sunday 25th January 2015 to Lulworth Cove and Durdle Door. Pete is into his photography and so set up his camera on a tripod and set the timer for a couple of shots of the couple. He then duped Lizzie into thinking he'd turned the camera off but had actually set it to video and filmed the entire proposal! So, on the beach at Durdle Door on a crisp winter's afternoon was where the question was popped!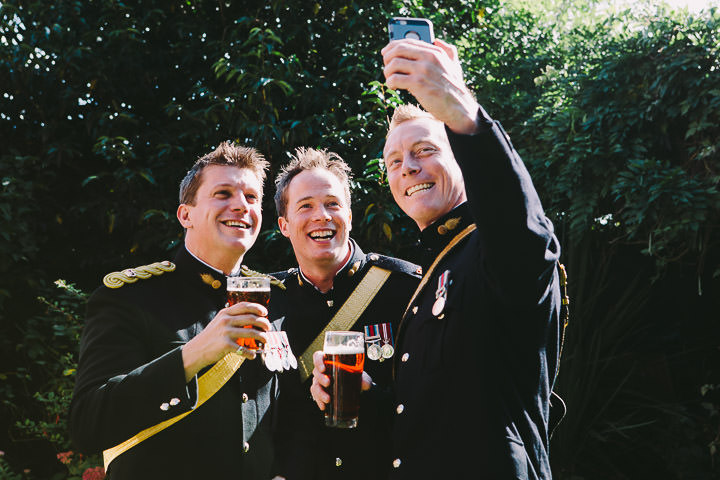 How did you choose your photographer
Kevin and Carol Belson were recommended by friends. Having looked through their extensive portfolio, we knew we had to speak to them. Both Lizzie and Pete enjoy their photography and so had a very strong desire for the wedding to be captured in a more natural way and they more than delivered. Both Kevin and Carol greeted us in the relevant locations with beaming smiles and immediately made us feel at ease. They were incredibly accommodating and we never knew they were there! The results were incredible and will be viewed for years to come!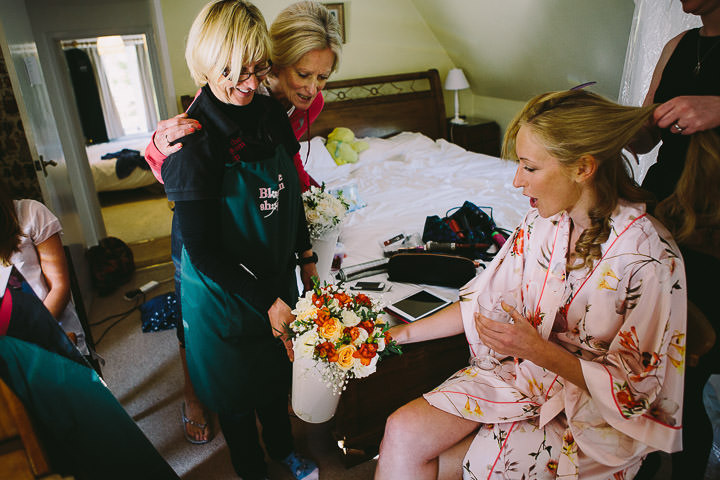 The Dress
Lizzie's Pronovias made dress from Brides of Southampton was made of gorgeous detailed lace across the shoulders down to the upper waist where a wide band of satin hugged her waist like a corset. Satin fell down to the floor in a princess style cut with beautiful intricate lace and sequin detail on the front and back. The train was cathedral length and very regal in feeling! She wore a beautiful Joyce Jackson veil with crystals and a stunning Ivory & co. hairclip. Lizzie had simple ivory satin shoes with some detail and the most special were her gorgeous Sarah Hickey pearl earrings and pearl bracelet – part of her wedding present from Pete.
The Suit and Bridesmaids
Pete is an Army Officer and so wore his Number Ones. Pete's wedding present from Lizzie was his own, fully engraved ceremonial sword. Along with him were his best man and our Guard of Honour made up of friends he has served with through this career from the Royal Regiment of Artillery and the Royal Anglian Regiment. Both fathers, Lizzie's brother, Pete's brother and nephew all wore black tails with grey and black punter stripe trousers. Double breasted Dove Grey waistcoats were also hired with the finishing touch of mint green ties being worn. The three bridesmaids wore mint green dresses and Pete's two nieces wore slightly darker sage green dresses. Lizzie had worked tirelessly at making hair pieces and bracelets for all the bridesmaids to wear which added another personal touch to the day!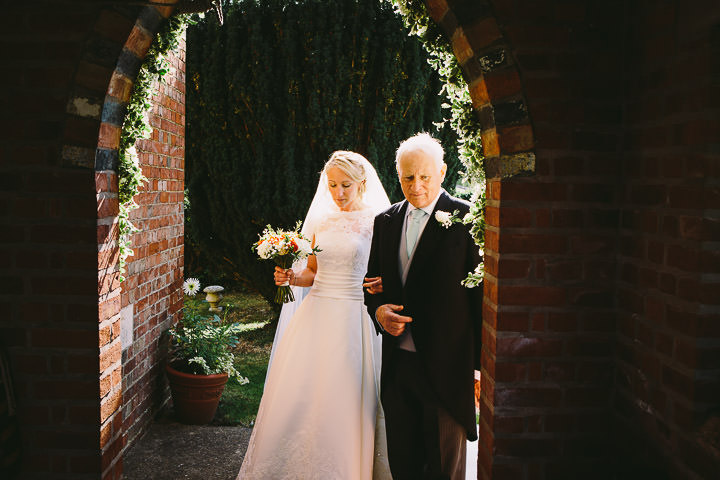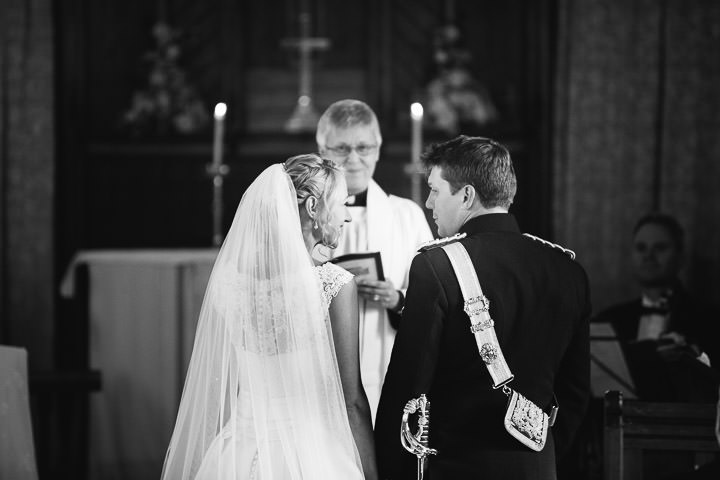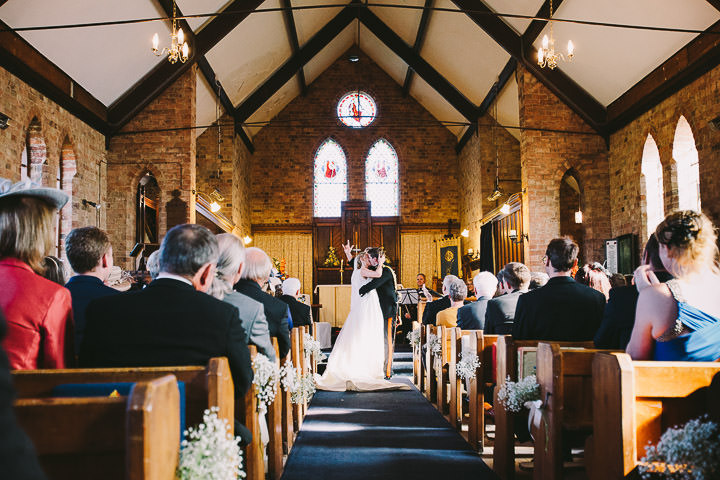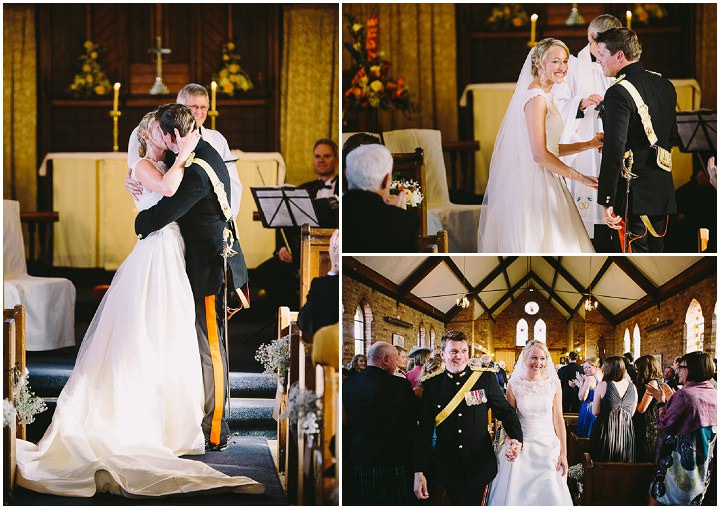 Theme or Colour Scheme
The theme was rustic. It was a beautiful day and we were very lucky. Leaves were falling from the trees and so the natural colours in the garden really complemented the theme throughout. Wooden rounds with beautiful bark formed part of the centre pieces on all the tables as well as a stand for the cake too.
Flowers
We wanted to keep it simple and so 2 pedestals of flowers were moved from the church to the marquee where 3 rings of flowers were suspended from the ceiling. The church pew ends were decorated with gypsophilas and the church entrance was decorated with an arch of flowers made up of
Decoration
Autumnal colours were chosen in line with the time of year, the rustic theme but also because both Lizzie and Pete wanted a warm feeling to their big day.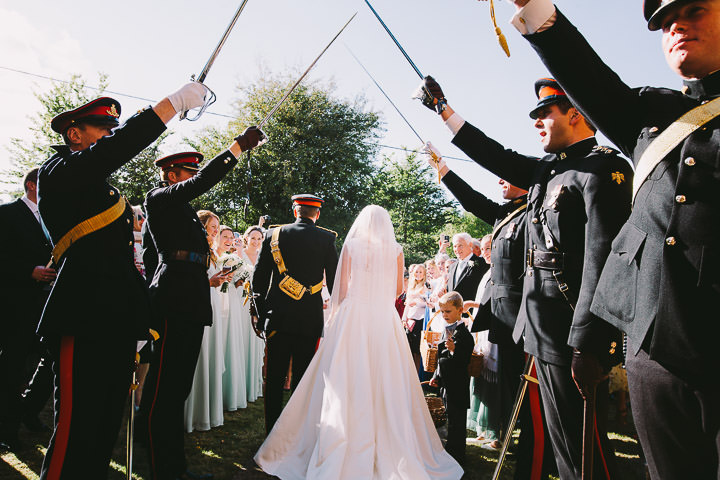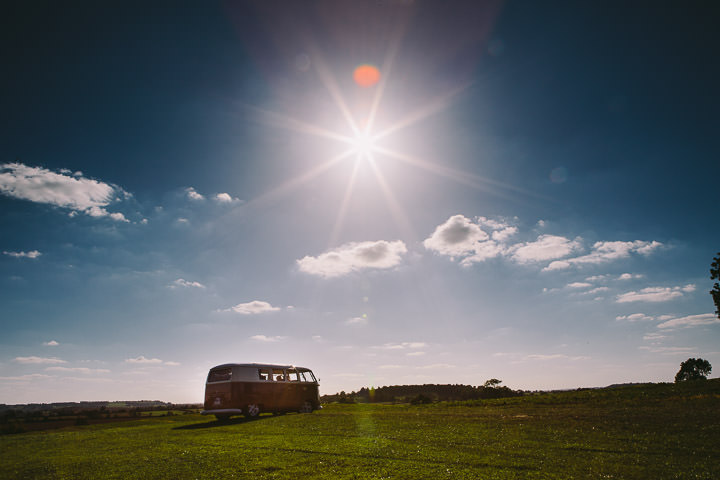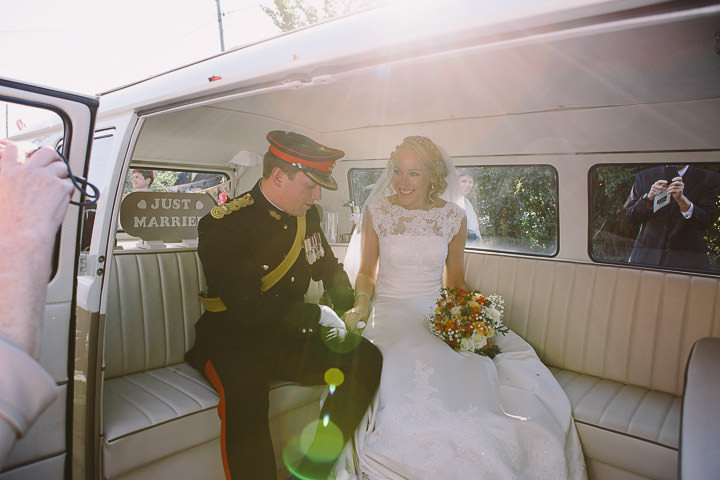 Food
Catering was provided by Kopanski catering. The guests had a selection of canapés throughout the afternoon and dined on warm figs with a blue cheese sauce followed a rack of lamb with dauphinois potatoes and mixed green beans. The meal was finished off with warm chocolate pots and lemon meringue roulade with raspberry coulis. Coffee and tea were served alongside a cheese board and a hog roast for those who still had room for more during the evening!
Wedding Cake
Lizzie and Pete wanted a "naked cake". Lizzie's mother, Sara, is a phenomenal cook and so was asked how she felt about making the cake! She came up trumps and they had a 3 tier cake; 2 being Victoria sponge and a third being lemon drizzle cake. It was decorated with fresh fruit and icing sugar.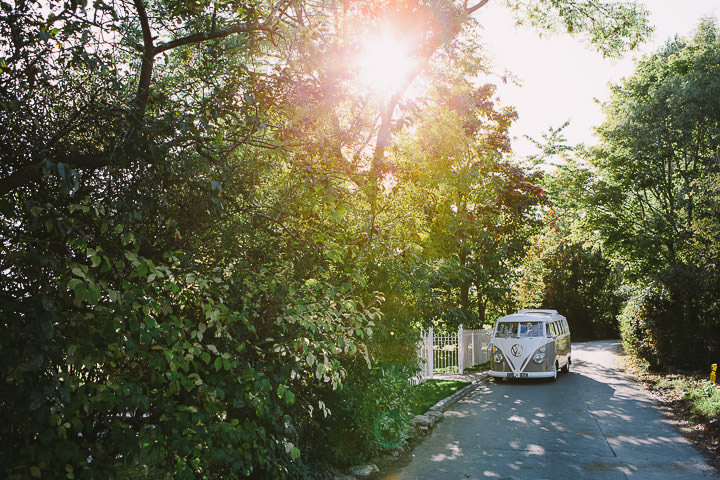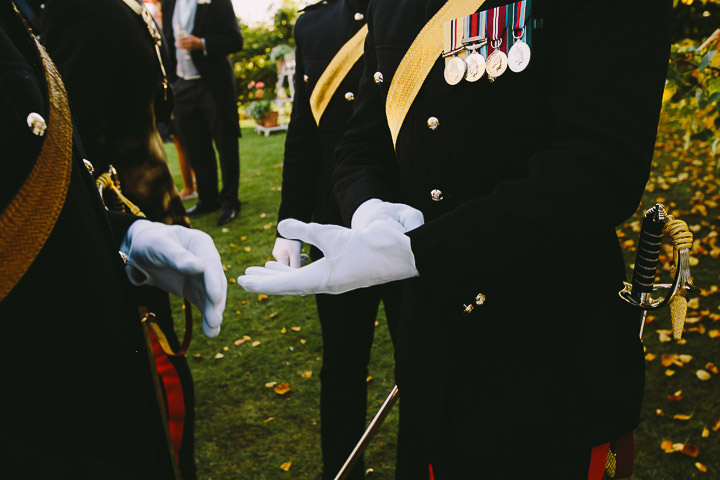 Entertainment
At the ceremony, a string trio played Lizzie in and during the signing of the register. They quickly moved back to the reception venue where they played through the afternoon entertaining the guests with a huge repertoire of contemporary music. For the evening, Pete hired a band called (ironically enough) The In Laws. They played a great mix of music throughout the night and certainly had everyone up dancing! Lizzie and Pete had learned a dance to their choice of song but the first time they performed with the band was on the night! The band did not let the couple down and played Ed Sheeran's Thinking Out Loud fantastically!
The Stationery
All our stationery was home made. The "save the date" cards, invitations, information inserts, menus and table name tags were all the result of family production lines!! The couple even made their own table name holders by making miniature easels and wrote the names using chalk onto slate. With Lizzie's overseas work and Pete being an Army Officer, both have travelled extensively and so the table plan was a huge world map with tables being named after countries they have travelled to as a couple or as individuals.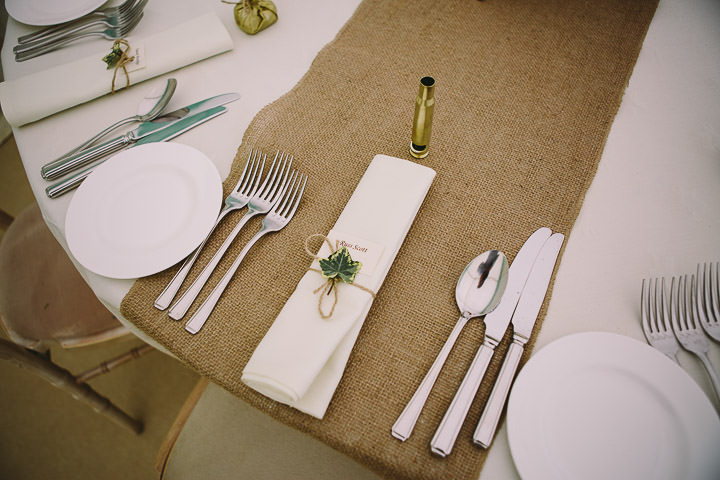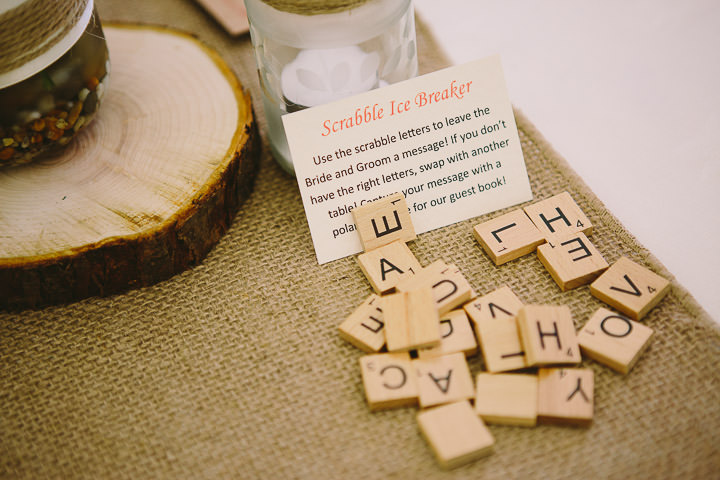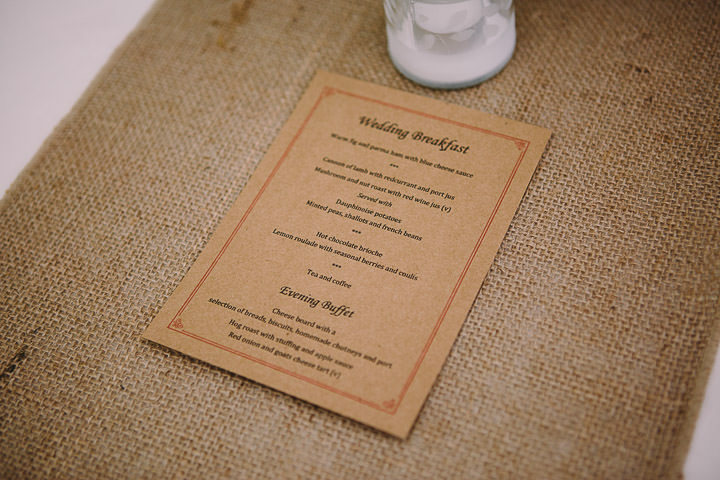 Personal or Handmade Touches
Favours were chocolate for the girls and bottle openers for the boys which were made from old .50 cal cartridge cases. Pete even made cuff links from the percussion caps from the .50 cal cartridge cases for the fathers, ushers, best man and Guard of Honour. Lizzie spent hours making all the jewellery for her bridesmaids and flower girls and for other significant people who made things to add more personal touches to the day for the couple. Pete's sister, Jilly, collected old flower petals and made 100 cones of confetti! The cones were folded A5 photocopies of old maps adding to the rustic themes but also capturing the couple's love for travel. A great friend of Lizzie's, Lauren, made a VW T5 campervan complete with Bride and Groom as a cake topper! Another great friend of Lizzie's, Rachel, made "Mr & Mrs" bunting which added to the decoration of the marquee. During the ceremony a great friend of the couples sang the blessing. Skye has performed solos at the Royal Albert Hall with the Military Wives Choir and certainly topped off the ceremony with an emotional rendition by John Rutter. Discarded bullet cases were turned into bottle openers and transport was in the form of a VW split screen camper! Lizzie and Pete spend a lot of time in their VW T5 and so it only seemed the right thing to maintain their love for camper and in the wedding too!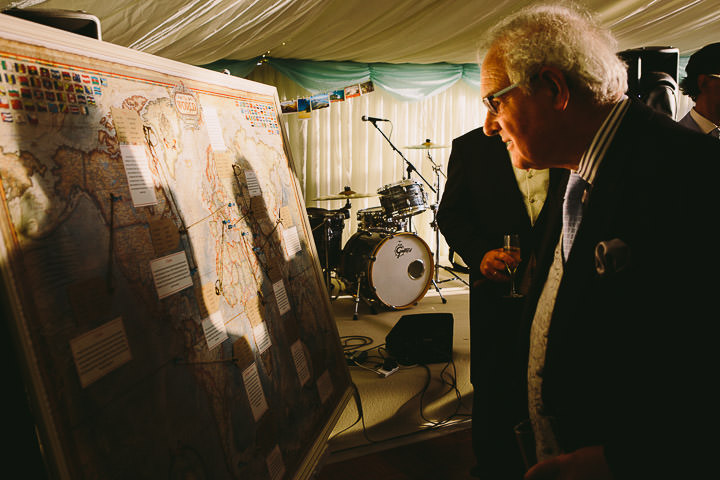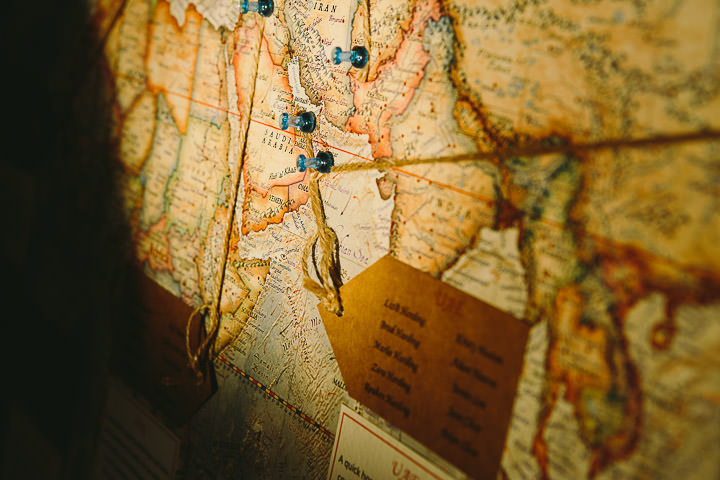 Special Moments
The whole day was a highlight. Everyone is absolutely right as to how quick it all goes! Whilst there are lots of very happy memories (which the amazing photos have helped with), the one part of the day that neither will ever forget, was that moment they first saw each other. Pete's best man, Matt, wouldn't let him turn around for the first few seconds. The stakes were high as to when Pete was going to get emotional and that was certainly the point at which he had to fight back the tears!!
Advice to other couples
Just listen to each other and compromise on your decisions. The bride will want to hear what the grooms thoughts and views are so make sure he's included! You're best friends and going through it together! Have a safe word that lets the other know when you need a bit of time out. We used "Godzilla" if we felt things were running away or if we could see the other was getting a little stressed by things. Just stop and have a hug for five minutes and reassure each other!
Biggest surprise
Pete had organised fireworks to surprise Lizzie. Matt feigned an electrical problem with one of the generators and so evacuated the entire marquee!! To maintain the reality, even the caterers joined the guests for the evening's finale!!!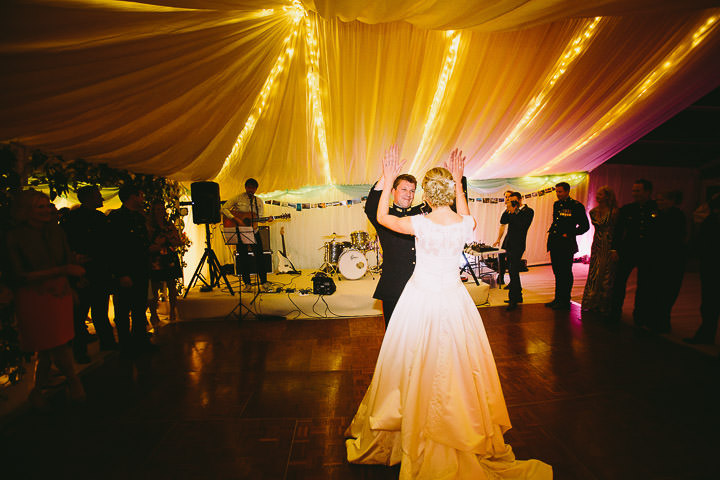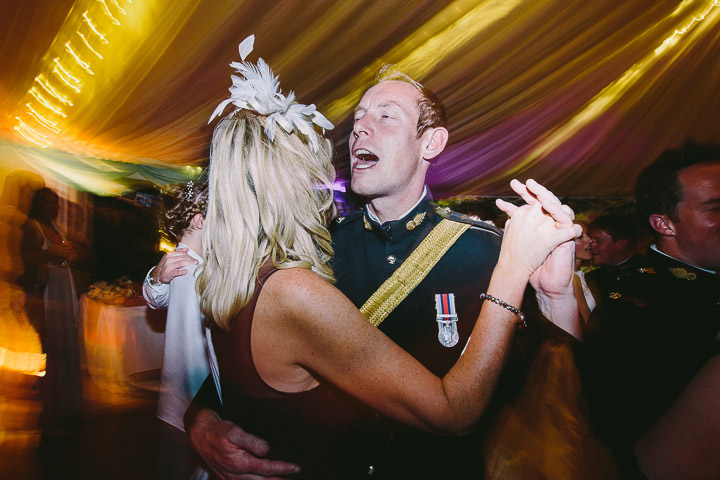 Supplier Shout Outs
For more information on Kevin Belson Photography go to:
www.kevinbelson.com / [email protected] /  FACEBOOK/ T: @KevinBelson  / PINTEREST

Kevin Belson Photography is a fine art/photojournalist team based in Wiltshire, shooting weddings across the UK and abroad. We go with the flow of the day and direct where necessary to create natural and inspirational images.

[jprel]