Today's wedding sees us head across to the USA for this super cute wedding that has been sent in by Meredith Corning from Meredith Events with photos by Freckled Fox Photography. Amber and Josh were married on October 27, 2018 at Cold Springs Events in Paron, Arkansas, USA.  Amber loves the Boho style but wanted to keep things understated with a touch of the modern and elegant. She did this by keeping the wedding decor simple but on trend by using lots of lovely Coral in many aspects of the detailing, as well as the ever-popular pampas grass and greenery as embellishments. The whole wedding is elegant, with a rustic twist and oh so pretty.
How they met  
We are both originally from the same hometown but did not meet until our freshman year of college. Two of our best friends dated in high school so we knew of each other but had never really talked. We had a class in the same building so our paths crossed every other day. He would always wave but one day he stopped to talk to me and it ended with him asking me out on a date. I almost said no because we barely knew each other, but he was so confident that I decided to give him a chance. I will never forget that night – He took me out to meet some of his friends and when we walked in every single person there knew his name.  I was like who is this guy?! I quickly learned he has never met a stranger and we have been together ever since that night!
The Proposal 
Josh proposed at the Castle on Stagecoach. It was around the holidays and he told me one of his clients was hosting a Christmas party there, and we needed to make an appearance. When we arrived he lead me over to a horse and carriage that was "taking people from their cars to the party".  Another couple asked if they could ride to the castle with us and I said of course – I assumed they were going to the same party as us and Josh just went with it! I was texting Josh the entire ride about how mad I was that he let me wear jeans when I saw the other girl was in a gown! When we arrived at the castle the other couple got off; I tried to follow them but Josh told me he had paid for a longer ride before the party. After riding through the woods a while, we turned a corner and stopped in front of a row of lanterns. Josh stepped off the carriage and after I climbed down, I looked up to see a sign of lights at the end of the lanterns that read "Will you marry me?" When I looked back he was down on one knee, and of course I said yes!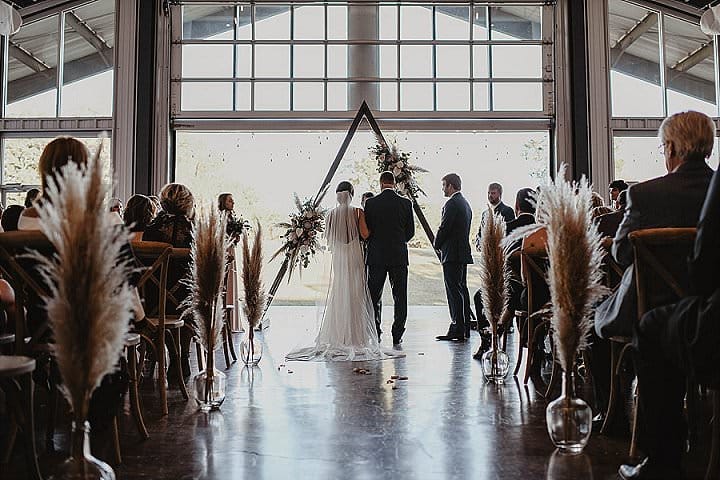 Theme or colour scheme
I would say my style is more understated boho.  I love boho trendy elements like the pampas grass but still wanted to keep some traditional pieces like my dress. I wanted our wedding to be a combination of all of the things I love.  I have always loved coral tones in general so I just went with it when I was making floral selections.  I also love natural wood and I thought the X back chairs were beautiful.  All of these things together really helped give the more casual vibe I was going for.
Special Moments 
The dance the groomsmen did for the garter toss will forever be my favorite memory! It was a perfect picture of our relationship, Josh is always singing or dancing! I was so shocked when I heard they put it together the night before – It was so good!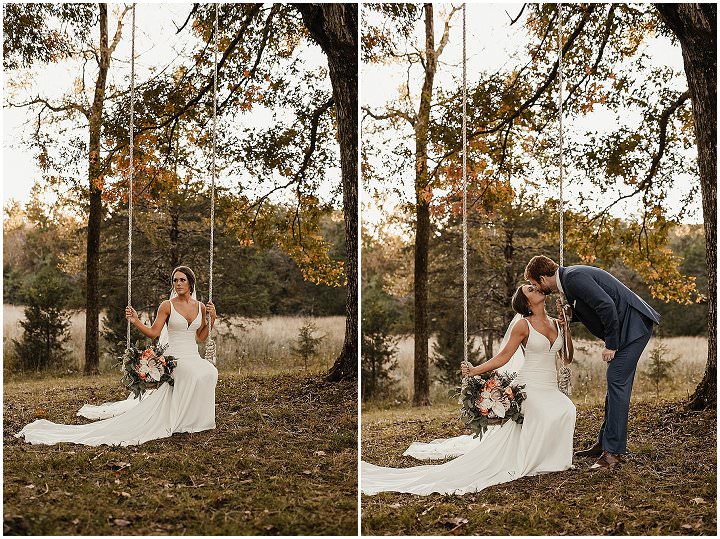 Advice for other couples
My biggest worry was that the day would go by too fast and I would look back and feel like the day was a blur. Some of the best advice I received was to stop and take mental pictures of moments throughout the day, so I really tried to make a conscious effort to do that.  It also helped that we ate dinner by ourselves – I loved that we had a moment to just sit down, relax and talk about everything that had happened.
Supplier Shout Outs