Hello Wednesday! And how are you all? Where has the week gone? I am starting off the day with this super cute 'Dreamy Boho' Elopement from the Las Vegas Desert. Courtney and Raymond wanted a low key day, just the two of them, but they didn't want to miss out on any of the Boho goodness that goes with a big wedding. This beautifully decorated elopement is everything they could have wished for. An intimate ceremony with the most stunning back drop of the Las Vegas desert, mixed with soft warm tones, gorgeous flowers and stunning decoration. They themselves make this wedding as special as it is, the rest is just a bonus. Big thanks to Elopement Las Vegas for sending in the submission and for planning such a wonderful day for this beautiful pair.
Our wedding day was absolutely perfect. Dreamy and Magical is the best way I can describe it. 
Courtney and Raymond were married on 26th September 2020 at Rainbow Vista at Valley of Fire. 'We loved the idea of getting married in the desert, getting "married in Vegas" without actually being in Vegas.  We wanted it to be just me and Raymond to focus on the both of us. We did not feel like we needed 200 people to witness our love becoming official (not against that at all, just not our thing) We actually started planning well before we were engaged! Since we had found this amazing company last summer, I knew it would be perfect for us, so once we officially decided we wanted to get married, I inquired. That was in January. He didn't propose until June, granted Covid messed up his timeline for how he wanted things to go. Aside from some difficulties made due to the virus, everything ran very smoothly. Emily makes it super easy for us to plan, since she and her crew take care of basically everything for you. Amazing. All we had to do was get our outfits and our flights/hotel, then figure out how to get to the venue, and that was it!'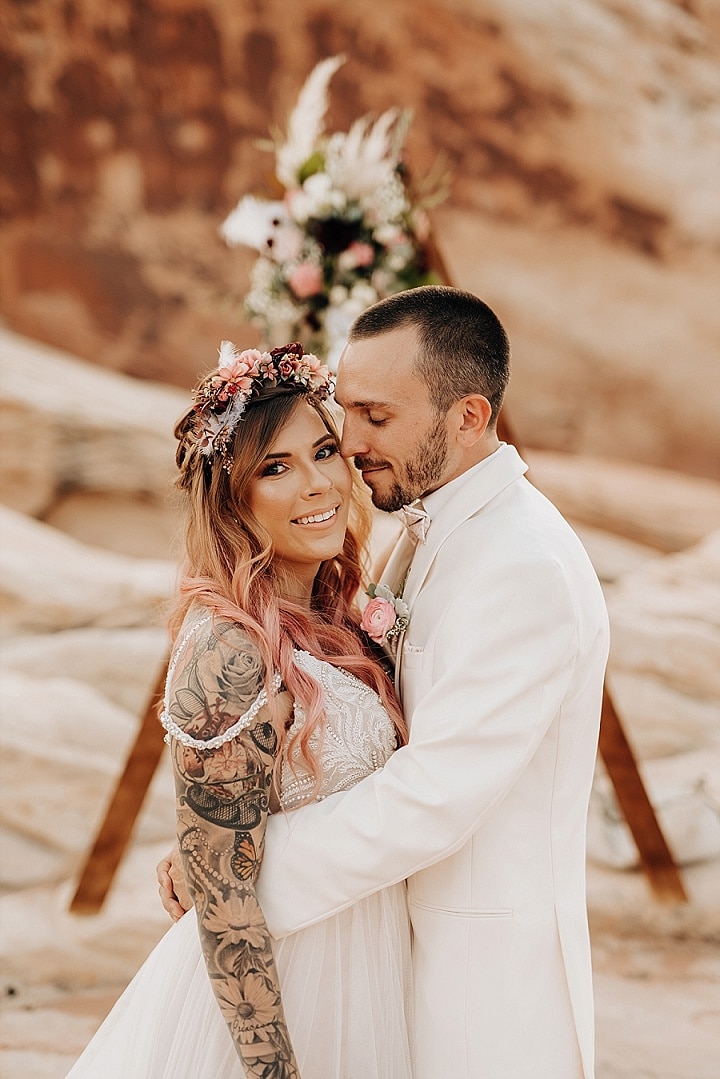 The proposal
He had planned this little date night on a Saturday night where we went for a small walk in the city (we live just outside Pittsburgh, PA), then he took me to our favorite restaurant, the Melting Pot. Afterwards, we went to the roof of the garage we'd parked in to take in the view of the city and he proposed!
How did you choose your photographer?
Elopement Las Vegas assisted with choosing our photographer. They did an amazing job pairing us with Onyx and Arrow. We could not ask for a better photographer to fit our personalities.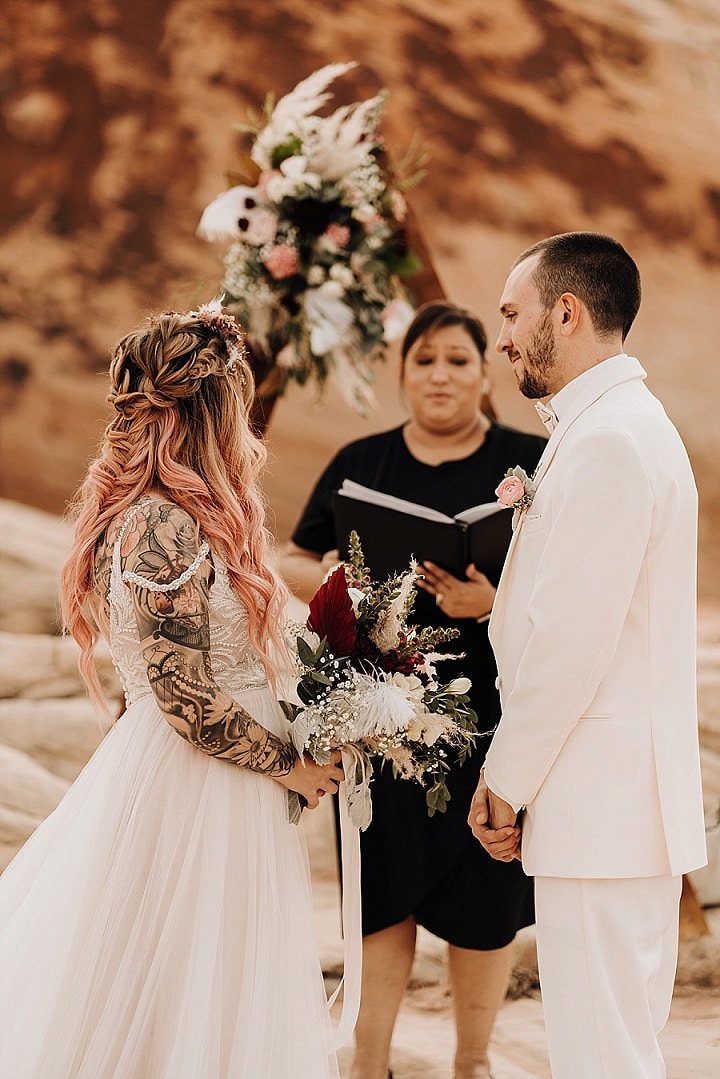 The outfits
Ray had gotten his tux at a local (to us) men's formalwear store called Berk's Menswear in North Huntingdon, PA. That's where he's always gone when in need of anything formal. He wanted something lighter colored that would match the colors in my dress and wouldn't attract the sun in the desert heat, so he went with an Ivory tux. He bought dress shoes to go with it, but ultimately, decided as we were leaving the hotel, to wear his new Vans sneakers we had bought right before we left Pennsylvania. I found my dress at a boutique called One Enchanted Evening in Zelienople, which is an hour away from us. I knew I wanted either a blush or pale pink princess-y dress, something that was kind of bling-y to fit the Vegas idea but not too much, and the dress I ended up finding was light blush with ivory tulle and beaded detail work on the top with a slit in the leg, perfect! I'm all about the small things too, so I had also given ray a rose gold pocket watch I found on Etsy to match our rings, that has our wedding anniversary on it, and the cuff links he wore were his Great Grandfather's that had been handed down to him. All of our accessories, other than the cuff links, I was able to find and purchase on Etsy, with the exception of our shoes, which mine I found at DSW on sale.
Theme or colour scheme
I wanted a cute boho theme with neutral colors and a pop of pink! But not too much pink. Elopement Las Vegas had the perfect decor for what I had envisioned.
Flowers
Our florist did such an amazing job with my bouquet! Pink and White roses with added greenery, pops of red and dried flowers and more! It was so gorgeous!!
Decoration
A lot of simple boho decor. Emily had a cute rug and arch that was decorated with flowers like my bouquet for the ceremony. When we did our champagne toasts, they had also decorated the little cart with candles, vases, dried flowers and more flowers similar to my bouquet.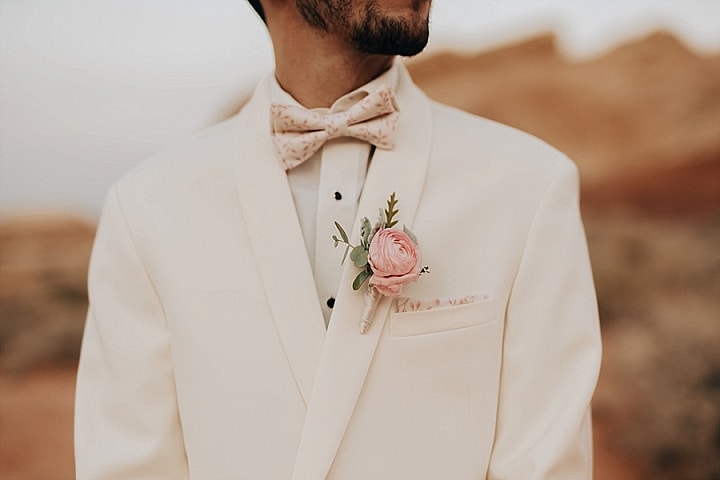 Special moments
Everything about our wedding day was memorable! It was such an incredible day, and it could not have gone any more perfect in my opinion. Although, Ray did almost lose his ring right after the ceremony! Lol
Advice for other couples
Life happens, don't let it stress you out, just go with it. There's no use in getting stressed or frustrated, especially over things that are out of your control. I'm a firm believer in everything happens for a reason. And also, remember to do things out of love! That's why you are with your significant other, because of love. Even the smallest gestures mean the most when it comes to doing the little things.
Supplier Shout Outs