This afternoon I am brining you a real bridal fashion treat, the superb new collection from Anna Georgina. The new 2021, Romance collection is absolutely stunning, mixing textures with romantic silhouettes, giving a truly romantic yet power feel feel to the gowns, this collection will  appeal to any bride looking for a whimsical yet sensual feel to her bridal look. With weddings looking set to be a lot smaller this year, it doesn't mean that your dress has to. 'Weddings will always go ahead, regardless of what is happening around us – romance will always trump everything' This collection is stylish, powerful and full of sass. I know you are going to love it as much as I do.
"Sensual and cosmopolitan, Anna Georgina, wedding gowns are designed for the self-possessed, confident woman.  Our belief is Haute Couture inspired gowns should be made accessible to every women,"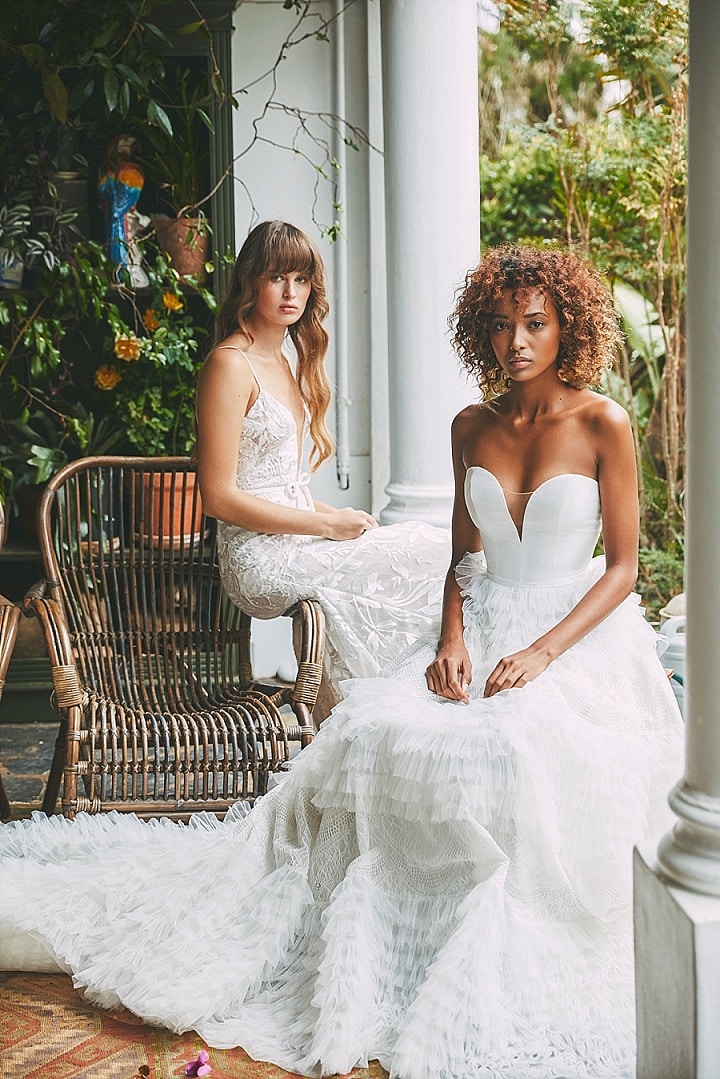 Anna Georgina's new 2021, Romance collection, materializes from a captivating fantasy in a dramatic line up of heirloom gowns set in a lush, South African Colonial garden.
Signature silhouettes are embellished with decadent embroideries in luxurious fabrics in a palette of soft Blush and Ivory.  Dotted jacquard, silk tulle and chantilly laces transform classic silhouettes, creating an air of royalty, while draped Tulle add an element of wimsey.   Dramatic Feather capes, big straw hats and hand beaded bodices with wide legged satin pants give versatility to the modern bride.  Soft layers of tulle and embellished appliqués create depth and dimension.
Can you tell me a bit more about the new collection?
Weddings will always go ahead, regardless of what is happening around us – romance will always trump everything. The ROMANCE collection is a celebration of this. With smaller, more intimate ceremonies the new normal, it is essential to hold on to some of that old fashioned grandiose, glamour.  With smaller weddings it will almost definitely be all about the dress, the dress will become so important.  A bride will want to look her best for her wedding to show off the wedding photos.
What were the main influences when designing it? 
Like all our other collections, Romance grew out of the belief that each woman has a beauty that is her own, an essence that deserves recognition. The most underplayed aspects a woman is her inherent power and beauty, often unrecognised by the woman herself – our dresses allow a woman to feel feminine and powerful on one of the most important days of her life.   The Romance collection embodies the journey that a bride experiences. The journey itself, evokes magic and a sense of fantasy, which is brought to life in this collection though our captivation of old-world glamour.   As a designer I love to delves into the fantasy ethereal world of high fashion design delivering designs for every bride to feel the grandiose of wearing artistry haute couture and feel like a queen.  The brand holds the belief every woman has a beauty of her own; the gown gives the bride the power to believe her own beauty.
Can you tell me a bit more about your company
Anna Georgina, gowns are imagined by myself Kobus Dippenaar, who started dress designing career age 19.  Dress designing is the only career I've ever known; I followed in my mother's foot-steps and long family heritage of designing dresses.   With a 30-year background in dress design, I originally designed couture evening gowns and started Anna Georgia, in an ode my mother's dress designing company; with a burning desire for haute couture designed fashion gowns accessible to be more accessible to brides.
Our gowns are handcrafted with extreme attention to detail.  Playing between masculine and female elements, full skirts contrast with fine boning and signature corsetry.  Seamstresses create each gown over many weeks with hand-executed techniques.  Silhouettes vary from deep romantic necklines and sensual back plunges.  We search the world for only the finest textures of silk dupoin, sheer fabrics, sensuousness of silk charmeuse and the lightness of tulle.  A delicate palette of vogue colours throughout from ivory, blush, nude and champagne.  Touches of design drama seen via illusion lace sleeves, lace tattoo elements, shand embroidery, tiny belts and silk petals accents.
Where are you based?
Myself and my team are based between HQ's in South Africa and Germany.  Following in my mother's footsteps and a long family heritage of designing dresses, I began my career at age 19. Now after 30 years of couture dress design, I started Anna Georgia in ode to my mother's dress designing company.
Can you give me a rough price range for your dresses?
It is important to us that our haute couture designed fashion gowns are accessible to brides, with this in mind, the prices of our gowns start from £1500- £5000.
Where can they be ordered/purchased?
Anna Georgina caters to an international audience with boutiques located in South Africa, the UK, US and Europe. Bridal boutiques and stores can also buy from the 'One Fine Day portal', which can be found through this link.
For more information on Anna Georgina go to 
www.annageorgina.co.za / FACEBOOK / INSTAGRAM 
this is a sponsored post
[jprel]