With only 3 days to go before the Big Day I am getting super excited for Christmas. I am out with Dexter today on a Christmas extravaganza. What about you? Are you still at work? Spending time with the kids? Or just at home getting into the Christmas spirit? Well I have just the Christmas present for you with this super festive Christmas Tree farm styled shoot. The shoot took place in October this year at Glenelg in Maryland and was put together by self confessed Christmas addict MadBou Photo. The whole shoot is completely magical. The Christmas trees provide the perfect backdrop. If you love Christmas as much as I do, you are going to love it too.
MadBou Photo tells us more about the shoot
I can't be the only one who daydreams about hunting for Christmas trees in October. One month away and the countdown is on to the day I can decorate my home and unabashedly listen to Christmas music 24/7. We like to have our tree up just before Thanksgiving, decorated just after, and admired until the New Year. My passion for all things holiday is strong. This year, I decided to take that passion to a new level and plan a Christmas-themed styled wedding shoot on a Christmas Tree Farm in Maryland, just outside of Washington, DC. Our shoot was inspired by the joyful melody of Taylor Swift's Christmas Tree Farm, from the mistletoe hanging at the alter to the hot apple cider bar tucked away between the trees. Our models, Claire and Martin, got engaged in July. Would you believe me if I told you that they're you are looking at the future Mr. and Mrs. Swift? It wasn't planned but it was obviously fate that have Clair and Martin would join as we celebrated Christmas a little early surrounded by trees that will soon be lovingly decorated in the homes of families across the DC region.
My fiancé and I have been getting our Christmas Tree at TLV Tree Farm for years. There was no other place that felt quite right than this very special spot in Glenelg, Maryland. TLV has been owned and operated by the same family. For more than 100 years. They have it down to a science – planting 10,000 Christmas trees each year and they typically sell out by the second week of December (at the latest). The rolling hills are a perfect backdrop for any scene, but they sure make for an extra special wedding. We are so grateful that they allowed us to create Christmas magic on their property.
For some people, it's Autumn leaves and pumpkin spice. But for me, it's Christmas and Taylor Swift. Every time.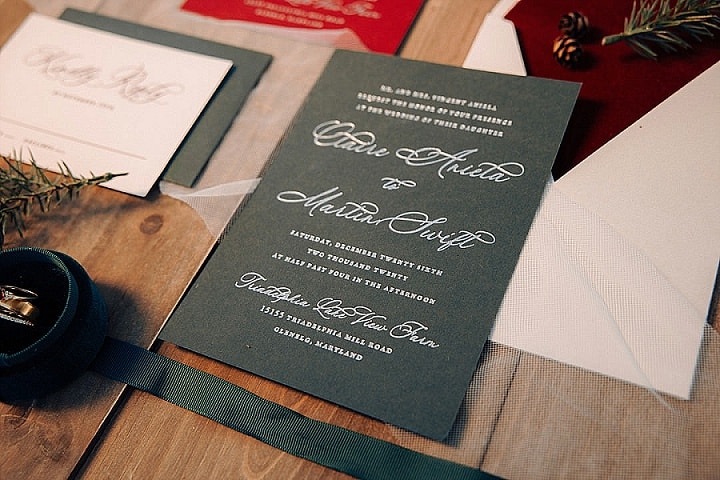 The suppliers who made the shoot possible
For more information on MadBou Photo go to
[jprel]