I am so excited about the wedding I have to feature today as it's a Boho Planned Wedding that I worked on this summer and one of my favorite Boho Weddings of the year. It was certainly the most fun wedding I worked on, with the most amazing couple and the best guest EVER!
I love this wedding so much that I have had to split it into to two parts, there are simply to many photos for me to choose from. Part 1 is the ceremony, and part 2 will be the reception and party, and I mean PARTY! Caroline and Aron didn't go to bed till the sun came up the next day!
The couple is Caroline and Aaron Hamilton who got married on 30th July 2011 (which must have been the hottest day of the year this summer) at  Newton Grange, near Skipton in North Yorkshire with 85 guests. It really was a stunning day, boiling hot, blazing sunshine,which was just perfect for their outdoor ceremony which was conducted by One life ceremonies. The wedding had all the things that for me make up a perfect wedding, great guests, a relaxed attitude, some amazing colourful decorations, hay bails, a bouncy castle, camping, a BBQ, amazing speeches, an awesome band, loads of partying, loads of dancing ………..and a couple so completely and utterly in love with each other.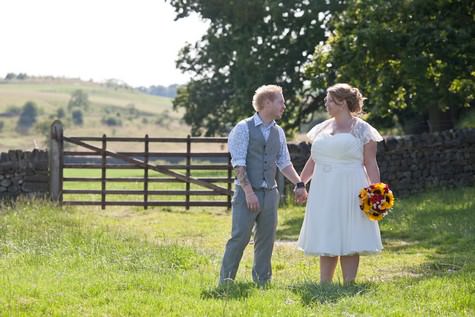 Caroline and Aaron really are one of the loveliest couples you could ever wish to meet, and they both made my job an absolute joy. So relaxed and chilled out, and just perfect for each other. I cried all the way through the 30 minutes service, you'd think by now I'd be immune to such wedding emotion, but it's something about having an outdoor ceremony that has been personally written for you that gets me ever time. One Life ceremonies are amazing, that is all I can say, I have been lucky enough to work with them before and I cried then as well! EVERYONE should book them for their wedding!
I also had the pleasure of working with Lee Allen and may I say if you want an up beat photographer who is going to get stuck in, and really get on with your wedding guesst then Lee is your man, he stayed till 1 am capturing the night party shots and really went out fo his way to capture every moment for Caroline and Aaron. Co Co Catering were the caterers for the day and as always a joy to work with, amazing BBQ that they provide! I can highly recommend.
The day went without a hitch and will go down as one of the highlights fo my summmer! Congratulations Caroline adn Aaron, you rock! and you knwo how to throw a fabulous wedding!
Caroline and Aaron describe their day as 'A summery, relaxed, fun and unique day filled with friends, family, laughter and lots of love. Every aspect was special and personal to us, celebrating both our individuality and our love for each other.'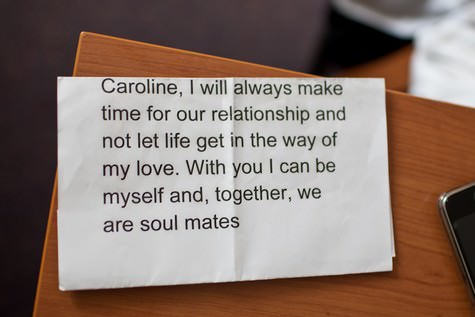 How they met
We met at a rock night in Leeds, having been introduced by a friend. We have been together over 5 years now.
The proposal
It was my birthday and Aaron took me to a magical place called The Forbidden Corner (such a cool place and we considered it for our wedding – you should check it out!). He gave me my birthday card, in which he had secured the ring with a ribbon. As I opened it, he got down on one knee and asked me to marry him!
The Venue
We wanted a wedding venue with as few restrictions as possible, somewhere that would let us bring in our own suppliers/entertainment, do our own decorating, set our own schedule and ultimately create the day we wanted from scratch, (plus having an unlicensed and unusual venue meant it was much kinder on the budget!) We also needed a venue that had the space outside to accommodate an outdoor wedding, but still felt intimate and having the onsite accommodation was also really important. We had lots of demands but somehow this venue had it all!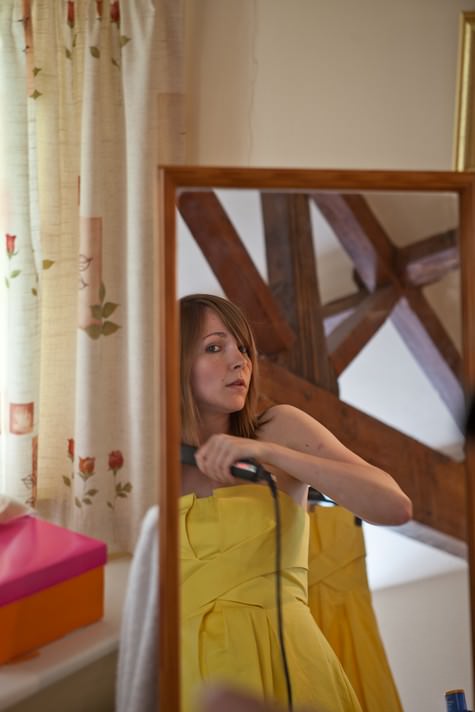 The dress
My dress was from a website (www.goweddingdress.com) Shoes were by Else and accessories were ordered online and handmade by Flutterby Weddings
The suit and bridesmaids
Aaron got his suit from Topman and his gorgeous shirt (which had a menagerie's worth of animals on it!) was Simon Carter, from House of Fraser. His trainers were K Swiss from the USA. Bridesmaid dresses were from Warehouse, shoes from Schuh
Theme
The outdoor element set the theme and so I think I was working towards Secret Garden/Posh Festival! My love of Sunflowers set the colour for the bridesmaids dresses
Food
BBQ, served family style rather than buffet to keep it as a sit down meal, but still very relaxed and simple
Entertainment
We got garden games, an adult bouncy castle and silly things like temporary tattoo's to keep people entertained during the day.
My brother reformed his old group and with my Dad stepping in to play bass, they became our Band for the evening – they were called Foo D Fighters! Their set was all our favourite tunes and it went down a storm. We then had an iPod disco with playlists we had put together.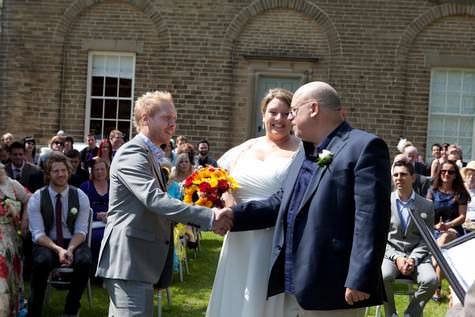 Flowers
It was important to me to have lots of flowers as I really wanted that summery vibe and I wanted them to be bright and interesting to look at. I had sunflowers and red roses in my bouquet and the table pieces were filled with lots of different flowers, all in striking colours. The vases also had slices of lemons and limes in them which was something I really wanted after seeing it in a magazine. It made them different and really worked against the white marquee and countryside backdrop. I LOVED OUR FLOWERS!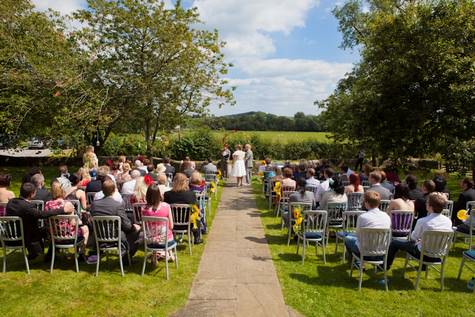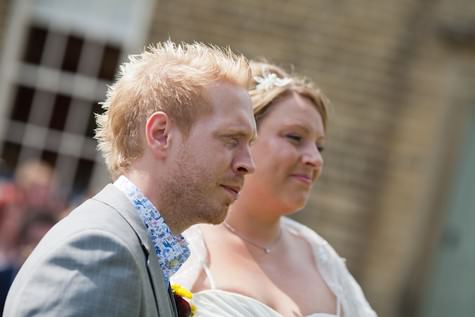 Decoration
My wonderful Mum sewed miles of bunting which decorated all of the marquees and hung from the trees joining the outside spaces together (– the bunting material was actually the first buy for the wedding before we even had a venue!). We then hung lots of lanterns and fairy lights from the trees as well as some wicker hearts and little ornaments; there was even a windmill flowerbed!
Personal touches
– As a gift, my mum had the diamond from my Nana's engagement ring set into a necklace that I wore, so I was actually wearing the diamond my Pompa (granddad) choose to propose with.
– I used my late Pompa's old vintage suitcase as our card box and next to that was a white china bird which was the last present I gave my Nana before she passed away. This meant that they were a part of the day in some way
– The table plan was a favourite of mine as it was actually just a heart shaped wind chime that I hung the individual table tags off but it looked really interesting and different
– As Aaron is a massive fan of Marvel comics we had a printed picture of Spiderman and of Wonder women on each of the toilet doors
– Instead of favours on the dining tables, we had bright coloured fan's and bottles of water on the chairs for during the ceremony as our wedding was outside and I wanted people to feel comfortable on what turned out to be a very sunny day.
– The venue was in the middle of nowhere and so I had a friend paint us some pretty, summery signs that we put up on route to direct people – it was lovely to think that our guests were getting a sense of our day before they had even arrived!
– We had a wedding website that I set up with all the important info about the day. We put the address in the invites and were able to do our guest list via it too. This made it really personal, modern and different. We were able to go it to lots of detail about the day (rather than cramming info on to an invite) so everyone could know what to expect and start looking forward to it.
– Our cake was made by our chief bridesmaid Karla as our wedding gift and there were a lot of compliments- it was delicious!
– We had a camp fire area in the evening which worked really well, we just brought along my parents portable fire pit and bought some wood and people were sat on hay bales. It just really added to the festival vibe.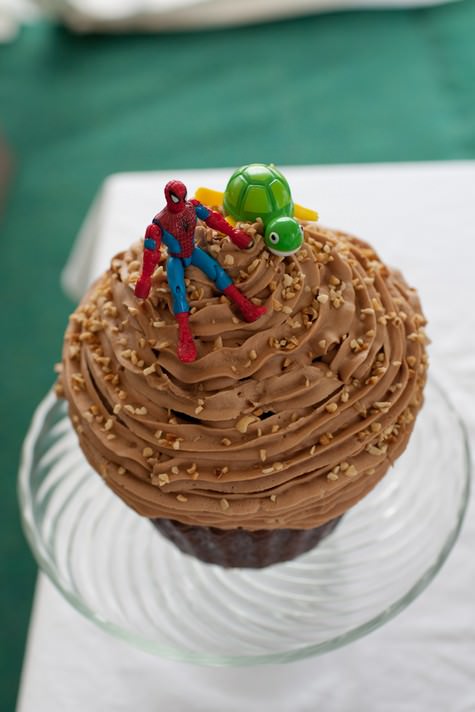 Special moments
– The day before was actually really exciting. Everyone was chipping into get the venue ready and it was such a buzz to see all our ideas coming together. It felt special that people had taken days off work and come to help with the set up, I think our bridesmaid Katie spent most of the day up a ladder hanging bunting!
– As we had the registry office ceremony in the morning, it did feel like we were getting married twice which was exciting! We kept referring to that as "the boring part" and we kept it very casual (I was wearing shorts and a vest top!). We only had our 2 witness's there – the best man Alex and my Chief Bridesmaid Karla. It was simple and short but we were surprised by how official and emotional it felt and it made us so excited about doing it for real a few hours later.
– Writing our own ceremony with One Life Ceremonies made it really special and totally about us. Everyone commented on how much they enjoyed listening to it and all the personal references meant people were laughing and tearful throughout.
– My Mum had written us a beautiful poem comparing love to the feel of coming home, it brought tears to everyone's eyes and I still get goose pimples when I read it back.
– I had bought sky lanterns for everyone to do during the party but it never happened and as the new dawn broke, and Aaron and I were the only ones left standing, we let 2 off together; it was lovely to get that moment together to end such a special day.
– The band's 2 sets were fantastic, we were all singing along and playing air guitar, there was virtually a mosh pit during a Nirvana cover – it was so special knowing they had been rehearsing it all just for us, we loved it!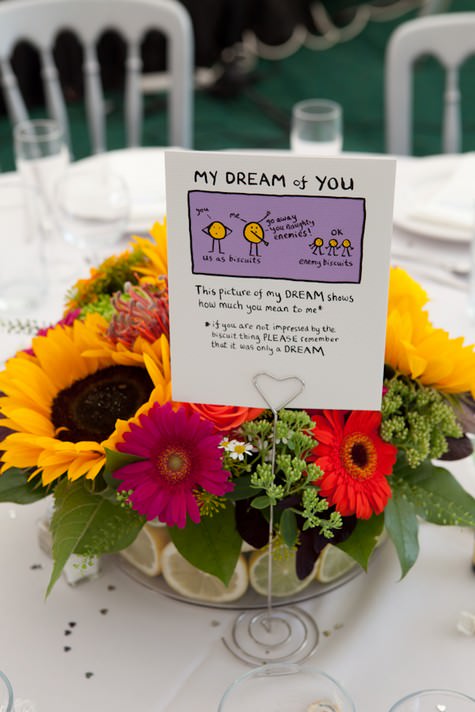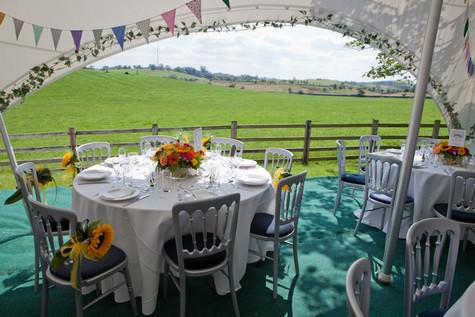 Anything you would do differently?
I have only one thing that I would go back and change but it's quite huge…I really regret not personally thanking my family during my speech. I left the family topic for Aaron to cover as I thought I might cry! But I should have said more myself. They were so fantastic during all the planning and the set-up of the wedding we couldn't have achieved the day without them, but most of all I am really lucky to be best friends with my parents and my brothers and I wish I taken the chance to tell them so in front of everyone.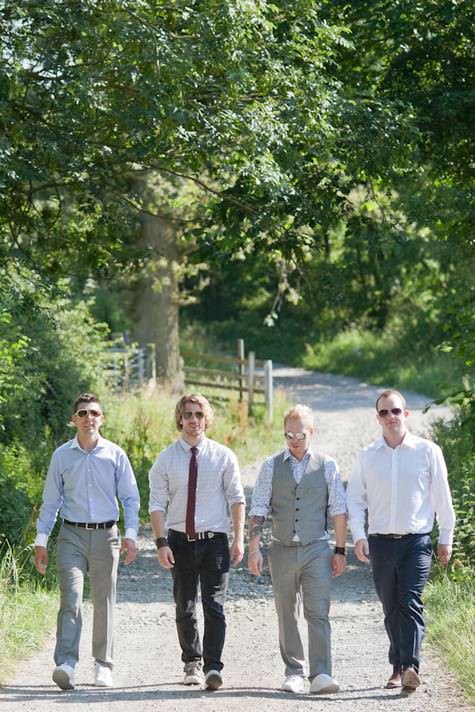 Biggest surprise
In my Dad's speech he joked about Aaron's tattoos and he then took his jacket off to reveal his own full sleeves of ink, courtesy of a joke shop! We really weren't expecting it and it was hilarious- some of the guests even thought they were real!
The weather also surprised us. So much of the essence of the day relied on it being sunny and warm- there was no plan B that would have come close! It turned out to be a perfect Summers day that meant we could go ahead we everything as we had planned.  I thought I would cry my eyes out all day but I actually just spent every minute beaming from ear to ear!
Make sure you come back this afternoon to catch Part 2 of this amazing wedding.

Supplier shout outs
The suppliers were fantastic, but it was a please to share the day with Kelly, Blanche at CoCo and Lee. They felt more like very helpful guests than suppliers!

Wedding Planning – www.bohoweddingsandevents.com
Photographer – Lee Allen www.leeallenphotography.com
Venue – Newton Grange www.newton-grange.co.uk
Caterer and bar – Coco Catering  www.cococatering.org.uk
Florist – Berries Florist  www.berriesflorist.co.uk
Portable toilets – Dr Loo-  http://drloo.co.uk/home
Bouncy castle – Abacus bouncy castle- www.abacusbouncycastle.co.uk
Ceremony – One Life Ceremony www.onelifeceremonies.co.uk/wedding-ceremony
Marquee Hire – Marston Moor Marquee- www.marstonmoormarquees.co.uk

For more information on Lee's photography services go to:
www.leeallenphotography.com
www.leeallenphotography.com/blog
[email protected]
TWITTER
FACEBOOK
07855 443437

[jprel]