Before the Rule of 6 came into play and before weddings were restricted to just 15 here in the UK, elopements were actually a thing that people did out of choice! Getting married with just a handful of people around you doesn't have to be a bad thing, it can make a wedding even more special and personal. Myiesha and Adam decided that they wanted to Elope, to take the stress of holding a big wedding away and strip it back to what was truly important to them. Writing their vows and saying I do in front of their very closest people. They were married on 22nd June in the middle of the forest at Cardross Estate, Stirling in Scotland. They wanted an outdoor ceremony and Scotland's wedding laws meant they could have their dream intimate forest wedding. Ross Alexander was there to capture the day for them.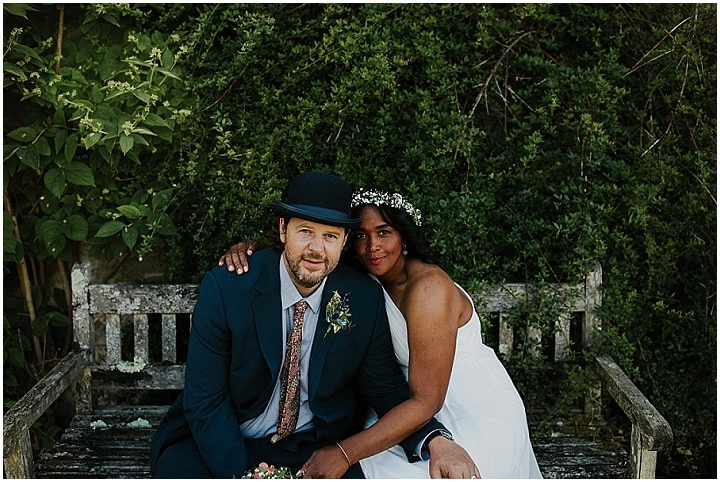 Ross tells us more about the day
The couple are called Myiesha and Adam. They live in Dorset, England. Myiesha is from New York and Adam is English. They met in Denmark whilst volunteering at a Ceramic Centre in 2017 and have been inseparable since.
They chose to get married with 5 members of their families (3 from Adam's, 2 from Myiesha's) in the middle of the forest at Cardross Estate, Stirling. They chose Scotland because you can be legally married anywhere. They both wrote their own vows and their voices cracked when reading them to each other. I watched them write their vows in the cottage beforehand. Something I felt very privileged to witness.
Myiesha made her own dress and Adam looked dapper in his blue suit and bowler hat. Everything was kept very minimal focusing purely on the love they have for each other and the vows they were making to each other.
They got married on the 22nd June 2018, at 6pm on a gorgeous summers evening. We walked around the grounds during golden hour and their love for each other was infectious. They were so in love and a real pleasure to be around. As a huge Wes Anderson fan, I used the main house on the premises to create a symmetrical picture with the couples being the centre focus.
Afterwards, they arrived back at their cottage and shared a gorgeous meal with their family. I feel so lucky to have witnessed and documented their wedding and thank them for the opportunity to play a small role in their day.
For more information on Ross Alexander go to
www.rossalexanderphotography.com / FACEBOOK / INSTAGRAM / TWITTER 

[jprel]