As the week fly's past, I can't quite believe it's Thursday already! So far half term is going way too fast, I'll need anther week just to fit everything in. How about you? How is your week going so far? Today I am taking you off to Amsterdam for the gorgeous elopement of Katrina and Scott who were married on 7th September. The whole day has been styled to perfection by BEST DAY EVER Events and captured perfectly by Madame Poppy. The ceremony backdrop is just stunning, the flower crown, the intimate ceremony area and of course the walk around Amsterdam, all elopement perfection!
Best Day Ever events tell us more about the wedding
Both from Australia bride and groom has met in Amsterdam, while they where on vacation. Scott had proposed 2 years ago, they decided very quickly that they want to get marry in Amsterdam. Also big ceremony and party is not what they were considering. So getting to elope in Amsterdam, a place where they have met was the right choice. Exactly 5 years after they had met they were supposed to say YES to each other, just within a couple hundred meters from the place they have first see each other.
Katrina has found us online and after skype meeting we could start with planning. After visiting a couple of venue's we have decided on Waldorf Astoria: 5 star hotel in Amsterdam. they have little tea house in the yard, which was perfect for the wedding day. Katrina and Scott wanted to be surprised with the styling on their wedding day, we had a carte blanche: YAY!
We have designed a show stopper backdrop using lots and lots of flowers. the colors were really burgundy ,marsala, plump and green. Fancy hotel like Waldorf usually host classic weddings. This wedding was nothing they have seen before: Bohemian elopement.
After the personal ceremony couple and their two best friends had high tea Alice in wonderland style in the tea house.
Weather being nice we had wonderful time getting some extra pictures in the streets of Amsterdam.
I think it was one of the most memorable wedding we were a part of. So much love, taking time for every part of the wedding… Thats why we just adore elopements.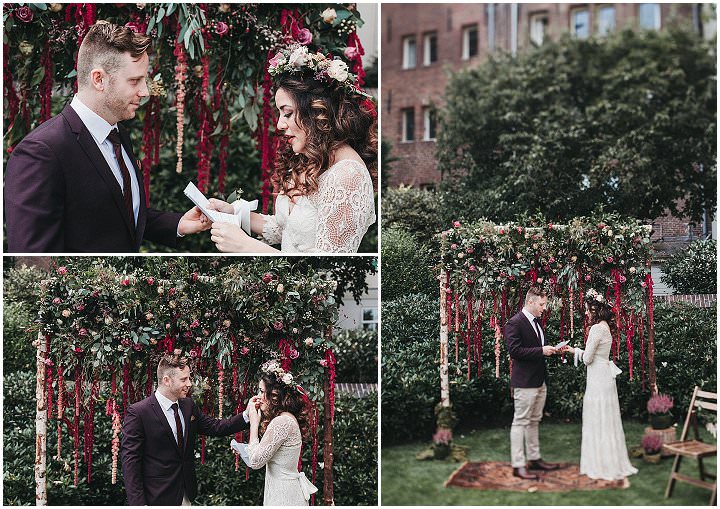 Supplier Shout Outs