It's fare to say that 2020 has been a pretty rubbish year for weddings, in fact it will no doubt go down in history as the worst year ever!!. Covid has a lot to answer for in terms of people tying the knot, or not as the case may be. However, before the world ground to halt and weddings were banned, Daniel and Kaleb jetted off to Costa Rica to tie the knot with 42 of their closest friends and family. As soon as the couple got engaged they knew they wanted a destination wedding, that allowed them to have a chilled out day on the most perfect beach they could find, and I have to say they chose an amazing location. The whole day is perfect and to top it all they held an extra photo session with Kevin Heslin Photography the day after making the most of the beautiful location.
The best thing to happen in 2020. (Maybe that isn't saying much at this point!) The most magical and beautiful day of our lives. From getting ready, the ceremony, music, food, speeches, dancing, and our friends and family, everything was absolutely perfect and created the most amazing celebration of our love.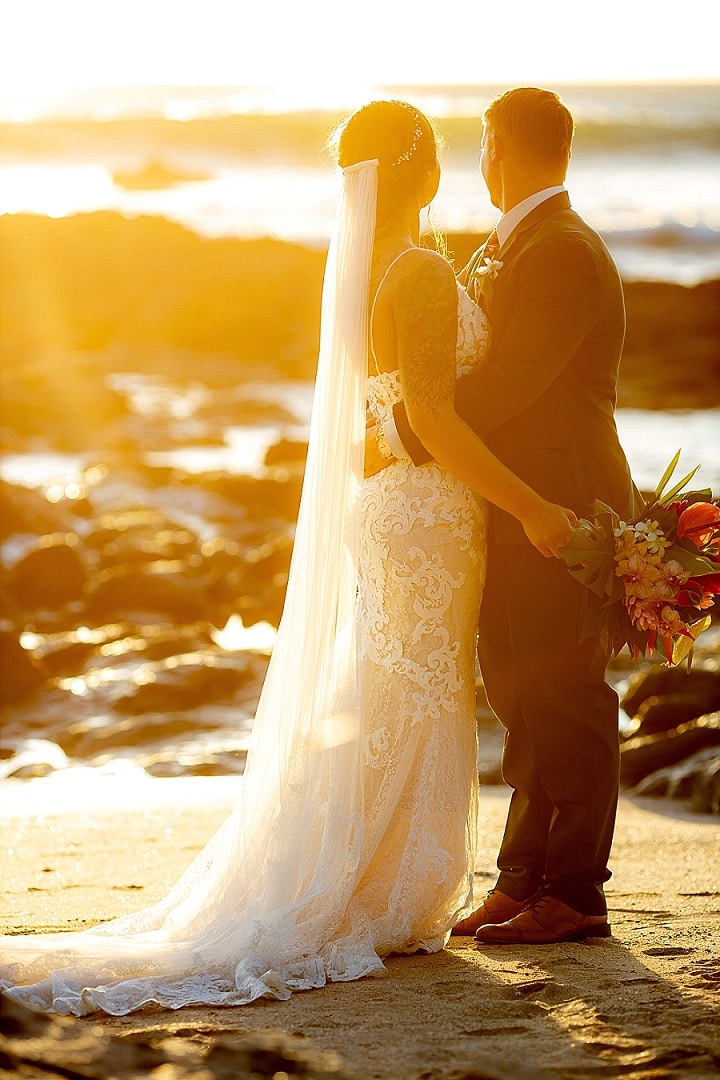 Daniel and Kaleb were married on 2nd February 2020 at Casa de Luz in Playa Langosta, Costa Rica. 'We decided on Costa Rica for a few reasons. It has always been on our bucket list for beaches, biodiversity, and everyone that has ever been there says how amazing it is. It was reasonable enough for our guests to travel to. It ended up being the most perfect location for our wedding. We looked at about every single villa in Costa Rica and Casa de Luz was our favorite from the beginning. A tip for anyone planning a wedding in Costa Rica- it is not cheap. We had 42 guests and it took a year and half to plan.'
How they met 
We met in September 2012.  We were living on opposite sides of the state at the time. We had a mutual friend that was determined to introduce us, since she believed we were soulmates. That friend and I (Kaleb) went to a Matisyahu concert in Seattle and stayed with Danny. The stay resulted in a night of a few too many drinks and Danny playing covers of Nirvana and Glycerine by Bush on the guitar. We've basically been together ever since.
The proposal
Danny had been planning a surprise proposal party where all our friends and family were there. He was struggling to come up with a way to surprise me, since I was starting to get suspicious. Well fast forward to June 26, 2018. I had just returned home from a trip I took with my mom and sisters, so we planned to spend the day together. That night we were just relaxing; I was doing a face mask, listening to a true crime podcast, and making the bed. Danny came in and was acting kind of weird and started rambling a little. He then told me he wanted everything to be perfect. Before I knew it, he was down on one knee and asking me to marry him. I guess you could say I was surprised because the only thing I could think of saying for several minutes was, "what".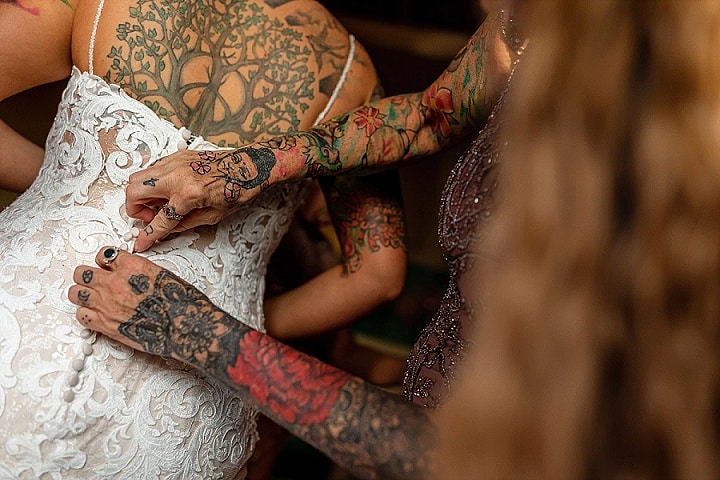 How did you allocate your budget?
We decided almost immediately that we wanted to have a destination wedding. From there, we knew a hotel or resort did not quite fit our vision, so we decided on a private villa. I started doing a lot of research and we quickly learned that we would need to add to our budget. After securing our villa, we found our wedding planner, Maruja Roldan with Lat10 Weddings and Events. She was VERY helpful. She gave us tips for the budget. We knew a large portion of our budget would go to photography and decided later on in the process that we wanted a videographer. Something that we underestimated was the cost of the rentals.
Where did you splurge and where did you save?
We splurged on our photographer and videographer! We opted out of getting a drink package with the caterer and ended up saving a ton by purchasing our own alcohol and hiring a bartender. We decided to get married in Costa Rica during high season, so overall, we definitely splurged more than saved. In the end, it was so worth it!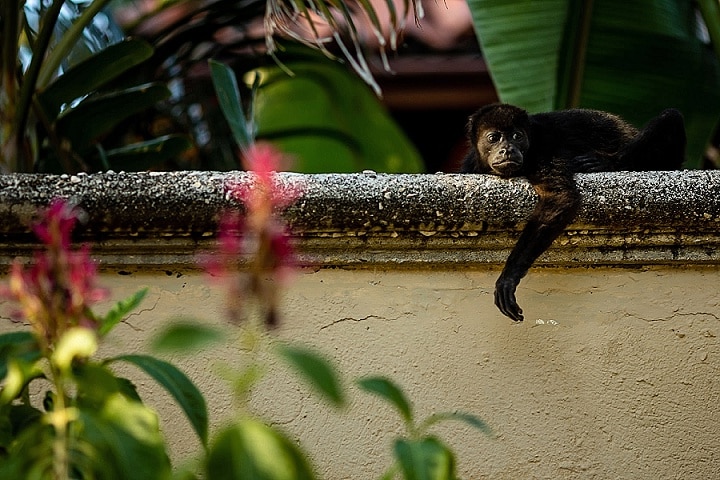 How did you choose your photographer?
We knew we liked a specific style of photography. We love candid and wanted pictures that really captured the moment and the genuine emotions. We knew we weren't after pictures that felt posed or forced. We ended up getting referred to Kevin from another photographer. Immediately, we loved his work and his style was exactly what we wanted! Kevin uses a "photojournalistic" approach. Every time we look at our pictures, it's hard to believe they are ours and that it was our day!
The dress 
My dress was the Tuscany Lynette by Maggie Sottero. I shopped around for my accessories! I bought my headpiece at the bridal store, Believe Bride. I got my veil from Etsy, the shop name is ieie. I also got my necklace off Etsy and the shop is Treasures by Agnes. My earrings are from Perfect Details. I got the rose gold plated skinny teardrop earrings.
The suit and bridesmaids
We got the suit from Express. Danny wanted something a little different and non-traditional, that's how we landed on the dark green. We put a lot of thought into Danny's accessories, too. All of his accessories were rose gold; he had rose gold gauges, an engraved tie clip, and I got him a rose gold Nixon watch. The watch was engraved with "I love you for your body" because he had my engagement ring engraved with "I love you for your mind", which was an inside joke from when we first got together (it's gone now that my ring was sized). His wedding band was also rose gold! My personal favorite part of Danny's outfit was his tie. It was a dusty rose gold floral tie. We also got that from Etsy; the shop is VividClothingToronto. My sister was my maid of honor and only bridesmaid. She got her dress from bohoddress.com.
Theme or colour scheme
We had a good mix! I would say it was mostly boho, tropical beach! We wanted bold, tropical flowers with a lot of greenery and gold accents!
Flowers 
The flowers were all tropical. We made sure to ask for flowers that are in Costa Rica. We had orchids, birds of paradise, red ginger.
Decoration 
Our venue and the beach were so beautiful, we did not put a huge emphasis on decorations. Our ceremony decorations consisted of a triangle with greenery and flowers and a rug. We had palm leaves lining the aisle. The tables had the centerpieces and gold candle votives. The place settings had all gold accents and teal napkins! The furniture was really beautiful! Our tables and chairs came from Eventos Artesanos in Tamarindo. Our ceremony chairs were the phoenix chairs. Our tables were the ebony farm tables and the reception chairs were the teak bistro chairs.
Food
Our caterer was Catering Costa. Jean-Luc and his team were absolutely incredible! Our hors d'oeuvres were jumbo coconut shrimp, duck empanadas, and dip station w/ crispy yucca, plantains, fresh salsa, and heart of palm dip. During cocktail hour, miguelitos were served out of coconuts. Dinner was plated. Our three options were 1) macadamia encrusted sea bass over wild rice, jumbo shrimp, lime beurre blanc, lemongrass foam and roasted red pepper coulis, with seasonal vegetables 2) imperial Short Ribs slow braised beef short ribs in Imperial beer served over mixed mashed potato, camote (CR sweet potato), draped with chili beer demi-glace, served with grilled vegetables, and 3) roasted portobello mushroom, stuffed with ratatouille, parmesan cheese gratinee served over pesto potato puree.
Wedding cake
We did not have a wedding cake. We had a dessert station at each table, which included mini strawberry cheesecake (vegan and gluten free), mini nutella mousse (vegan and gluten free), chocolate mousse with Costa Rican chocolate, espresso, and café rica, and tres leches creme brulee.
Entertainment
We had a DJ! Zach Schmidt, DJ Costa Rica Guana. We are so glad we made this choice. He was so much fun!
Who supplied the stationery?
Our save the dates came from Zola. Our invitations were printed with Paper Culture and we used a template from the Etsy shop, Salt and Wood Weddings. The menus were also printed with Paper Culture and the template came from EasyEditable's Etsy shop. The meal cards came from LogiePaperie's Etsy shop.
Where did you go on your honeymoon?
We like to think we get two honeymoons, since the wedding was in Costa Rica. We were planning on going to the Cook Islands in September for our honeymoon, although so far our pans have had to be postponed due to COVID-19. We plan on returning to Costa Rica for our first anniversary.
Personal touches
We wrote our own vows, which made it very, very special. It was very emotional!
We put A LOT of thought into our music. The ceremony started with "When I Get My Hands on You" by Marcus Mumford, Kaleb walked down the aisle to "All the Years" by Wild Child, and our recessional song was Mint Car by the Cure, which could not have been more perfect. Our first dance was "If We Were Vampires" by Jason Isbell.
My (Kaleb's) brother officiated the ceremony. Two of Kaleb's sisters also did a reading during the ceremony, an adapted version of Edward Monkton's A Lovely Love Story. We also played the Shoe Game during the ceremony, which was really fun! We did not do a bouquet toss or a garter toss. Kaleb did a girls dance with her friends to Like a Girl by Lizzo.
Special moments 
One of our guests was peed on by a monkey during the ceremony. She now tells everyone she was peed on by a monkey at her best friend's wedding, and not many people get to say that! Our wedding planner even said that is a Costa Rican blessing. During the ceremony, there were thousands of dragonflies that swarmed us. None of us had ever seen anything like it. It felt very symbolic. Our family loves sing-a-longs. During the reception, we had a sing-a-long with almost every single one of our guests to Tiny Dancer. It is a very special memory. We had several people tell us it was the or one of the most magical days of their lives!
It was supposed to rain that day! The forecast showed it and no one could believe it because rain in February is unheard of. There was a big black cloud over the villa as everything was getting set up. It was also very windy! Luckily, it did not rain and the wind saved us! Turns out it's pretty hot in Costa Rica.
Advice for other couples
Be as present as possible. It really does go by so fast.
If you have the chance and it's in your budget, do a day after/trash the dress shoot. It was so much fun and a really nice, intimate way to finish off the celebration. And the pictures turned out incredible!
Having a destination wedding gave us a once in a lifetime opportunity to go on vacation with all of (or most of) our best friends and family. The Friday before the wedding, we took a private sunset catamaran cruise. It gave everyone a chance to get acquainted and talk. Saturday we had a rehearsal dinner and everyone was invited. By the wedding, everyone knew each other and it felt really natural. It worked out perfectly!
Biggest surprise 
There isn't one surprise that really stands out. Looking at the day as a whole, from our team of vendors (they were the absolute best!), to the moment we saw each other as Kaleb walked down the aisle, to the dragonflies and monkeys, the beautiful sunset, and the way the twinkly lights accented the starry sky, there were hundreds of moving parts that seemed perfectly placed that made our day absolutely magical and more than we ever dreamed.
Supplier Shout Outs
For more information on Kevin Heslin Photography
www.kevinheslinphoto.com / www.kevinheslinphoto.com/wedding-blog / [email protected] / FACEBOOK / INSTAGRAM