Today I am taking you to London for the super stylish 'industrial meets rustic' wedding of Rebekah and Ben. This gorgeous couple chose 2 amazing venues for their big day, the Asylum Chapel with the reception at Tanner Warehouse. Both added a great amount of style to their day with a big dose of city London flare. From the number of flowers to the rustic finishing and gorgeous white and green flowers this wedding is oozing style. Topped off with Rebekah's Grace loves Lace gown. Lottie Povall Photography was there to capture the day for us.
Nothing quite prepares you for the overwhelming warm sensation you have at your own wedding. Knowing that everyone you love and care about have come together to share your special day is beyond my ability to describe. It was the perfect combination of everything we wanted it to be!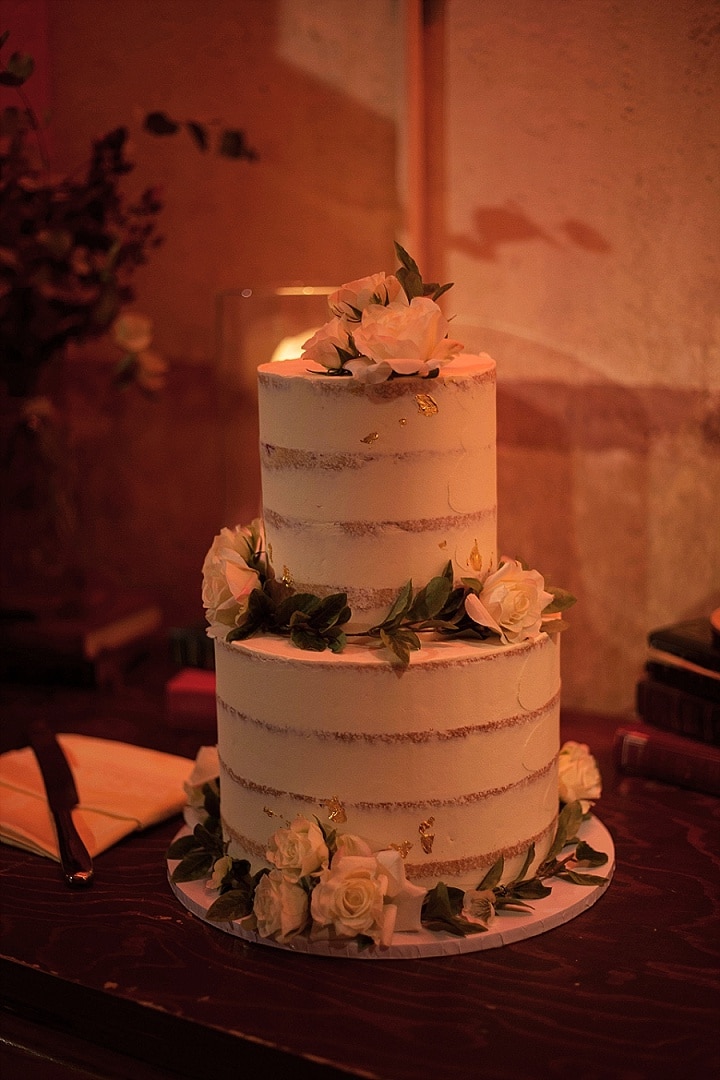 Rebekah and Ben were married on 6th September 2019. They held the ceremony at the Asylum Chapel with the reception at Tanner Warehouse. 'When we found the Asylum – we fell in love! It was a complete flook finding it, just browsing Instagram and saw this picture of this amazing rustic little chapel, that just so happened to be in London! It was so unique, and photographs so well we just had to have the ceremony there. And then the Tanner was the perfect reception venue to go with the Asylum. Browsing the blogs and seeing a few couples that had their weddings at both venues, we checked it out and was the perfect fit to our rustic city wedding! We had 70 all day guests, with an additional 10 joining in the evening. It took about 6 months to plan, and then the 2 months leading up to the wedding to get all of the details finalised (table plan, menus etc)'
How they met 
We met at University, both taking BSC Psychology! After months of casual chatting, Ben finally asked me out for a drink and 9 years later, here we are married with a dog!
The proposal
With Ben not being the most romantic person on the planet, anything semi-romantic he had done would have been a major give away! So, just like any other night, we had cleaned up after dinner and took our dog, Chuck for a walk before bed, and on getting back into the house Ben asks me (Rebekah) to get him a drink from the Fridge. After a lot of 'go and get it yourself' I give in and open the fridge to see a ring, in a box, opened on the middle shelf of the fridge, sitting next to the cheese! I pick it up, turn around and see Ben on one knee next to the dog and asked me to marry him! Might not have been the most romantic proposal in the world, but it was us through and through.
How did you allocate your budget?
We made a list of what we wanted our wedding day to be, and thought of a 'reasonable' amount each thing would cost and where we wanted to spend the money. Having decided on a max budget, we divided it up on what was special to us for the day.
Where did you splurge and where did you save?
We saved on things like decoration! Having chosen venues that didn't need a lot of décor, saved us a lot of money! We defiantly splurged on the reception food and drink. The tanner offer amazing all-inclusive packages, that allowed us to splurge on an amazing three course meal, with all the trimming and wine pouring throughout, and for an open bar until 11pm at night! We wanted our guests to be taken care of with food and drink all night – weddings are expensive not just for the Bride and Groom!
How did you choose your photographer?
We found Lottie by a very happy case of circumstance! Lottie is a good friend of my (Rebekah) sister. So when my sister found out I was engaged, she straight away said she has an amazing friend who is a wedding photographer, and she would be perfect!
After meeting for a glass of wine after work one day, and Lottie showing us her amazing portfolio – it was a done deal! Lottie was so supportive throughout the whole planning, always ready to answer all of my crazy text messages and was so excited for the day!
The dress 
My dress is by Grace Loves Lace, an Australian wedding dress company who THRIVE on boho, relaxed wedding dresses. My shoes were just from ASOS, and my earrings and jewellery were from Monica Vinader
The suit and bridesmaids
The suites were from Next, as well as the shoes the men wore with the suits. The Bridesmaids dresses were from ASOS.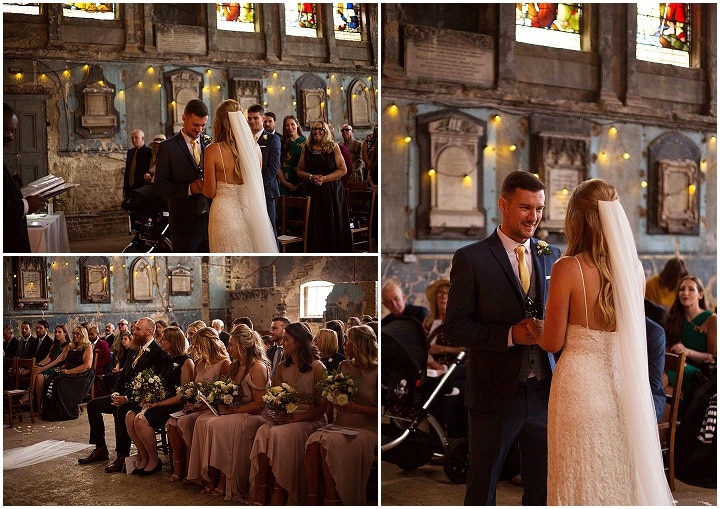 Theme or colour scheme
Our theme was rustic with a mix of City Flare! Lots of warm white lighting, and white wild flowers with green eucalyptus in the flowers.
Flowers 
I trusted my florist completely with her choice of flowers! I showed her the style I wanted, white garden roses with other white wild flowers and green eucalyptus and other greenery within! The Bridesmaids bouquets were a little different, as they had soft pink garden roses to match their dresses, along with the greenery.
Decoration 
We honestly didn't need a lot of décor! The venues honestly spoke for themselves.
The Asylum especially – all we needed were two huge flower arrangements at the front on top of the plinths, and all the candles scattered at the front and throughout. We also had white rose petals scattered down the aisle.
The Tanner we had lots and lots of fairy lights scattered around, and wrapped around the pillars. Along with small floral arrangements on each of the tables, with tea lights scattered around the venue and on each of the tables.
On the tables we also had printed menus for each of the guests with wooden names etched out for place settings.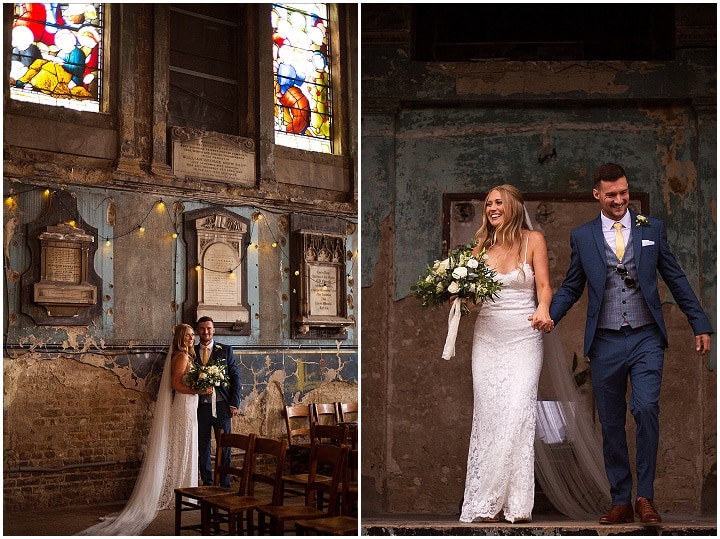 Food 
Starter: potato croquets with salad / v: broad bean guacamole with flatbread
Main: Ham hock, with mashed potatoes and seasonal veg/ v: Salmon with mashes potato and seasonal veg
Desert: Apple pie with clotted cream!
Wedding cake
It was a two tier wedding cake, the top tier being a lemon cake, with a vanilla buttercream. The second tier was vanilla and raspberry with vanilla buttercream, It was semi-naked and was decorated with gold leaf and had white roses on top!
Entertainment
We had a DJ that played from the moment the speeches finished until 2am! He was very accommodating, and played every random song we had wished for!
The un-planned entertainment was the best man's dancing!
Who supplied the stationery?
I did! I designed, made and printed all the stationary myself!
Where did you go on your honeymoon?
We went on the most magical 10 days to Sorrento, Italy We ate gelato every single day, and our weight in pizza and pasta!
Personal touches
I did all the stationary myself – which I loved doing! And each guest had their name laser cut in wood for the place setting. I thought this was a great personal touch, and also something for them to take home as memory.
I also designed and printed the order of service myself, which had a personal message on to our guests.
Special moments 
The whole day was special, of course. But there were two particular highlights of the day for me.
The first was when my brother walked me down the asile, it was so special to me and was a moment I will treasure forever.
The second, was hands down our speeches. My brother, the best man, and my husband (!!) speeches were the perfect combination of funny, emotional, and heartfelt in their own right. Everyone around me was either laughing or crying, or both!
Advice for other couples
Sounds like the biggest cliché of all time, but don't let the small stuff get to you! All of those small things you spend months and months stressing about, all of a sudden don't matter anymore!
It's the biggest joy of your life to see every single person you love, gathered in one room to celebrate you, and the blissful atmosphere and smiling faces of friends and family truly is the most sensational love in the world.
Biggest surprise 
I truly didn't expect the speeches to be as good as they were! They were AMAZING.
Supplier Shout Outs
For more information on Lottie Povall Photography go to
www.lottiepovallphotography.com / www.lottiepovallphotography.com/blog / [email protected] / 07392009593 / FACEBOOK / INSTAGRAM / PINTEREST
I'm Lottie the photographer of this gorgeous wedding! I'm based in London although I frequently travel between here and West Sussex, where I'm from (pre covid19). My style is very relaxed with fly on the wall vibes. My photos truly reflect the couple's day exactly as it is. I enjoy getting to know my couples as much as I can before the big day so I can become an enthusiastic guest with a camera.
I never want my couples to worry about feeling awkward in front of the camera or how they'll look in the final result because it takes the fun out of the day.