Happy Thursday everyone, anyone else got that Friday feeling? I am off work tomorrow looking after Dexter, so today is my last day in the office till Monday. Nik is away for the weekend, so I have lots of plans with my friends. I'm looking forward to lots of catch ups, wine, good food and of course lots of time with Dexter. Today I am taking you off to the gorgeous South of France for the wedding of Steven and Yosra. They held an elegant day which was filled with lots of emotion, laughter, tears and of course lots of love. Studio Balzac was there to capture the day for us.
This day was so intense and fast like a heart beating. And it was exactly like we could imagine and so much more.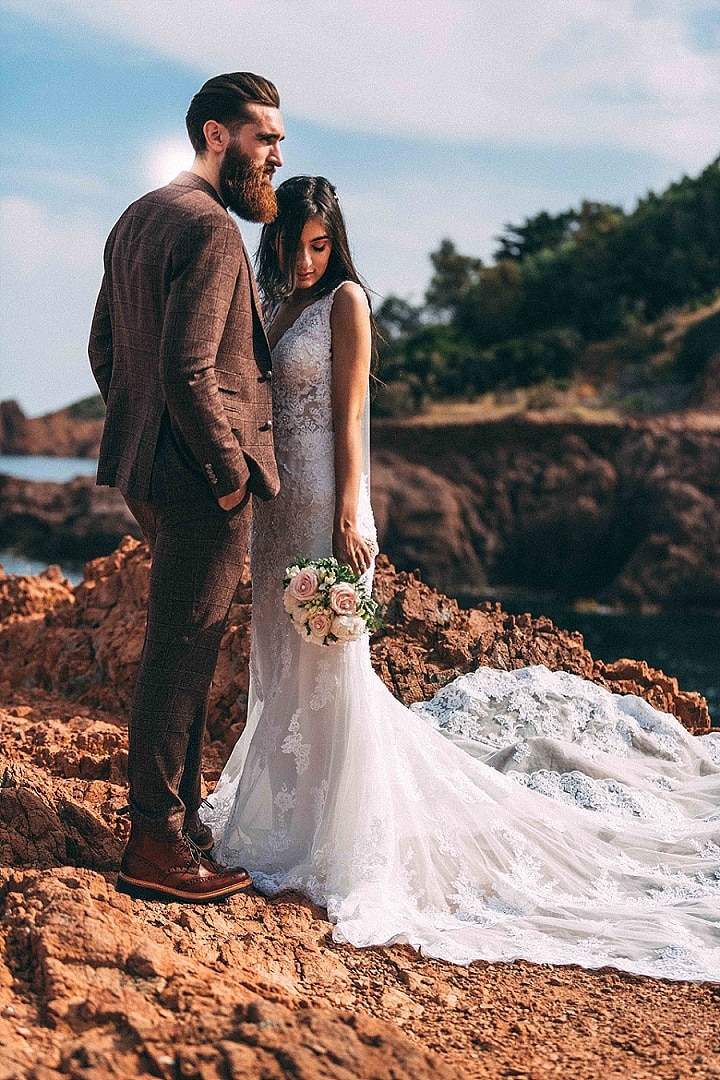 Steven and Yosra were married on 13th June 2019. 'The ceremony took place at the Town Hall of Cannes, the city where we live. And the reception took place a bit far from there, 100km exactly, at Le Domaine du Castellet in the little town of le Castellet in the south of France. The location of the reception was obviousness for us. Since the second we put our feet out of the car we knew we want to celebrate our wedding there. The atmosphere was perfect we couldn't explain why. It was like 'love is in the air'. We had around 80 guests we started to plan the wedding one year in advance'
How they met
The first time we met each other was at the train station, where he works, the 10th of March 2016. He was working and I was waiting for my friend in the hall and then we started to talk to spend the time. Today it's been more than 4 years since we met.
The proposal
The proposal is one of the craziest things we lived together. He was planning this for months. Before the D-day I received 3 letters written by him. Each one came in the hands of people I love: my best friend, my brother… the two first were about declaration of love, I knew the proposal were approaching. And then I received the third one, it was indicated that the day after I had to wake up early and to bring many things with me because we were leaving to Paris at Disneyland! I never been there it was a dream, with the letter I had our tickets. Moreover, we couldn't really travel together before the wedding, so the trip was for 24 hours, a rush trip, so intense! The D-day he came at my house to bring us at the airport we took the plane and here we are Disney! We did rides and had lunch then we took a boat it was an attraction, we took place in a cabin and then he put a knee on the ground and he asked me to become his wife. But just before I answered he gave me a fourth letter to read (4 letters in total because 4 is my favourite number) and inside it was written in capital letters YES, so I didn't have the choice to say yes to his proposal! Of course, it was really my answer and I cried a lot. Things didn't stop there, he brought one of my important friends at Disney to surprise me, I didn't expect that. And like I wasn't crying enough he showed me on his phone a mounting of videos of my family, friends, colleagues who were telling me congratulations for the engagement. It killed me clearly! We finished this day by coming back in our city, having dinner in the first restaurant we've been eating together. This day was just amazing, a pure perfection, so many things happened in a short time, we lost our mind.
How did you allocate your budget
For the budget we clearly prioritized the location of our reception, our outfits (dress and suit) and the photographer, it was the most important for us because if we were celebrating in a beautiful place, wearing beautiful dress and suit and getting amazing photos to remember us this day so it's the perfect combo!
How did you choose your photographer?
A couple of months before the wedding we've been to a wedding salon to choose our photographer and we met an amazing trio who proposed us exactly what we want which means authentic emotions, something natural, discretion, professionalism, they sold us dreams! And they captured the perfect moments, the hidden emotions, they were perfect!
The suit 
My dress and accessories come from a bridal boutique in Toulon which is called Champs Elysees, the women working in there are very sympathic and we can watch them here in France in a TV show. The shoes are from the brand Casadei.
The suit and bridesmaids
The suit is a tailor-made suit from the brand Keitel, it's exactly what we were dreaming of. The style, the colour, the button everything has been chosen by us.
For the bridesmaids, we didn't want to impose a style or a colour, we wanted our guests to feel free to choose the perfect clothes for them.
Theme or colour scheme
We didn't really have a theme, we just wanted something simple but a mixed style between something smart and something bohemian. Pastel colours. The decoration was a melting-pot between fancy stuff like plastic diamonds for the name of our guests or golden candles and between simple stuff like a pastel pink table runner, white chairs.
Flowers
We had orchids and roses, the first for the table decoration and the second for my bouquet.
Food
Our supplier for the location of our reception proposed us many things to eat. We had a lot of starters, we were eating around the pool, like mini hamburgers, grilled salmon, chicken kebab, mini shrimps, risotto, everything in miniatures. We were drinking juices, smoothies.
Then when we get in the saloon of reception, we had for the main course fish, asparagus cream and potato gratin. To finish we had a cheese plate just before the wedding cake.
Wedding cake
For this one we knew exactly what we want a long time before. We didn't want the traditional wedding cake, we preferred something more personal and original that's why we asked for 'a cake letters' so we had a big S cake in chocolate and a big Y cake with fruits and in the middle a little heart cake. It was amazing, the beauty and the taste.
Entertainment
As entertainment we had an amazing magician who let our guests speechless! We had a DJ to turn us on and dance. And we made a surprise for our guests, we spent the second part of the night dancing in another piece of place of the reception it was like a nightclub with the lights, the DJ, the sofas and drinks at the bar.
Who supplied the stationery?
We made our paper announcement on internet on the website of Rosemood.
Where did you go on your honeymoon?
We've been in Bali for our honeymoon and it was stunning, we spend 12 days there and it's our best souvenir of travel. We recommend this destination for honeymoons, for sure!
Personal touches
Our personal touches find itself in the music it was our playlist, the table plan, the name of our guests on the table, and for the wedding favours we chose M&Ms with a photo of us on it and we put it inside plastics hearts to offer to the guests.
Special moments
We asked each other if we had a special moment on this day but in fact everything was special, every moment was unique and often we love to remember each second of this day.
Advice for other couples?
We have only one advice: enjoy enjoy enjoy each second, each moment, each emotion because this day ends so faaaaast and then every day you want to relive it again and again.
Biggest surprise 
Our biggest surprise it's our wedding on its own, we were expecting it for so long, maybe since the day one, so we were not realizing what we were doing.
Supplier Shout Outs
For more information on Studio Balzac go to
www.studiobalzac.fr / [email protected] / FACEBOOK / INSTAGRAM

[jprel]