Happy Monday everyone, I hope you had a good weekend? After the heat wave we had on Friday I was glad for some milder air on Saturday and Sunday. We had Nik's brother and his family round for a BBQ on Saturday, which was lovely. A trip to the park, a bit of online shopping and a few jobs crossed of my to do list! Now on with this weeks weddings and I have a real beauty to start the week with. Dmitry and Anna planned their perfect Russian wedding in just 5 months and the results are this Bohemian dream of a wedding. You would be forgiven to think that this was actually a styled shoot it looks so good, but it's actually is a real life wedding. With lots of wild flowers, an amazing pampas grass ceremony arbor, deep tones of red and the most amazing decoration. This outdoor wedding ticks every wedding box there is. I'm also in love with Anna's Rara Avis gown, how stunning does she look! What an absolute delight this whole wedding day is! Big thanks to Vladimir Simonov for the stunning images.
Touching moments with the dearest people surrounded by trees, lake and sky.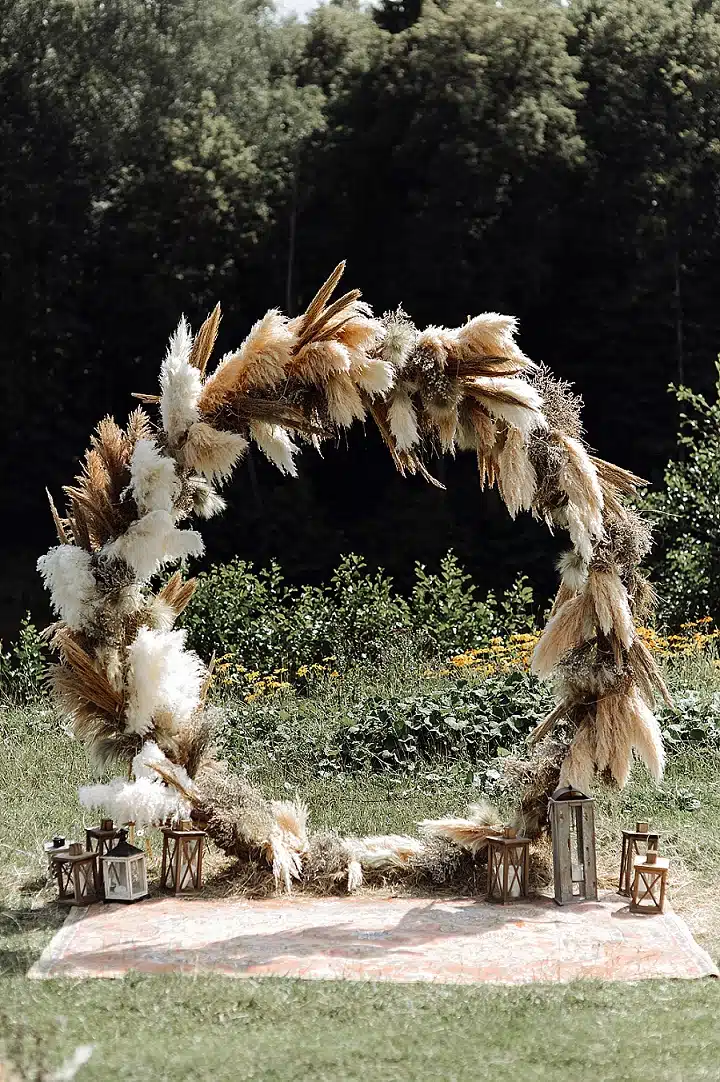 Dmitry and Anna were married on 13th July 2019 at Country Club "Polyana", Moscow region, Russia. 'From the very beginning we knew exactly what we wanted – nature, freedom and dances by the fire. Kind of Coachella for family and friends somewhere in the fields. Taking 70 people to US was impossible, so we discovered a perfect option one hour away from Moscow. For the first time we came to "Polyana" in February, when everything was covered with tones of snow. And the first "person" we saw became a huge alabai Belyash – one of a numerous four-legged residents of Country club, who won our hearts in an instant. We had 50 guests and it took 5 months to plan'
How they met 
We've met each other at French class in the university. Many years we've been best friends – spending time together, sharing secrets and supporting through hard times. Until completely different feeling came to our lives in 2014. 
The proposal
Our greatest passion is travelling. Somehow, one of my favourite cities – Paris, couldn't impress Dmitry during his first visit. You can imagine my speechless shock couple of years later when he knelt on one knee in the middle of Cité island. Accidental passerby captured the moment on her phone – none of my Instagram posts collected such amount of likes before.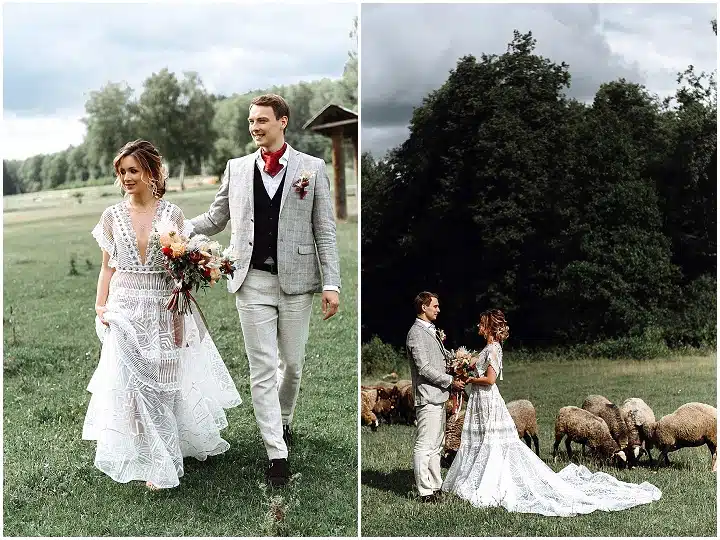 How did you allocate your budget?
Be ready to pay more when you're planning an open air event.  
Where did you splurge and where did you save?
Both of us had a precise image of a perfect day – not only for us as a couple, but for the guests as well. That's why we decided to focus on following: beautiful view, great food and drinks, entertainment and a personal touch for everyone. And as we're not millionaires, we tried to find simple solutions – mix more expensive elements with those which already were at the venue, use the natural resources of countryside in decoration and make some preparations by ourselves.
How did you choose your photographer?
It might sound like a cliché, but we did it according to feelings. I've surfed almost 100 profiles, and what I've learned – it's not that hard to make a good picture, much harder is to match with an individual in terms of your personalities. Eventually we stayed with a guy who had less followers in his Instagram account, but had made us laughing the whole evening.  
The dress
Absolutely genius girls from Belarus are created stunning apparel by Rara Avis brand. Once I've tried the dress – no doubts left, it was perfectly "mine". A bit harder was to find 2 more attires: in the end I noticed a summer dress for bride's morning in the chain store, and ordered a "dancing" tunic online from a nameless website, worrying it might never come. Together with my coiffeur, we picked completely different hairstyles, makeup, accessories and shoes for each of them, so the only thing to concern became an entertainment for guests, while makeovers.
The suit and bridesmaids
I was dreaming of looks thought out to the smallest detail, so Dmitry's outfit was composed in parts – thoroughly chosen color of ascot tie should've been overlapped with the handkerchief, and the bands – in a sequence with each other. What about bridesmaids, I wanted to respect their own personality, so we didn't plan anything special on this part.
Theme or colour scheme
Three colors we bet in decoration were burgundy, deep green and bronze. The only thing we've warned our guests was common style and venue's features, therefore we were overwhelmed seeing everyone wearing total "boho chic" looks. Layers, texture, feathers in their hair, hats – even elder chose natural print and smooth colors. We wanted to hug them till bone crunch and cry overfilling with love and thankfulness.  
Flowers
Wildflowers and pampas grass. 
Decoration 
Besides horses and dogs there already were lots of lightbulbs, hay bales, arch frame, trucks and carpets at the venue. Our decorator magically put it all together with some candles, dreamcatchers and feathers – and voila, the result exceeded itself. My favorite pieces were an arch made of pampas grass, lightened with lanterns, and the seating chart of boxes and plant pots.
Food
Good food is a guarantee of a successful party, thus we tried to offer our guests the variety of different appetizers, salads, fruits and vegetables. My sister even brought a suitcase full of French cheese from Paris – as it's not sold in Russia. For a main dish, there was a choice between turkey, salmon and veil with different sides. Everyone should find something he likes according to his food singularity.    
Wedding cake
It should've been tasty and simple. No mastic figures or fancy design. Speaking honestly, it wasn't that simple to find the right one. We tried about 10 flavors at different confectioneries. 
Entertainment
A big venue is a plus and a minus at the same time. To be sure that every single guest had his own piece of attention, we invited 2 hosts. Guys are working in duet for a long time, so they perfectly supplement each other and – that is important – are joking well. People were earning lottery tickets, participating in several activities during the day. In the end of the evening, they might have won prizes with it. For example, to clear the air during welcome, we gave everyone lists with interesting facts about present guests and asked to find right persons. For sure asking stranger "Was it you who worked in New-York without permission when you were 16?" is easier after some bubbles, therefore bartenders started to offer cocktails right on guests' arrival.
Where did you go on your honeymoon?
Sunny Sardinia. A perfect mix of beaches with clear water, best cuisine in the world and wineries. Viva l'Italia!
Personal touches
As our greatest gift for the wedding were our guests, we wanted to share the holiday feeling with each of them. We've printed best photos from their Instagram accounts in duplicate and made kind of "best moments" wall with it. When someone decided to congratulate us, we gave our gratitude and their photos – one stayed as a memory, and the second one should've been put in the book of wishes. Seating cards were printed on big beautiful feathers – everyone took it home as a souvenir. The team, which has won the quiz about our interests, received a common prize to meet each other after some time. Joy and happiness of your dearest people will warm you up and add some more unforgettable moments to this special day.
Special moments 
Our holiday started with a vows ceremony, which is not typical for Russian weddings. While I was writing my, I even started to think that all this might look really strange at the wedding. But as soon as Dmitry said his first words, everything around stood still. I've never felt such touching moment in my whole life, and plenty of our guests who shed a tear, I'm pretty sure – too.   
Advice for other couples?
Choose "yours" people. If it seems that the person isn't your – it doesn't seem. Better spend some extra budget and change your mind than stay with someone who only wants to make money on you and doesn't hear you.
If you're planning an open air wedding, you always need a B plan – there should be umbrellas, rugs and heaters confirmed by a call in case of bad weather.
Enjoy. This amazing day will pass by so fast that you'll wish to never let it go. You will hear so much words of love – make a video for the chance to get back as soon as you want.
Biggest surprise
Last year July in Moscow was unpredictable – it was raining and +7 degrees the whole week before wedding. I was sadly imagining how we'd be gone with the storm with all decorations and beautiful clothes. On the day "X" we were waken up by sunbeam, shining through curtains. We ran down the stairs right in the pajamas and started jumping on the grass, laughing and singing. It was the best gift nature could give to us. Somehow, all cloud were flying around – our photographer even caught up the rainbow, but not a drop felt from the sky.
Supplier Shout Outs