Today I am absolutely delighted to bring you the wedding of Fay and Graeme. You may remember Fay as she was one of the lovely Boho Brides who write for the blog about a year ago. I loved reading about Fay's wedding planning journey, so today is going to be a real treat for you all. Faye and Graeme created the most magical of weddings. A beautiful outdoor ceremony, followed by an amazing tipi reception that looks amazing. The flowers, the decor, the setting is all perfect. As for Fay and Graeme, what a gorgeous couple. I wish them many, many years of happiness together and all the best for their future. Massive thanks to by Melissa Beattie Photography who has done such a wonderful job with the photos.
The day was relaxed and hazy and felt like a scene from A Midsummer Night's Dream. The evening was a fun-filled party spent jumping up and down to our favourite indie anthems from our Uni days.
Fay and Graeme were married on the 30th July 2016 at Saltmarshe Hall East Yorkshire followed by a reception in a PapaKåta Teepee. 'I have wanted a teepee wedding ever since I saw one at the Oast House in Manchester one Christmas.  I thought it looked so pretty lit up with fairy lights!  Saltmarshe Hall was a perfect location as it allowed us the freedom to source all our own suppliers and is only 15 minutes from my hometown. We had 100 guests and the wedding took 18 months to plan. We got engaged on New Year's Eve 2014/15.  I would say most of the planning was done in the first 6 months and the last 6 months.  Having 18 months to plan meant we got all our first choice suppliers.'
How they met
We met at Newcastle University.  We were 18 and had been together for over 10 years when we got married.
The Proposal
Graeme proposed over a private New Year's Eve dinner at a beautiful Riad in Marrakesh.
How did you allocate your budget?
Graeme was very on top of our spending with his wedding spreadsheet which I still have not looked at to this day! To us, the most important things were the food and entertainment.  Eat Me Drink Me kept everyone well fed and lots of people said it was the best wedding food they had ever had. Our wedding band 'Hipster' had the dance floor filled all night.
Where did you splurge and where did you save?
We splurged on the things that were important to us and that would have the biggest impact on the day.  We saved by not spending on things we felt we 'should have' just because it was a wedding.  For example, we chose not to have a wedding cake and instead had a Krispy Kreme donut table which worked out a lot cheaper!  We also ditched the idea of wedding cars which we saw as an unnecessary expense.
Why did you choose your photographer?
We met Melissa at a wedding fair and loved her fine art style of photography. We also liked her relaxed personality and thought we would get on well with her, which we did! She was fantastic on the day and made everyone feel at ease. Her photos are amazing; we can't stop looking at them.
The Dress
My dress was by Jesus Peiro.  It was one of the first dresses I tried on and I really loved it, it fitted so nicely and was the perfect mix of classic and bohemian.  My veil and belt were from Bo & Luca, an Australian company.  I made a huge gamble buying them online but I was so pleased with them, the veil was beautiful. My shoes were £40 in the sale from Kurt Geiger and I wore them for all of 2 hours before switching to a pair of sparkly flat sandals. I'm so glad I didn't buy Jimmy Choos as they would have been a huge waste of money!
The Suit and Bridesmaids
The kilts were from MacGregor and MacDuff in Glasgow.  They had a brand new tartan called Arran Mist with beautiful navy jackets and I really fell in love with them. The bridesmaid dresses were from Maids to Measure who I can't recommend enough.  The bridesmaids each chose their own dress from a huge selection and all had them in Dove Grey.  I'm not sure why anyone would want their bridesmaids in hideous dresses, our bridesmaids all looked gorgeous in theirs!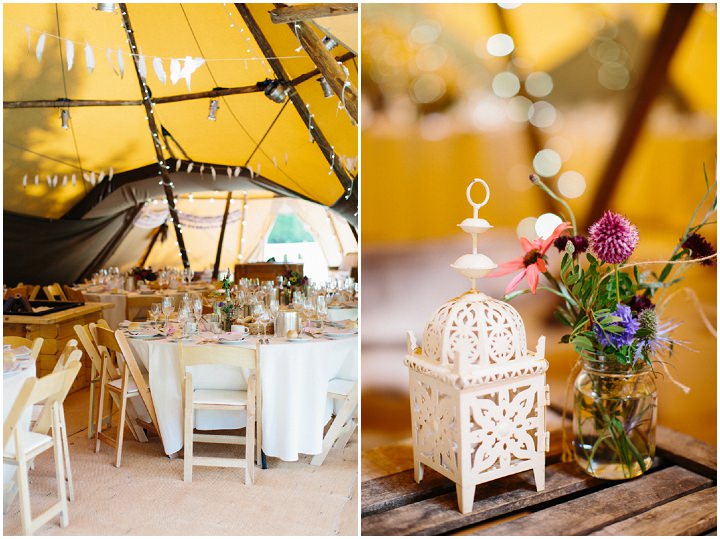 Theme or Colour Scheme
We didn't want a specific colour scheme.  The flowers were different shades of pinks, burgundy and creams but we wanted to stay fairly neutral.  The flowers were the main focus of decoration.
Flowers
Our florist, Alice from Forage and Blossom, really out-did herself.  As well as the beautiful bouquets featuring seasonal wild flowers and David Austen roses, Alice created a flower arch for the ceremony and an amazing floral swing for the Teepee. My mum and sister spent the day before the wedding filling little glass vases with flowers for the ceremony aisle.  The flowers were definitely the focal point of the decorations!
Decoration
I spent the months leading up to the wedding roping-in my bridesmaids to help make 20 meters of gold glitter-dipped feather bunting.  I also created a chandelier in the middle of the Teepee made from giant pompoms and lanterns which looked beautiful.  I really loved styling my own wedding and seeing all my ideas come together on the day made our glitter-covered house seem worthwhile!
Food
The caterers were Yorkshire-based 'Eat Me Drink Me'. They were absolutely amazing and allowed us to have a sharing meal of mezzes, Moroccan lamb and giant Pavlovas which were bigger than my head!
Wedding Cake
We weren't fussed about having a wedding cake so opted for a table of Krispy Kreme donuts. They went down very well with the guests and were all gone by the end of the night.
Entertainment
Music was really important to us and we wanted live music throughout the day. We started with Didsbury String Quartet who played throughout the ceremony and the drinks reception. The band, Hipster, played an acoustic set during the meal and provided a mix of live music and DJ sets throughout the rest of the night. They were kind enough to offer the stage to Graeme's band, In Pixels, to play a few songs which made the day feel very personal.  We also hired a temporary tattoo bar from Hello Doris which the guests loved.  I don't think anyone escaped the wedding without a tattoo.
Stationery
Stationary was provided by Something Kinda Cute. I found a design that had been created for a wedding shoot and never completed. Shell was kind enough to finish the design and let us use it.
Personal Touches
I did most of the decoration myself which included making over 20 metres of glitter-dipped feather garlands.  Graeme stencilled the Order of the Day onto an old pallet.  I also used the miniature teepee I made for my classroom as a DIY photobooth.
Special Moments or Highlights
We wanted to get married outside so we had to do the 'official' bit beforehand.  Initially, I was reluctant to do this because I was worried it might detract from the wedding ceremony, but it turned out to be one of the best parts of the day.  We had our Mums as witnesses and I wore my Mum's wedding dress so Graeme still had a 'first look' when I walked down the aisle in my own dress at the official ceremony.  It felt very special and personal and I felt a lot less nervous at the main event half an hour later!
Advice for Other Couples
If you plan to not see each other on the morning of the wedding, make sure the bride thoroughly briefs the groom on what needs doing while she's out of the picture.  This is the only thing we didn't do and Graeme ended up really stressed that morning!  After 18 months of wedding planning, he had to pull it all together without knowing was all in my head!  Also, make sure you have a backup dress to wear in case anything unexpected happens on the day.  My dress split open on the dance floor and I was so glad I had my Mum's dress to wear for the rest of the night!
Biggest Surprise
100 of our closest family and friends arriving on coaches to see us get married.  I couldn't quite believe it when I watched the coaches pull up outside Saltmarshe.  It really was the best day of our lives and we were so grateful to everyone who came to share it with us.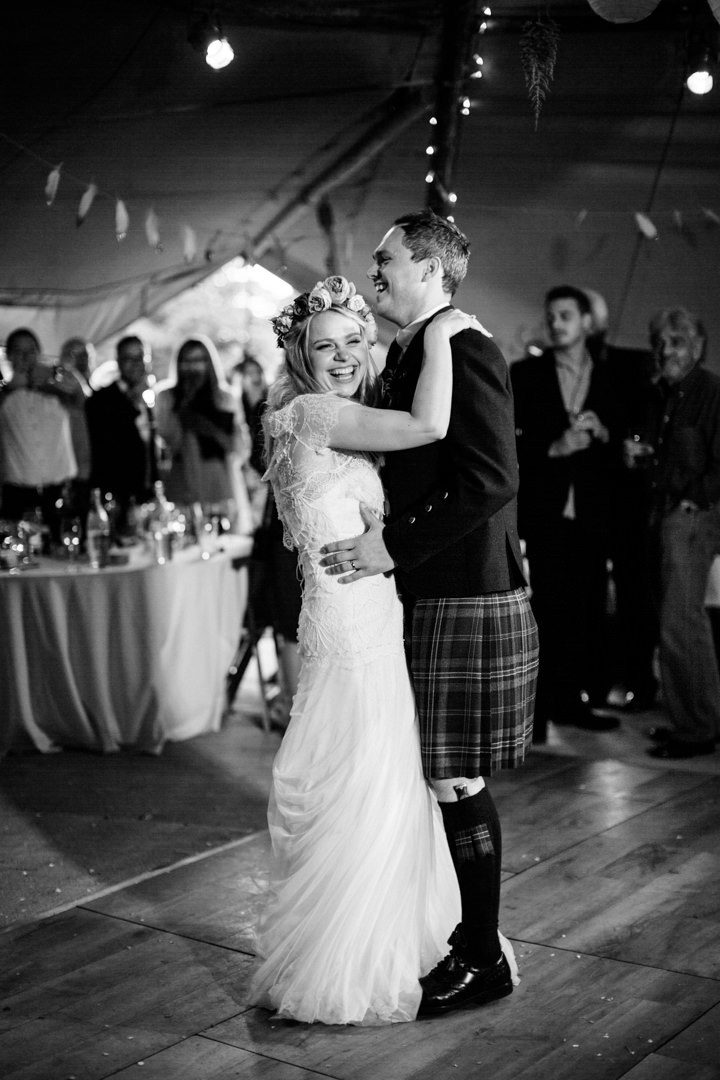 Supplier Shout Outs
For more information on Melissa's work go to:
www.melissabeattie.com / FACEBOOK / I: @melissabeattiephotography