Today I am taking you to Oxfordshire for the rather splendid wedding of Christopher and Chad. These two grooms wanted a rustic themed day and Lains Barn  was the perfect option for them. This stunning barn venue meant they could hold their ceremony and reception in the same place making it a much simpler and fuss free day. They both went for tweed suits which added a real country feel to the day, and the barn itself looked absolutely gorgeous. I love the cake, which highlights their love of running and the beautiful photos from MT Studios.
Our wedding was an eclectic mixture of English charm, with a dash of ABBA, some southern Americanisms, and fun. The day itself was surprisingly relaxed and flew by quickly.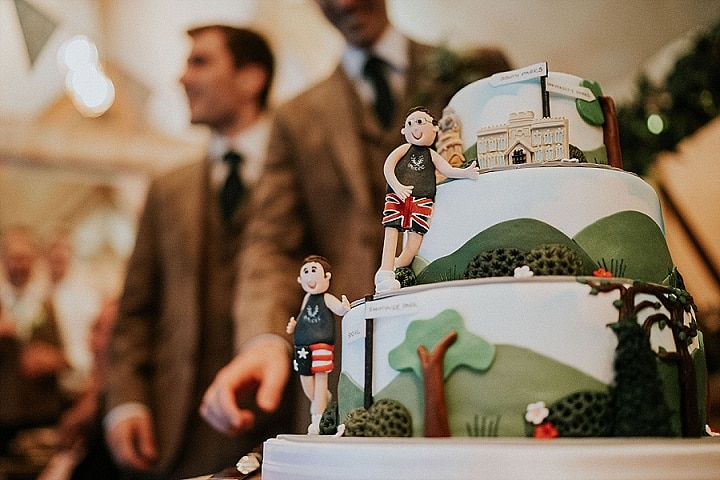 Christopher and Chad were married on 9th August 2019 at Lains Barn, Wantage, Oxfordshire. 'We both had either attended or were attending Oxford at the time of the wedding, and consequently, wanted a venue that was close to the University. In addition, we were both keen for a rustic theme. We had 90 guest for the ceremony with an additional 30 for the reception. We began organizing the wedding a year in advance, starting with the more impactful decisions such as where the venue would be located, the number of guests, creating save-the-dates, and who would be our respective groomsmen. Once we knew who to expect and where the venue would be, everything else fell into place.'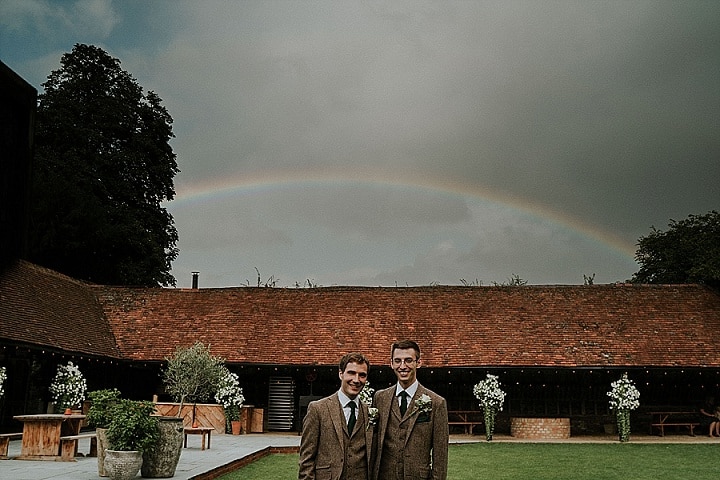 How they met
We met in 2015 in London when Chad was completing his Fulbright Scholarship at University College London and Chris was finishing his legal practice course at BPP Law School. We stayed in touch, and Chad happened to earn a place at Oxford in 2017, upon which time we started to officially date.
The proposal
The most interesting thing about the proposal is the timing, as opposed to the actual proposal itself. The day before we had gone to Windsor to watch Prince Harry marry Meghan Markle (another transatlantic couple) and managed to get a good spot on the long walk. Perhaps inspired by that, Chris proposed to Chad the following day. Thankfully, the actual proposal itself was quiet and unassuming (i.e., just at home in Chris' flat) as opposed to the full-on pageantry on display at the royal wedding.
How did you allocate your budget?
We wanted to keep our budget tight as we knew the most important thing to us was having our friends and family together
Where did you splurge and where did you save?
Our primary focus on our budget was to ensure that we could invite everyone we wanted to invite. As with most weddings, our reception budget was primarily filled with food (including the cake), and that is probably where we splurged the most. We saved the most by repurposing wedding decorations from our friends' prior wedding, creating most of our invites and save the dates ourselves, repurposing flowers throughout the day, and creating our own wedding favors.
How/ did you choose your photographer?
We did quite a bit of research before choosing Maciek from MT Studios in Oxford. We were keen on having a photographer close in Oxford whom Chad could keep in contact with in the run-up to the wedding and engagement photo shoot. Maciek's photography is clearly quite contemporary and professional. Moreover, Maciek was a very relatable guy and helped "hide" the camera per se, as we were both quite photo-shy. He truly captured each exciting moment of the day and we would highly recommend him.
The  suits 
We bought our suits from Shepherd and Woodward in Oxford
The groomsmen
Our groomsmen had tweed waistcoats and green ties which we procured from Shepherd and Woodward as well. We asked them to provide a white button-up shirt and brown shoes and dark trousers, which worked quite effectively and helped trim our budget.
Theme or colour scheme 
We happened on a colour scheme and theme without necessarily going into the wedding with a plan. At the wedding, we had a pallette of greens, browns and white, which blended in seamlessly with the rustic nature of Lains Barn and Wantage.
Flowers 
Our flowers were provided by Classic Flowers, a florist based in Witney. We were both keen to have flowers which complimented Lains Barn which were not too extravagant and had come across a type of design with lots of foliage and white flowers. Our florist was able to interpret our request (with the help of a couple of Pinterest examples) when we met her, and from there all the flowers fell into place.
Decoration 
Once the flowers were sorted, there was not too much left to do. Lains Barn is a beautiful venue and did not need much in the way of embellishments. In terms of additional decorations, we received a number of kind donations from friends and family who had recently gotten married in the way of bunting which we hung up in the bar area. The only other thing we designed was the table numbers as these had pictures of our favourite running locations in and around Oxford (where we both ran for the cross country team).
Food 
Lains Barn offer a fun 'Pie Master' package which is a great interactive way to involve your guests in serving the food. Each table is allocated a 'Pie Master' who is responsible for serving the pie to everyone else on their table, all whilst wearing a chef's hat and two large serving spoons. Given our guests came from all across the UK and the USA, we thought it would be a fun way to break the ice and encourage conversation on the table.
Wedding cake
The wedding cake was provided by the Cake Shop located in the Covered Market in Oxford. They provided an exceptional three-tiered cake (fruit, Victoria sponge and lemon drizzle) that highlighted our favourite running trails in Oxfordshire. We both ran for Oxford's Cross Country and Athletics clubs, and were quite keen on having the cake highlight both the sites in Oxford (i.e. the spires) with the rolling hills where we both spent quite a bit of our weekends running on.
Entertainment
For the drinks reception, we procured garden games (such as giant jenga) for the kids to enjoy. In the evening, due to our desire to play a real eclectic mix of music (think the Pokemon theme tune, some Southern hits, 90s pop and 80s classics), we chose an open-minded DJ. Our photographer also arranged a photobooth which provided a lot of entertainment for our guests and ourselves.
Who supplied the stationery?
Some kind friends helped design and print the stationary.
Personal touches
We made quizzes about ourselves as ice breakers for the table, and gave the answers after the speeches. Lains Barn also arranged for some Kentucky Bourbon to be in stock for our Southern guests.
Special moments 
The best man speeches were good fun, and as there were two grooms, there were two speeches (so all the fun doubled).
Advice for other couples 
Relax, don't take it too seriously and remember that all the frills are meaningless if you're both not happy. We were quite proud of how much control we retained over the day so it was very much the day that we wanted and reflected our own personalities.
Biggest surprise 
The Englishman cried in his speech. The American retained the stiff upper lip. This did not, and does not, reflect day-to-day normality.
Supplier Shout Outs
 For more information on MT Studios go to
www.mtstudio.co.uk / www.mtstudio.co.uk/oxford-wedding-blog / FACEBOOK / INSTAGRAM / TWITTER