Today's wedding comes bursting with country goodness and a big dose of rustic, which makes it perfect for the Blog. This wedding is also full of DIY and handmade elements all put together so carefully by the bride who luckily is an art teacher so pretty handy at getting her craft on! Not only did she put together some amazing decorations but she managed to design all the wedding stationery herself. Her mother grew all the blooms for the wedding  while her mother in law helped put them all together, a real family effort. I am loving the Jenny Packham dress, as well as the beautiful barn location. What a perfect summer wedding! Thanks to Rachel Hudson for the gorgeous images.
'The most perfect day. A laid back country affair in a stunning Oxfordshire setting, with bundles of blooms, DIY a plenty, and the obligatory dance-off.'
Tova and Kenny were married on 26th July Both the ceremony and reception were held at Caswell House in Oxfordshire. 'I think we always knew we would get married in Oxford. Although neither of us grew up in Oxford it is the place we met, we both went to Oxford University and have lived here for 10 years! It very much seems like home to us. This coupled with the fact that many of our guests would be Oxford based meant fewer people would have to travel long distances on the day. Caswell was the first place we visited and instantly had a good feeling about the place. Both of us loved the relaxed, country vibe, the gardens were stunning, the accommodation home from home and the barns beautiful light and airy. When we started to look for places Kenny recalled an old friend whose family had converted their home and farm into a wedding venue. We didn't really pursue this but as we drove up to Caswell Kenny thought the name and location rang a bell! It turned out it was owned and run by the very family! During the build up to the wedding we felt so fortunate that the venue was just 20minutes drive from home. We could visit with ease and setting up the day before would have been impossible further away – as we had to shuttle the school minibus back and forth to collect flowers and decorations.
We had around 110 guests with a further 35 guests arriving in the evening.'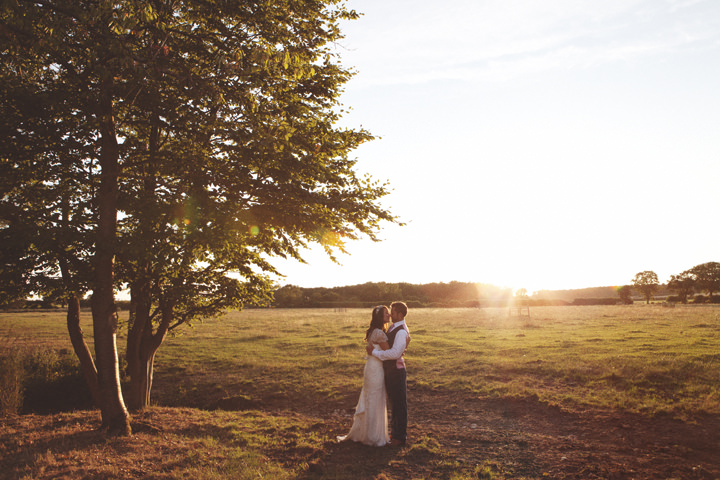 How long did you take you take to plan the wedding?
About a year on and off. Once we had the main bits booked (Venue, Registrar, Caterers, Band, Photographer) I got to work making bits and bobs in any free time I had. As we are both teachers in a boarding school we were limited to holiday time for any planning. I was often left feeling a bit baffled when people asked "how is all of the planning going?", there really isn't anything to get worked up over. By just doing little bits now and again the process didn't seem overwhelming.
How they met
We met at the school we both teach at and have been together for about 4 years
The proposal
I had absolutely no clue! Despite the fact that Kenny had been designing the ring and having secret meetings with the ring makers I was completely shocked by the proposal.
We were staying on the Gower coast in Wales for a few days. My parents grew up here and we had been to visit my Grandmother who lives in the area. We spent most of our time while we were there walking our little Whippet Tilly on the beautiful beaches. I had been telling Kenny about my favourite beach Three Cliffs Bay and the beautiful views over the bay, we visited the beach a few times while we were there and on the last day before we set off for home to Oxford Kenny suggested we take one last walk along the cliffs to Three Cliffs. It was pretty windy, so with a scarf wrapped around my head and the shivering whippet in my arms Kenny popped the question while we sat overlooking the bay.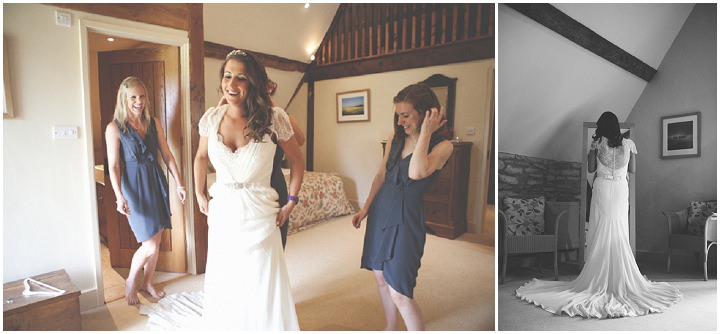 How did allocate your budget?
In terms of the budget we knew we didn't want to go crazy as it is just one day and about getting married not having a wedding. We didn't really stick to a designated budget but spent on what we really wanted and didn't spend just for the sake of it being a wedding. I think we probably saved a lot of money as I made all of the decorations, stationary, table bits, and photo booth myself, and the flowers were a team effort from my mother in-law, my mother and I. The venue and the food were the biggest spend but both were perfect and worth it.
Why did you choose your photographer?
We saw Rachel at a friend's wedding and the photos she took were incredible. She has a way of capturing the mood of the event without interrupting the flow of the day. She was so discrete on the day and when we were getting ready it was just like having another couple of friends with us as her and her assistant snapped away. She has a knack of capturing the most beautiful light in her images giving them an almost ethereal quality. We were so pleased to have done a couples shoot with Rachel beforehand also as this gave us a chance to get used to the camera but also gave us a lovely collection of photos in our home town.
The dress
My dress was Aspen by Jenny Packham. I had spotted the dress online but also knew how pricey it was so was slightly hesitant to try it on! The local bridal shop Ellie Sanderson is a Jenny Packham stockist so it was all too easy to take a trip to try it on. After a day mulling it over with my mum and looking at endless pictures of it online I knew I had to have it.
I wore a Jenny Packham headband (in for a penny, in for a pound) and then justified my dress expenditure by buying my shoes for just £14 on ebay. I have never really understood why people pay so much for shoes you can barely see under the dress.
My necklace was a gift from Kenny on the morning of the wedding. A ring of diamonds with a grey pearl, it went beautifully with the dress.
The suit and bridesmaids
Kenny's suit was from Austin Reed. Originally he had toyed with the idea of a tweed waistcoat to go with the country feel at Caswell, but he ended up opting for a striking blue three piece with tan brogues by Cheaney and Sons. Kenny's Tag Heuer watch was a gift from me on the morning of the wedding.
The bridesmaids wore petrol grey dresses from Whistles. I adore Whistles and own far too many of their dresses. The shoes were also an ebay steal at £16 a pair. I wanted something a little bit fun and so went for a bright purple court shoe. Their necklaces were an etsy purchase.
Theme or colour scheme
As an artist I have never been a big fan of wedding colour schemes. I can see why some people like to stick to one or two colours but I knew that by picking colours, textures and imagery that I liked the overall effect would be cohesive. Tilly the whippet was unable to attend on the day, as she is a typical whippet and is frightened of almost everything, especially crowds of people. I produced a drawing of her which then became a little like a wedding logo on much of the stationary. I used brown paper, hessian and wood grain prints to create a slightly rustic look which was in keeping with the barn venue. Dusty muted colours also created a slightly vintage feel to the décor.
Decoration
Again the laser cutter came in handy for the decorations!
I created a 'Mr and Mrs D' sign, cutting the letters from MDF and attaching fairy lights so that the sign would light up. I cut wooden hearts and engraved our names and the date on them. These hung from backs of chairs and dotted around the venue.
The table plan doubled up as decoration. A lovely friend and I potted up a variety of herbs and cottage garden plants. I bought a plant stand, painted it and arranged the pots on it. I laser cut wooden table names and printed guest names on brown luggage tags to hang from the pots. This along with a few props borrowed from my art department such as a old-fashioned typewriter, sewing machine and vintage suitcase for cards decorated the guestbook table.
Food
During the drinks reception we hired the G&Ds ice cream trike.
Our caterers were Williams Kitchen. We opted for a barbeque for the wedding breakfast. We liked the idea of people getting up to get their food from outside and felt that a barbeque would create a more relaxed feel to that part of the day. As a veggie myself you may think that a barbeque is a strange choice but we had a wide range of delicious options to choose from. Salmon, mackerel, haloumi, burgers, chicken and plenty of salad options. Guests could choose what they wanted or just have it all! This seemed to satisfy even the largest or rugby player's appetites!
Sausage baps were serve in the evening to mop up a little of the booze.
We also put together our own sweetie table. This went down very well with the sweet toothed guests.
The wedding cake
After sampling the desserts we knew it would be a waste to go for a traditional cake. We offered three dessert options with enough for everyone to have a piece of every option. We went for a cheese tower instead from the Oxford Cheese Company. We wanted the cheeses to be as local as possible, most were produced in Oxfordshire.
Entertainment
During the ceremony and during the reception drinks the outstandingly talented Flossie Rose sang and was accompanied on guitar by Harry Cathcart Roxburgh. The two talented teens are pupils at the school in which we work. Our friends and family were blown away by the two of them.
For fun I involved my GCSE art class in part of the entertainment. On the last lesson of term I gave each of them photographs of the guests from which they produced a drawing. The drawings were on display for guests to find themselves. Some were A* quality while some were less than flattering, it was a good laugh and guests could take their one of a kind portraits home with them as a memento.
During the day we had lawn games, this helped create the relaxed 'garden party' feel that we wanted.
I made a DIY photo booth with an old art easel, an iPad and my woodwork skills. We added in a few props and hey presto! The photos and videos are very funny, especially the ones from later on in the evening.
We hired a band for the evening called The In-laws. We found them online on Function central. They were great and provided a DJ between sets so we didn't have to rely on our Spotify playlists all day.
Flowers
I love flowers and to me it would have been awful to have handed over my one opportunity to really splurge on blooms to someone else. From the moment we got engaged my mother started growing flowers for the big day. I ordered the flowers for the centrepieces and bouquets from a wholesaler and picked them up two days before the wedding. We had peonies, memory lane and avalanche roses with poppy seed heads, thlaspi green bell, veronica, eucalyptus, alchemilla mollis and cornflowers amongst others for the centre pieces. I had so much fun doing the centre pieces with my mother In-law, and I loved experimenting with the different colours and textures to come up with the bouquets.
I made the buttonholes the night before and they consisted of avalanche roses, flowering mint and thlaspi green bell.
Around the venue we had amazing hand-made ceramic pots and vases. My mother's garden pretty much filled the jugs and thanks to a bumper crop of sweat peas the little pots were packed full, adding colour at every turn. On the ends of the isles I tied posies of dried lavender and wheat, the smell was gorgeous.
Buy or DIY your Stationery?
The stationary was all DIY! The invitations were a combination of wood grain print with text, a hand etched lavender flower and laser cut whippets.
I designed and printed the order of service and stitched the centres. I also designed and printed the table menu and laser cut a paper mount for each one.
On each table we created introductory blurbs about each of the guests on the table. A kind of 'who's who' on the table. These seemed to go down well on the day and people could clearly see how much thought and time had gone into them.
Personal or handmade touches
We had as many personal DIY touches as we could possibly cram in! The photo booth, the sweetie table, the gallery of portraits, the flowers, the stationary and props, the signage and wooden hearts, and basket of flip-flops for sore feet.
It was very much a DIY affair and I loved every minute of it. I love making and so this was a project I could really get my teeth into.
For the gents favours I embroidered pocket hankies with our names and the date on. For the ladies favours I wrapped handmade apple and lavender soap.
For the place names I laser cut wooden banners with engraved names and whippets on them.
The table names were also wooden laser cuts. They were the names of the boarding houses at our school. It seemed fitting as we had 11 tables and we have 11 boarding houses.
I had so much fun making bits for the run up to the wedding, I am hoping to start my own business helping others. I like the idea of working with couples to find out what images, colours and motifs reflect them and to create one off pieces for their day.
If you are reading this and would be interested in having some help with the design of your day then please do get in touch – my email is [email protected]
Special moments
The ceremony was lovely. The readings all so beautifully read and I was blown away by Flossie's singing. I remember thinking I was feeling calm and collected as I waited outside the ceremony room and then as I walked up the isle everyone turned around to look at me, and at that point my composure started to waiver.
All of the speeches were fantastic. My dad, best man Jimmy and Kenny all did a great job.
The whole day was just perfect, but to marry my best friend in the world was the highlight by far!
Advice for other couples
Do little bits as you go along and then you can enjoy the process. Don't leave things till the last minute when things can become a little stressful. On the day just let go! I remember thinking 'what happens happens'. It will be amazing, you don't need to think of a thing on the day, just relax and enjoy. The staff at William's kitchen and Caswell house were a dream to work with. They ran the whole day so smoothly, ensuring that we didn't need worry about a thing.
Do things that will make you happy. If it isn't the tradition who cares?
Biggest surprise
I think my biggest surprise came the day before when my dad turned up with his car full to the brim with my mother's garden flowers. She couldn't even fit in the car herself, and had to get a taxi with my grandmother separately! I knew she had been growing flowers for the day but didn't imagine quite the volume that she would produce!
On the day I was also surprised to witness a dance-off between my cousin and my dad. My dad barely left the dance floor all evening!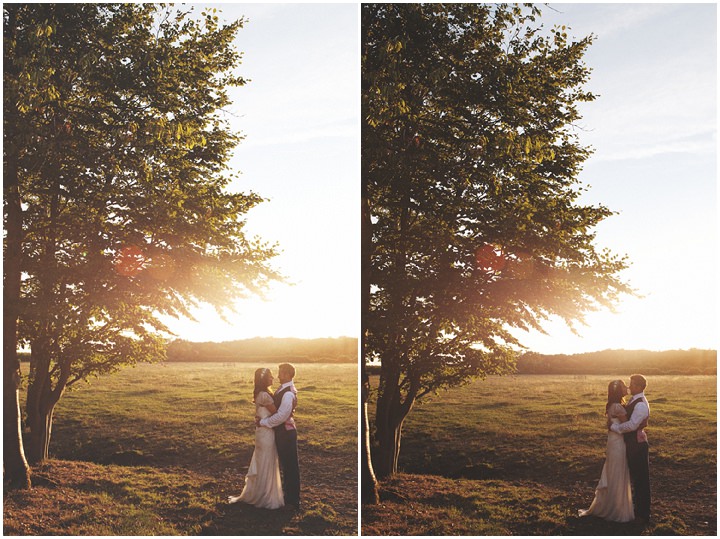 Supplier Shout Outs 
For more information on Rachel's work go to
www.rachelhudson.co.uk
[email protected]
FACEBOOK
@Rachyhudson