Your walk down the aisle could be the most significant, most photographed walk you will ever do. So its important to make sure it is as special as possible and decorated accordingly. Today I would like to introduce you to Andrew and Sara from Butterfly Aisle Runners who have been creating personalised aisle runners since 2015. These beautiful runners come in a variety of sizes, fabrics and prints and can be made to your own specifications and shipped all around the world. What better way to make that walk even more special, and a beautiful keep sake that will last a life time. Andrew and Sara have been kind enough to answer some questions for me, so you can find out more about their wonderful business.
Your walk down the aisle is the most epic, most photographed, most significant walk of your life. Make it even more unique with one of our personalised aisle runners. Let us create the most memorable wedding accessory. Let us style your aisle.
What made you start your business?
When one of our close friend's received her personalised aisle runner from the US, we saw the disappointment in her face when she opened her parcel and saw her runner. It was paper thin and poorly printed. We had the capability to create something better and asked if we could help. Sara, along with her dad, bought some hessian material and printed the first aisle runner. We stared in 2015
Where are you based and where do you cover. 
Our small family workshop is based just outside Glasgow, Scotland. We ship our products Worldwide via tracked courier service.
What were you doing before?
Andrew – working for the UK's largest commercial signage company as a Bid Manager
Sara- Working for her family business as an Area Manager for their giftshops.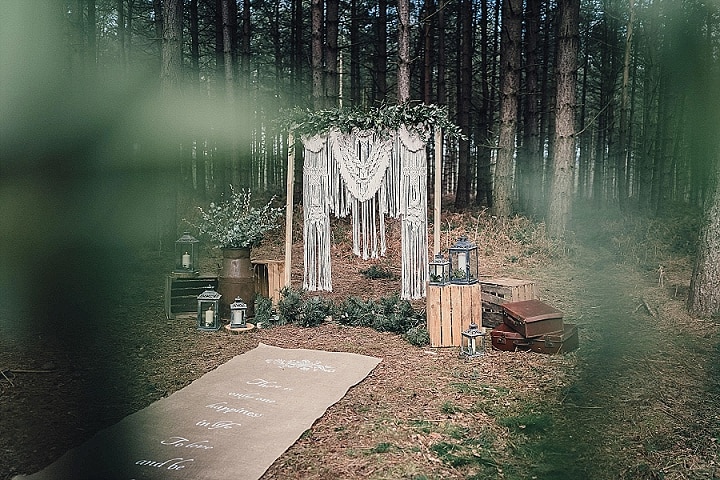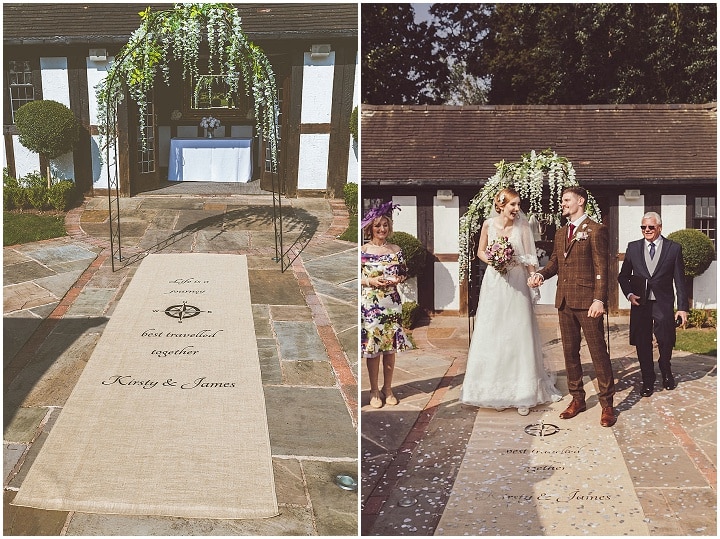 How would you describe your style?
With the new lifestyle marketing that we are doing on styled shoots, we are working to show potential customers that our runners can fit into any style so long as the central motif fits with the wedding concept. We use natural hessian to fit with rustic/boho themes, white hessian for traditional or luxe themes and black hessian for urban, alternative or gothic styles. We worked on an LGBTQ+ shoot which was concentrating on a boho elopement theme. Both females were Indian so we worked with them to understand their culture and designed a Mehendi graphic. The floral pattern with swirling vines and flower heads was based on their Mehendi art.
What is your biggest achievement so far?
In 2017, an American Bridal blog shared one of our images of our hessian aisle runners. It went viral overnight with over 70,000 shares and as many likes/impressions. We continued to see growth, not just from the UK but oversees as well.
What makes you different to your competitors?
Since the start of our manufacturing journey – our focus has been on quality. Having the capacity to design and produce in-house has also been of great benefit, allowing us to explore different designs and create really bespoke artwork for our clients. A recent Bride asked us to recreate her family coat of arms!
We also find that many aisle runner orders are facilitated through 3rd parties or online with a lack of confidence in knowing what the end product will look or feel like and with very little one-to-one engagement with the designer or indeed the manufacturer. At Butterfly Aisle Runners we sell direct-to-consumer and create design mock ups, often sending material samples and showcasing our previous work to really give potential couples a true representation of exactly how their aisle runner will look.
What do you enjoy most about your job?
We love seeing the reactions of people walking down the aisle. We also love seeing the reaction of whoever is giving the bride away when they read the personalised runner.
What sort of couple do you think you attract?
We find that creative couples like our products as it adds something different to their venue décor. We love being challenged with new designs.
What would be your ideal wedding to work on?
We love working with couples who create a runner personal to them! Whether it be in keeping with their theme, a shared passion, a special song or reflective of the couple's quirks. This is where the passion in personalisation comes through and we encourage all our clients to be adventurous with this part – getting creative and adding meaning to this finishing touch.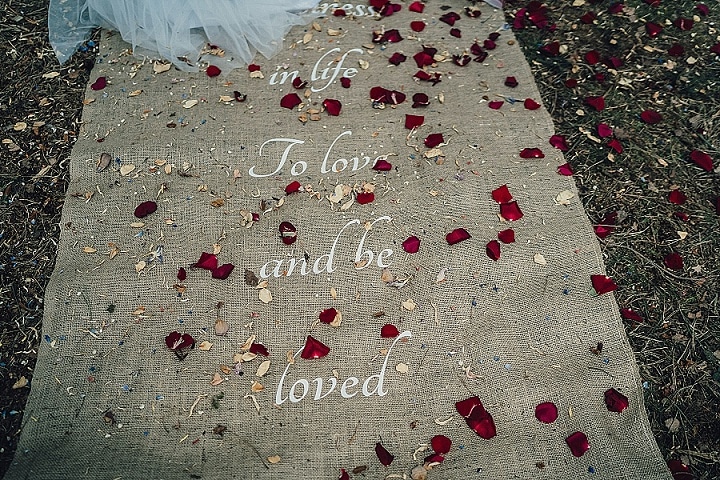 Can you give me some information on your pricing structure?
We do three standard size aisle runners. 10ft at £120, 20ft at £140 and 30ft at £160. We find that one of our standard sizes works with most aisles and always advise our client's that the runner doesn't have to run the full length of the aisle to make an impressive impact. However, we are happy to create a bespoke price for any length of runner that is required.
What is your ideal way to spend a day off?
We live in a small seaside town on the West Coast of Scotland so we love spending time with our little boy Ezra at the beach
What can you never leave the house without?
Mobile Phone and a vegan snack for our son.
Who would be your 5 dream dinner guests dead or alive?
David Attenborough, Cat Stevens, Robin Williams, Quentin Tarantino, Walt Disney. Warren Buffett
What would you do if you won the lottery?
Set up a "blank box" wedding venue that allowed couples to come in and decorate whichever way they wished, hired caterers to suit their tastes and have any style of wedding that suited them.
If you weren't running your business, what would you be doing?
Andrew – I am lucky enough to be a full time stay at home dad whilst running Butterfly Aisle Runners. I think I would be doing exactly the same and spending some time with my son before he goes to nursery/school.
For more information on Butterfly Aisle Runners go to
www.butterflyaislerunners.com / [email protected] / +44(0)7852 952 426 / FACEBOOK / INSTAGRAM / PINTEREST
this is a sponsored post