Looking back at my wedding there are SO many things I would do differently now. Don't get me wrong I LOVED my wedding, at the time it was perfect, but hindsight is a wonderful thing. Having a professional wedding film made would have been one of those things that I would have squeezed into the wedding budget. Pictures are fantastic they capture so much, but booking a videographer means those things like the speeches, the reading of the twos, those special moments between you and your partner don't get lost! Today I would like to introduce you to Ben from Down The Aisle Videography.  Ben creates modern, beautifully shot wedding films that capture those special moments from your wedding. He uses state of the art equipment, including drone photography to give a professional, clean, well edited film. Ben has been kind enough to share some of his favourite wedding films along with telling us a bit more about him and his work.
Ben is the Down The Aisle Videographer with a passion for creating beautiful wedding videos that capture the emotion of your day.
'My mission is to capture the magic of one of the most important days of your life in the most authentic way. My aim is to be invisible, never getting in your way or obstructing the seamless flow of your wedding day.
I capture it all in real-time, no rehearsal or retakes, and I never tell you what to do. I capture your story through documentary filmmaking using drones, hidden microphones and HD camera work to give your story a true cinematic experience.
To me wedding videography is not just a job but a passion and I love nothing more than creating beautiful keepsakes for once in a lifetime moments'
When did you start?
I started at the end of 2019 and I am based in London, I cover the whole of the UK and abroad.
What were you doing before?
I studied video production 10 years at university and have done bits and bobs in my spare time but my main profession has been a project manager within the retail sector.
How would you describe your style?
Authentic and creative. I aim to capture the day as and when it happens without having to stage or rerun the events of the day. Sometimes people can feel on edge when a camera is on them so it is my job to make them feel at ease during the pre-production stage to ensure they trust that I will deliver the video that they want. I also do everything in my power to be as invisible as possible on the day to ensure that myself or my equipment do not obstruct the magic of the couples special day
What is your biggest achievement so far?
Passing my CVA course in a month to get my license to become a fully licensed drone pilot. This adds a little something special for those couples looking for the full cinematic experience on their wedding day.
What makes you different to your competitors?
Down The aisle can offer a personal touch for the client. I will do everything for the couple, pre-production, film the wedding, fly the drone, edit and deliver the final package. I can build trust with the customer right from the start so I can guarantee that what we discuss will be captured on the day and therefore delivered in their final package.
What do you enjoy most about your job?
There is no greater feeling than receiving the feedback from a couple once you have sent them the final video package. Knowing that I have contributed in some way to a couple's story is pure magic.
What would be your ideal wedding to work on?  
Every wedding is different so in my opinion there is no such thing as an ideal wedding. Every couple's story that I get the opportunity to film is a privilege.
Can you give me some information on your pricing structure?
I offer 3 packages that start from £1,000. They then increase dependent on the amount of time the couple want filming and with additional extras such as drone work. The price of each package is final there are no hidden costs such as travel or delivery of the film package.
What can you never leave the house without?
In 2020, a face mask! Aside from that my camera, whether it is on my phone or using my hand held. The world is full of moments happening around you and I never want to miss the opportunity to capture something special.
What would you do if you won the lottery?
Travel the world with my camera.
For more information on Bens work go to
 www.downtheaisle.uk.com / FACEBOOK / INSTAGRAM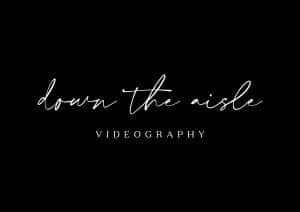 This is a sponsored Post