Happy Tuesday everyone. For those of you who were off yesterday with the bank holiday, I hope you all had a wonderful day. What did you get up to? Mine was a family day after spending the weekend with my Mum who came to visit from Cornwall. Yesterday was just Me, Nik and Dexter. We had an excellent wedding for you yesterday and today we are carrying on with another amazing wedding from Anglesey in Wales. Stef and Simon always knew they wanted to get married in Rhoscolyn, as it meant a lot to both of them. They completed their rustic themed day with a Tipi reeption filled with DIY decoration and the most amazing bright and bold flowers. A totally gorgeous day, captured perfectly by About Today Photography
We always just wanted to bring all of the people we love together in a beautiful place to celebrate with us over the course of a few days, and got exactly that – with some wine sunshine and laughter in to boot!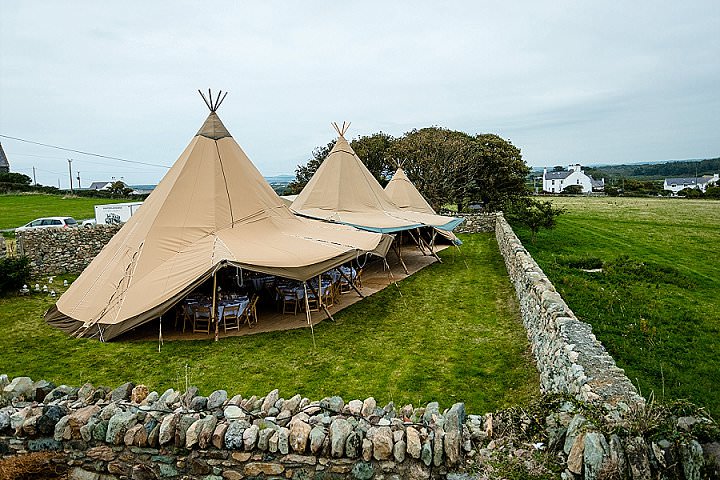 Stef and Simon were married on 1st September 2018 at St Gwenfaen's Church Rhoscolyn in Anglesey  and Plas, Rhoscolyn. 'I spent most of my summers and school holidays as a child in Rhoscolyn in our family holiday home. I took my first steps there and since retiring my parents have moved there permanently. In a quirky coincidence the first time Simon came to visit Rhoscolyn, we realised – when we literally bumped into the instructors out on the water – that he had also spent time there on a canoe training course ahead of a school trip to Alaska – and sure we must have passed on the lane at some point unknowingly! It's such a beautiful place and means so much to us both to have been able to get married in a community that has been such a huge part of our lives. We had 75 guests. We got engaged in South Africa in February 2017, so in all we had about 18 months. That said, we kind of did it in fits and starts! We always knew we wanted to get married in Rhoscolyn so once we got the big things booked, we tried not to obsess too much until nearer the time!'
How they met 
We met in first year of university where we were in the same blocks of halls and Stef worked in the campus bar – at which Simon, as a member of the rugby team seemed to spend a lot of time! There was flirting over Facebook and 12 years on the rest is history!
The proposal
After spending half our two-week holiday being very odd and twitchy, Simon proposed in a beautiful tented camp on a game reserve in South Africa. Our game keeper nearly ruined it by pointing out the bottle of champagne, but I was most definitely more distracted by emergency lion attack protocols to notice, and the possibility of snake bite to notice what was afoot. Simon had snuck up to see my parents in Anglesey a couple of weeks before and retrieved my grandmother's engagement ring, which he'd been carrying around all week in his pocket explaining all of his proceeding shiftiness!
How did you allocate your budget?
Early on in planning we talked about what mattered most to get out of the day and the bigger items of the budget sort of came naturally from those decisions. We tried not to stress too much but kept an eye on the spreadsheet and our priorities as we went along.
Where did you splurge and where did you save?
The big ticket items were the teepees and the House – but both were the best decisions – all of our pals stayed in the House over the weekend (and helped out so much!) and we loved everything about the teepees.
We saved on other areas by having our excellent friends and family help out with decorations and other finishing touches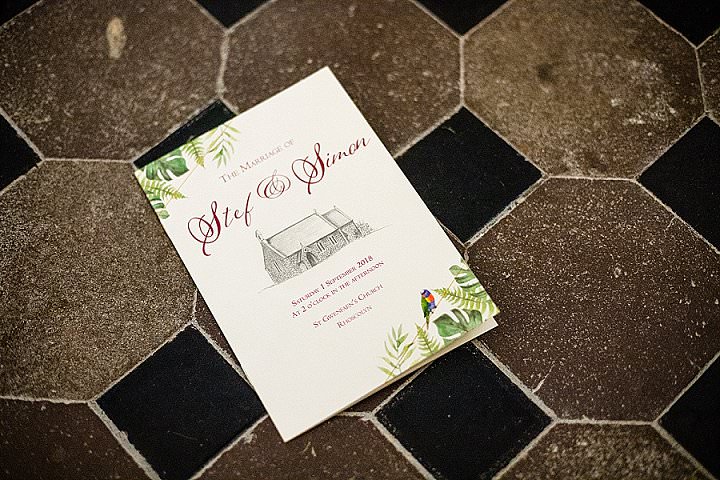 How did you choose your photographer?
About Today had shot the wedding of a family friend in Rhoscolyn the summer before and had rave reviews! When we spoke to Tom and Zoe, and having seen and heard their passion for the landscape – it was a no-brainer! We really loved their laidback and colourful style and they have been so great to work with throughout – particularly given our reluctance to be photographed!
The dress 
My dress was Harlem by Enzoani – it was the third dress I tried on! I had been really nervous nothing would suit me as I'm not normally a "dress-girl" and never really had "it's the one" moment, but I couldn't shake how much I loved the silhouette and detailing from my mind and I loved wearing it so much.My shoes were one of my absolutely favourite details of all! From the wonderful Faber Novella, the whole experience was fab from showroom to the day.
The suit and bridesmaids
Simon's suit came from Walker Slater in Fulham, we loved the style and the team were so helpful. Simon had two best men who wore chinos and blazers and I chose not to have bridesmaids, instead having a squad of all my fantastic ladies who were there for me without me forcing them to wear peach taffeta!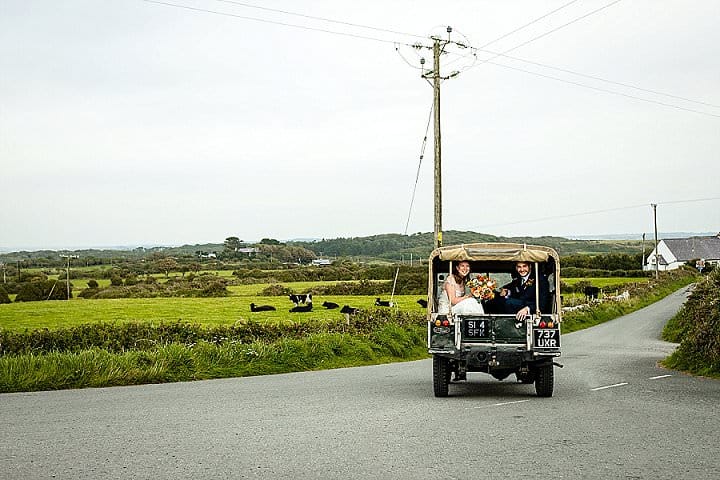 Theme or colour scheme?
We didn't really ever plan a theme as such, and just wanted a fairly relaxed and rustic vibe. The geometrics and the colours of our flowers ended up being the focus in terms of colours reflecting in the teepees.
flowers 
Given we got engaged in South Africa, we decided early on to have proteas and the rest came from there. My aunt's wonderful and talented friend Caroline Thompson brought our idea to life so magically along with my mum, aunt and an army of helpers in the church in the days before. The final effect was so beautiful, particularly my bouquet and the wheels in the teepees.
Decoration 
At some point I came across geometric 'himmeli' and having tried and failed to make these myself with straws and wires and metal pipes, I eventually admitted defeat and brought a job lot online. Otherwise we kept the décor pretty simple, with our flowers and the wheels being the main décor in the teepees.
Food 
Straight away we knew we wanted big sharing boards of meat and, luckily, we had no veggie guests! Toby from Outside Food did an amazing job of putting our random thoughts and tastes together into a wonderful menu! Although we didn't get too eat many – I'm told our canapes were incredible, including biltong, ceviche and scallops. The starter was an unforgettable spiced onion and crab bhaji with dressed crab salad, which was amazing.
For main, we had a medley of beef on sharing board that guests carved at the tables, with brisket , ribeye and sirloin, and amazing sauces and sides. We finished – eventually – with salted caramel brownies with ice cream and popping candy.
Wedding cake
Our official cakes, for cutting purposes, were a Colin and Colleen Caterpillar alongside which we had stacks of pork pie and cheese which served sort of cake and late-night snacks!
Entertainment
The fantastic Truly Medley Deeply led us all on the dancefloor long into the night – including an additional and unplanned set – with their unforgettable 90s and Disney medleys.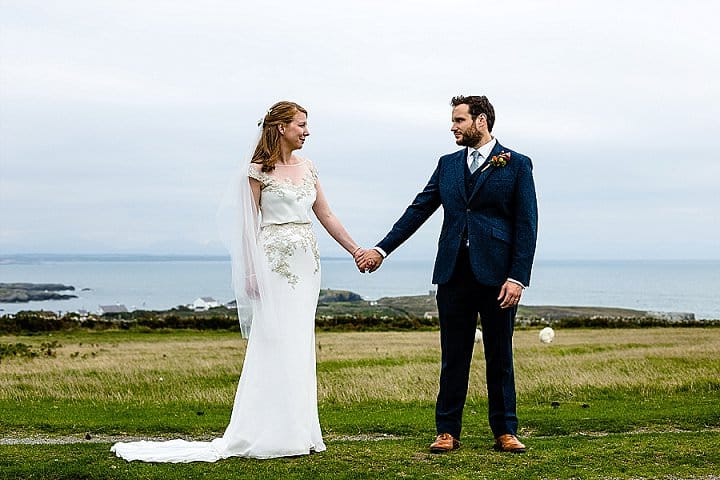 Who supplied the stationery?
I designed all of our stationary in InDesign, which was one of my favourite parts of the whole planning process, and I was so pleased with how it all turned out.
Personal touches
One of the few things that we managed to keep under wraps were the custom sunnies that we had for all the guests, which thankfully the sun came out for!
Special moments 
For Simon; the drinks reception after the service with everyone around us having a good time and, although he got lampooned by the best men and father of the bride, the speeches.
For Stef; the service was amazing and although it flew by I just remember my face aching from smiling the whole way through, especially the readings, and our entrance to the tents for dinner was just fantastic.
Advice for other couples
Work out what matters to the two of you and stick with it, and don't stress about the little things.
Biggest surprise 
During the father of the bride speech, it transpired that my dad had stashed a bottle of whiskey under each table as part of an anecdote about Simon – resulting in all the guests toasting Simon!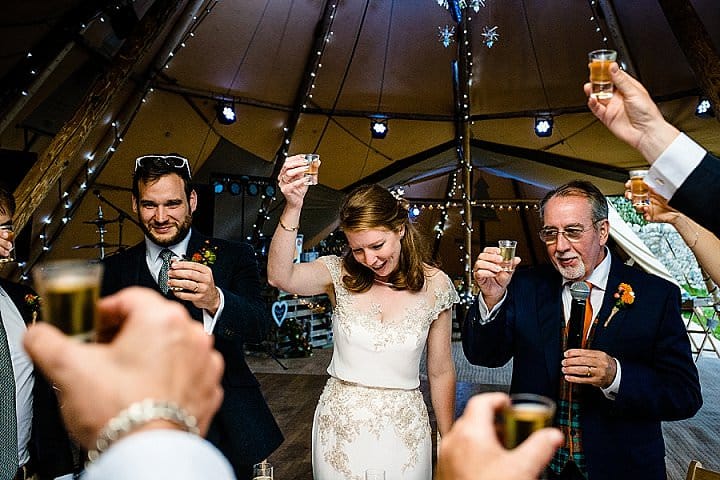 Supplier Shout Outs
For more information on About Today photography go to
www.abouttodayphotography.co.uk / [email protected] / 07709122211 / FACEBOOK / INSTAGRAM
We are Zoe & Tom, a husband and wife wedding photography team based in Manchester, UK. Our photography style is relaxed, creative and colourful, in fact we love colour!