Todays wonderful wedding sees us head across to Cheshire for this bright and beautiful Tipi Wedding, courtesy of Lottie Elizabeth Photography. Laura and Paul spent what seemed like a lifetime searching for their dream venue but when they came across Trafford Hall, they knew their dream of having a Tipi wedding could happen. Filling their wedding with lots of bright colour and DIY projects let them put their own stamp on their day. And when it rained they didn't let it ruin their day they simply mopped up the water and carried on. A fab wedding from beginning to end!
"Bloody Fantastic"! The second I saw Paul at the altar I quickly realised that marrying him was going to be the easiest thing I had ever done and all nerves disappeared. We went on to celebrate our marriage with our closest friends and family, it was more fun than we could have ever dreamt of and something that we will think of with great affection for the rest of our time.
Laura and Pauk were married on the 4th June 2016 at Christ Church, Willaston, Cheshire, followed by a reception at Trafford Hall, Chester. 'It was important to us that we had a church wedding so we went straight to speak with Reverend Stephen Bazely, the Vicar at Christ Church in Willaston. This is a church that has been a part of Laura's life for as long as she can remember and it is also the place where her father was laid to rest after he passed away; this was one of the main reasons for not wanting our marriage to be held anywhere else. Choosing our reception venue wasn't so simple. We viewed 19 venues in total before we decided on a tipi wedding at Trafford Hall. We had spent weeks viewing venues that we felt we should be looking at, beautiful venues but for us they were not the right fit. We settled on Trafford Hall after falling for its unique charm, it would be the perfect location for our informal tipi celebration. We had 83 daytime guests and 110 total evening guests. We booked our wedding on 7th July 2015, we planned our wedding in just under 11 months.'
How they met
We met many moons ago on the school bus back in 2010.  I swapped schools to enable me to study Economics as an A-level. In doing so, I not only discovered a subject that I went on to study at University, but I also met Laura, my hot headed ginger whirlwind. The first time I noticed Laura it was her laugh/cackle that caught my attention; I was hooked. 12 years and many adventures later, she became Mrs Furlong.
The Proposal 
We have been together since high school so I wanted to surprise Laura with the proposal so arranged for us to head to Venice for our anniversary. I booked a hotel on the canal which had two large windows that opened out onto the canal providing the perfect back drop for a location to ask the big question. After a couple of days exploring the great city of Venice, I asked Laura to marry me one evening after returning from a day of sight-seeing. Thankfully, Laura said yes. I was delighted at both her accepting, and that I had been able to make it a surprise for her.
How did you allocate your budget?
Paul is an accountant so ran a tight ship when it came to our wedding spends… although a bit of cheeky spending on the side didn't hurt anyone. To decide how our budget would be allocated we spoke about what was most important to us on the day, what we could live without and also what we couldn't. We booked our must haves first and then tried to make the most out of our remaining budget, making sure that we spent our money consciously.
Where did you splurge and where did you save?
We splurged on our beautiful tipi from 'All About Me Marquee and Events'. The tipi was at the heart of our wedding and it helped us to create a relaxing day time reception followed by a night of live music and bad dancing in the twinkly, atmospheric surroundings.
We saved on some of the little touches by making them ourselves but in all honesty this wasn't something that we consciously did to save money, it was mainly through enjoyment and excitement that we got stuck in. I'm thrilled that we did this and didn't hire everything as we now have them to keep.
Why did you choose your photographer?
Choosing our photographer was easy. Lottie was first introduced to us when she photographed our godson, Thomas. We fell in love with the style of photographs that Lottie takes, the personality that she captures within them and the atmosphere that her images embody. After an initial meeting with Lottie we left full of excitement and with massive smiles on our faces – she was everything we were looking for!
The Dress
I wore a Mori Lee dress, with pockets – I had to tell everyone about the pockets! My dress, veil and headpiece were all from Brides by Tina Louise and I found my shoes in Elegant Steps.
The Suit and Bridesmaids
The suits were hired from a wonderful formal hire shop in West Kirby, Wirral.  A suit caught Paul's eye at a wedding fayre and after visiting the Larry Adams shop, meeting the staff and seeing the samples of material, he left feeling like he was in safe hands.
The bridesmaid dresses were from Coast. The style and unusual colour caught the eye of one of my bridesmaids so I'm afraid we cannot take any credit for finding these.
Theme or Colour Scheme
Colour played a big part in our wedding planning however we didn't have a specific colour theme. We wanted our wedding to be full of colour, from the bouquets and button holes to the tipi décor and wedding invites; we really wanted our wedding to be fun and vibrant. If we liked something, we tried to make it work. Throughout the wedding kraft card, bunting and twine all made regular appearances. Although we sourced a lot of things from different suppliers we were keen for them all to feel a part of the same wedding.
Flowers
We told our fabulous florist that we wanted wild, rustic and colourful flowers that included Miss Piggy roses, wax flowers and daisies; the rest we left in her capable hands and we're delighted that we did.
Decoration
We had a variety of decorations at the wedding, from a beautiful floral garland that framed the church entrance to paper lanterns that adorned the ceiling of the tipi and a tree in the grounds of Trafford Hall. In the tree, we also hung a picture frame that for the past 2 years has hung in our dining room, this was a quick photobooth for our guests to enjoy throughout the day.
Our table decorations were rustic themed with hessian and lace table runners, log slices for our afternoon tea stands, jam jars and old perfume bottles with tea lights and flowers in and even some little pieces of moss surrounding the log slice.
Bunting hung proudly around the perimeter of all three tipis and across the ballroom within Trafford Hall.
Food
When our guests arrived at the wedding reception they were greeted with Pimms and Peroni, before a wedding breakfast of afternoon tea. The afternoon tea consisted of delicious homemade sandwiches, quiche, cupcakes and the most amazing flapjack.Come the evening when the drinks were flowing and the dance floor was bouncing, we provided Chilli Con Carne and Curry for our guests – it was a chance for stomachs to be lined ahead of the night's wedding shenanigans.
Wedding Cake
Our wedding cake was a 3 tier lemon sponge cake, Paul's favourite flavour. We had a vision for our cake and described it to the wonderfully talented Gayle from Gayle's Yummy Cakes. Gayle's interpretation of our vision was perfect and she designed a cake that was beyond our dreams, including the most incredibly minute details – none of which went unnoticed.
Entertainment
Entertainment was really important to us and we were lucky enough to work with some wonderful people. During the wedding ceremony we were joined by the Hadlow Green Singers, a local village choir, who helped us to ensure that there were no awkward singing silences during the church service.
Once we arrived at our reception the extremely talented Natalie Collins was singing for us and our guests. I booked Natalie after hearing her music online then after learning that she had a regular Sunday gig we just had to go and listen to her. Two songs into her set I was crying, The song that brought me to tears in the middle of the bar was then the song that Natalie dedicated to us on the day and Paul and I stole a few moments just outside of the tipi to have a little dance.
After our wedding breakfast our guests took a break from the tipi and were greeted by Ben from ProBooths and a big box of props. Ben's arrival couldn't have been timelier as after all guests re-entered Trafford Hall, the heavens opened and what can only be described as a tropical storm descended on the tipi. Guests were entertained and Ben mingled, making people feel at ease to grab a prop, strike a pose and leave us a note in our guest book. We now have these hilarious moments captured for us to treasure forever.
After the sunset, the sudden downpour was a distant memory and the tipi started to rock. Our DJ Dave Bladen and band, FireFly, together helped to make a night to remember; the dancefloor was full from start to finish; we couldn't have asked for a better celebration.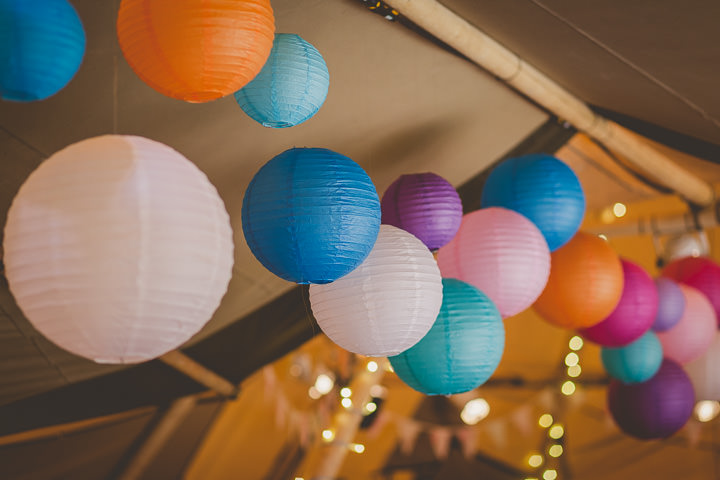 Stationery
Our wonderfully unique bunting invites were supplied by Postman's Knock Stationary, our Save the Dates and 'Will you be my…' cards were provided by The Vow Wedding Boutique.
The wedding day menus, table numbers, place names and Order of Service covers were supplied by The Knot and Bow Company
Personal Touches
We were really hands on with the wedding and I loved making little things for the wedding. From hanging a frame from our dining room on a tree to making a picnic basket of dancing shoes and signs for the tipi fireplace and pot of fans – these were all little touches that we added to the wedding.
Another personal touch, which on the day was kept solely for me, was my something blue. My Dad passed away in 2006 and it was important to me that he was still part of our day. I had a small piece of blue material cut from one of his jumpers and sown into my gown by the lovely Natalia at Brides by Tina Louise. On that day and forever, my Dad will always be my something blue.
Special Moments or Highlights
We're so lucky that this is a difficult question to answer; there are so many to choose from. Seeing Paul at the alter was one of my favourite moments, closely followed by the Brother of the Bride speech.
Together, we also loved soaking up the atmosphere of the tipi, taking a few seconds to watch people enjoying the tipi and some of our little touches.
The moments we spent together in the VW campervan, our first dance and the stolen moments were some of the more special moments of the day.
Advice for other couples
We both feel incredibly lucky that we can say we genuinely enjoyed planning our wedding; we loved every second. Very few people knew that our wedding reception was going to be held in a tipi which only added to the excitement from our point of view, we couldn't wait to see people enjoying the reception we had planned.
Our advice to other couples is to be true to yourselves. Don't plan the wedding you're 'supposed' to plan, plan a wedding that's true to your heart. Take the time to make decisions together but try not to dwell on things; if you see something that you love and you're happy with the price – book it. Don't waste time going round in circles.
Biggest Surprise
The night before the wedding Paul surprised me with some perfume for me to wear the next day, a pair of customised converse trainers that I proudly wore in the evening of our wedding reception and a photo album that included images from our adventures so far and spaces for more – which was really fitting as I had tasked Paul's Best Man, Ant, with giving Paul an engraved compass on the morning of our wedding. A little gift to help us on the many adventures that would lie ahead for Mr and Mrs Furlong.
The grooms party surprised the bridal party on the morning of the wedding with our favourite Starbucks drinks. Simple but touching and lots of fun!
During the speeches I was also surprised by my bridesmaids with an image of Paul's boxer shorts. Let me explain… During a game of Mr and Mrs on my hen do in Dublin, Paul revealed that I have a strong dislike for a particular pair of boxer shorts that he owns and proudly refers to as his Sex Panther Pants. Unbeknown to me, the Sex Panther Pants then proceeded to follow me around Dublin and are in the background of lots of group shots; I am completely oblivious. Not only did the pants re-emerge on the day of the wedding, but their travels also became known.
The final surprise of the day came from the groomsmen when they took to the tipi dance floor, shaking what their mothers gave them to the sounds of Silento – Watch Me. Amazing, just amazing!
Supplier Shout Outs
For more information on Lottie Elizabeth go to:
www.lottieelizabeth.com / www.lottieelizabeth.com/blog / FACEBOOK / PINTEREST / T: @lottselizabeth / I: @lottselizabeth