Happy Friday everyone, have you got that Friday feeling? More importantly have you got into the Christmas spirit yet? I am so ready for Christmas now. We have a weekend full of Christmas activities, the decorations are up, the house smells of Christmas trees and I am full of Christmas cheer! What about you? I have to say the weather is pretty miserable though, Christmas or no Christmas so I thought I would brighten your Friday up with this super glam Boho Luxe wedding from Thailand. Emeline and Paul were married on 3rd August 2018 at Aleenta Phuket, It took 6 months to plan with the help of Wedding Boutique Phuket. It's a real beauty of a wedding, the perfect location, amazing decoration, it all looks so beautiful, what a backdrop for the perfect day.
It was magic, a unique feeling. We did not worry about anything. We enjoyed every moment, we were just truly happy! But it went too fast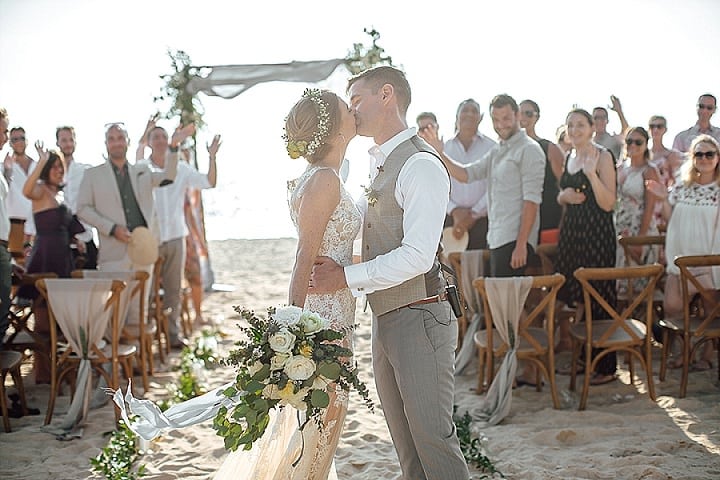 How they met 
We met in 2013 in Brighton, in a café. We met for a drink, similar to a "blind date"
The proposal
Paul proposed on the top of Mount Kinabalu in Sabah Malaysia at sunrise.… magic ! We sat watching the sunrise, he after asking me if I was happy with him he proposed.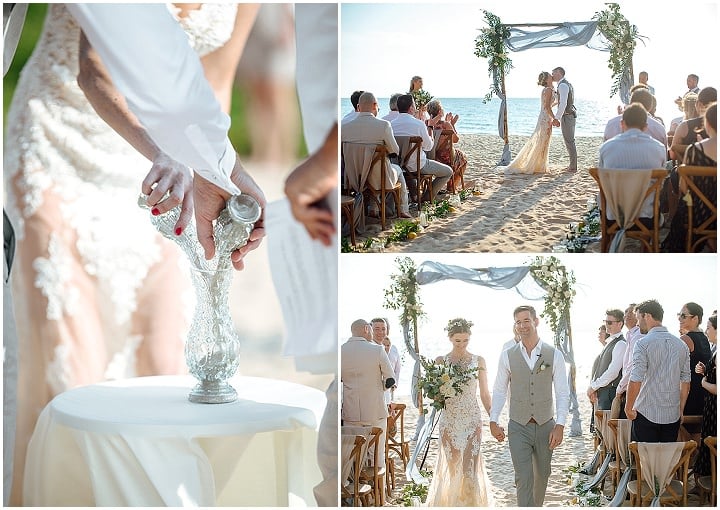 The dress 
Accord Parfait – tailored made in France
Theme or colour scheme
Tones of blue and wisteria color
Decoration
Lots fo roses. It was a beach wedding, the altar with the flowers, the light wind blowing. Welcome with different style of glass bottles with lemon and wine box, european style. The weeding planner has used natural wooden color.
Special moments 
The moment I walked down with my dad from the villa towards Paul on the beach was a moment I will cherish and never forget, it was unique. I cannot describe how I felt on that moment, I was in heaven!  It is a feeling that words cannot describe. The setting on the beach, the altar with the flowers, the light wind blowing, it was just amazing.
Biggest surprise 
The wedding went exactly the way we wanted, it was an amazing day !!! Iliare and her team have delivered so well, they looked after everything, it was stress free! They made it happen!
Supplier Shout Outs