Today I am taking you all the way to Thailand for this most beautiful intimate wedding of Walter and Running. The couple spent a lot of time deciding on the location of their wedding. They knew they wanted a destination beach wedding as they didn't want to get married in their home city of Hong Kong, so it was between Thailand and Bali. In the end they decided on Phuket in Thailand and with the help of Emily from Wedding Boutique Phuket they set about creating the most gorgeous wedding for them and their eight guests. The celebrations have been captured by Avenir Studio.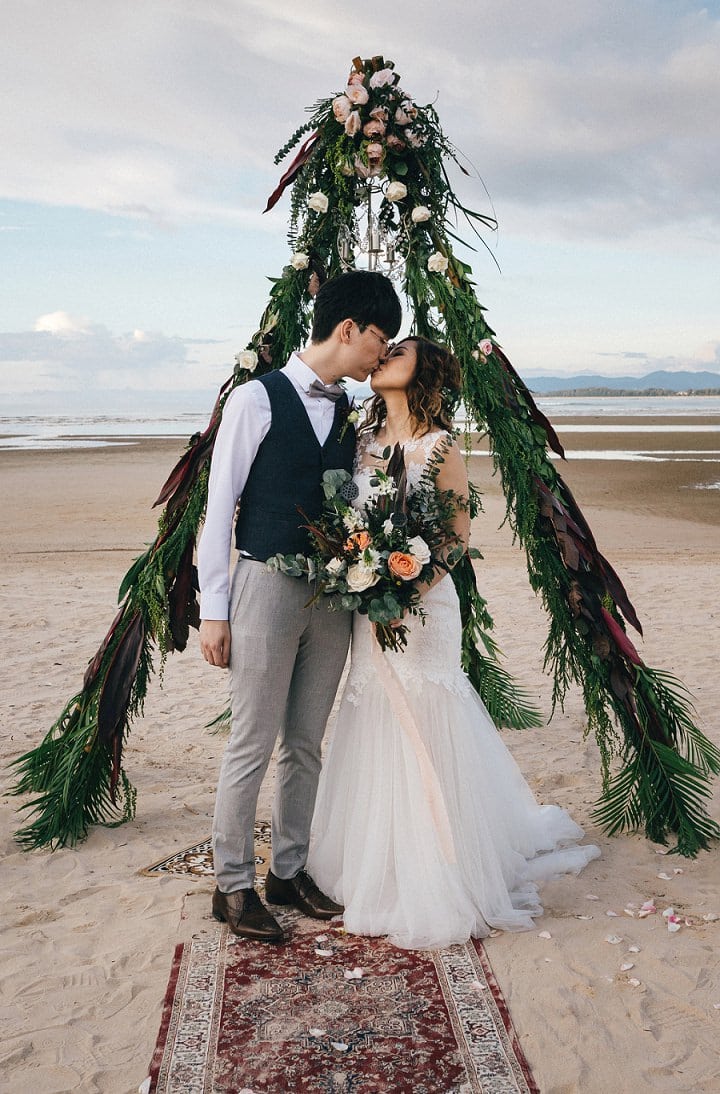 Walter and Running were married on 15th November 2017 at Phuket Marriott Resort and Spa, Nai Yang Beach in Thailand. 'I always dreamt of having a wedding surrounded by beautiful sunshine and white sandy beach. It's hard to find such a place for wedding in Hong Kong, Phuket is the perfect Destination. Phuket is a beautiful place always surrounded by sunshine and has wonderful beaches. At the beginning, we had difficulties in choosing Phuket or Bali as our destination. As Groom never been to Thailand before, Phuket is therefore become our choice.'
How they met 
We were colleagues in a media company. Bride was a web designer and Groom was an app developer. We were not suppose to sit next to each other, but due to limitation of seats (and fate), we were arranged to sit together and this is our love story begins…
The proposal
He gave me such a surprise! He suddenly planned a trip to watch a concert of my favorite singer in Taiwan on Aug last year. When I went back to our Hotel room and opened the door, I found there was a wonderful flower bouquet in the room and got down on one knee to propose me, and obviously… I say yes!
Special Moments 
We feel it's special and warm when we and our friends gather together to have dinner under beautiful setup. When the lights turned on at night and music begin to play, it becomes a romantic and perfect beautiful picture.
Advice for rother couples
Don't follow the wedding trend. Just follow your heart and know what suits you the most.
Supplier Shout Outs
For more information on Wedding Boutique Phuket go to
www.weddingboutiquephuket.com / [email protected] / FACEBOOK / PINTEREST / INSTAGRAM / TWITTER / VIMEO