As we reach the midpoint of the week, I am taking you across to Gloucester for this super cute Rustic Farm Wedding. Jennifer and Iain are a great example of a couple who didn't take an age to plan their wedding, they just got on and did it and within a matter of months the wedding was on. They are also a good example of a wedding that was DIY and looked amazing. By adding lots of DIY elements to the day they made it super personal and even more special. From the flowers to the food, decor to the favours, so many cute elements all go towards making this wedding an absolute delight. Big thanks to Michael Keane Weddings for the images.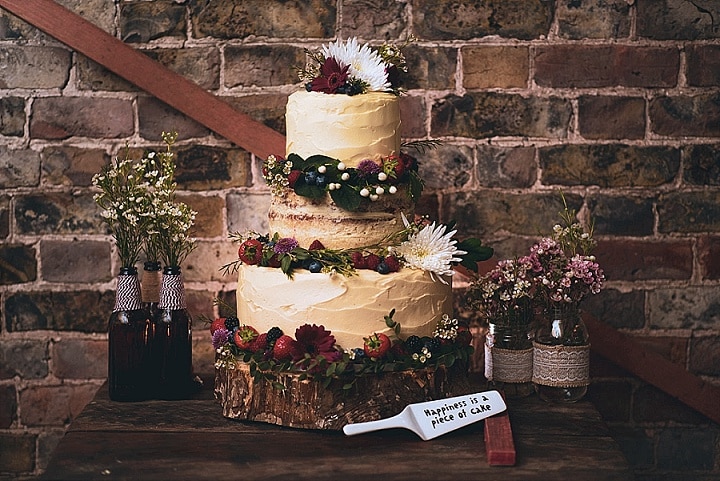 Jennifer and Iain were married on 13th July 2019 at Moor Farm, Moreton Valence in Gloucester. 'We chose this venue as it was quite a blank canvass (plus onsite camping) and we were also inspired by their best mans wedding that was similar. We had around 70 guests. We found the venue in October and our wedding was July so we had a few months to organise things. The main challenge was probably to organise all of the suppliers and companies we were hiring equipment from. We had a rather large spreadsheet to keep all the info in one place and keep track of all the costs. I really enjoyed pulling it all together – you should definitely be allowed to put it as project management on your CV!'
How they met 
We met at Uni. We lived nearby with friends in common and we both had a love for ultimate frisbee.
The proposal
We were on holiday on a small Greek island and went for a walk. All holiday we had been taking jumping photos using the self timer on Iain's camera. He was planning to propose further along the walk but then I saw a great view over the sea and said we should have a jumping picture there. He actually got a bit grumpy with me and told me to clear all the stones off the ground so we wouldn't twist our ankles (now I know he was just a bit nervous and stalling for time!). As I jumped up, he went down on one knee and popped the question! At the time my first thought was he was saying my name because I had miss- timed the jump. It made for a great series of photos we now have on our wall at home.
Where did you splurge and where did you save?
I was determined not to spend an outrageous amount on a wedding dress and was really keen to get a secondhand one. In the end I bought a sample dress from Krystle Brides in Bath. They were so lovely throughout the whole process. The sample dress had a couple of holes in but they altered and fixed it so you could never tell and now it's totally unique and it cost just over a quarter of the original price!
How did you choose your photographer?
One of our friends is a photographer so we tasked them with finding one.
The dress 
sample dress from Krystle Brides in Bath. I wore flat beaded sandals from New Look – they were so comfy all day and I will be able to wear them lots in the future. I wrapped a blue ribbon from my mum around the ankle fastening as my something borrowed and something blue.  
Flowers 
One of my Bridesmaids Lesley spent a couple of hours on the Friday putting the bouquets together. I loved the colours in there and we wrapped the stems in hessian and burgundy ribbon to match the bridesmaids dresses. They looked perfect and I still have mine dried out at home. I collected petals and dried them for our confetti – I love that in some of the confetti walk shots the resolution is so good I can see individual petals and know where they came from! 
What sort of decoration did you have?
DIY, Rustic
Food
Our caterers were Wards Catering based in Bristol. Dan was great at helping us through the whole process. We chose canapes which we enjoyed on the lawn with prosecco and cider made on the farm, then cheese and meat platters for starters and Moroccan stews with flatbreads and couscous for mains. We had creme brulee for pudding which is Iain's favourite! 
Wedding cake
Our amazing cake was made by Iain's sister Sarah – it was everything we wanted and tasted so good. 
Entertainment
Our band were Crimson Kings and were incredible! They did classics and modern songs, with a lean towards indie tunes which suited us perfectly. The were one of the best wedding bands we've ever heard and only wish we had another excuse to book them.
Who supplied the stationery?
Our day was very DIY and it wouldn't have been possible without our own hard work but also the help from our generous friends and family! All our printing was done by one of Iain's best men, Mike – he helped with the designs and helped bring our ideas to life. 
Personal touches
About a month out from the wedding I decided that I was going to make cheese straws and sausage rolls to go with the cheese and meats we had bought from Murrays Butchers on Gloucester road in Bristol (these guys were absolutely amazing if you are thinking of organising the evening food yourselves to help keep the cost down). I begged and borrowed tupperware and freezer space from friends in order to store around 300 cheese straws and 200 sausage rolls. They tasted amazing (if I can say so myself!?) and we served them on old slate roof tiles that my bridesmaid Steph had rescued from being thrown away.
For wedding favours, my Bridesmaid Megan and I made around 1300 pieces of fudge and boxed them all in one day! It was a bit of effort but fun when you have a friend around and it saved us so much money rather than buying it pre made and boxed.
Advice for other couples
Be prepared to miss out on a lot of the stuff you plan.
Have a very loose plan that can change, nothing will run to time.
Don't try and make everyone happy, it's your day and you are the most important people. someone will always complain about something.
Only invite the people you want there, we went on a policy that we had to know when we looked back at our photos in 5 years we would be able to say we still talk to everyone in our photos.
Supplier Shout Outs
For more information on Michael Keane Weddings go to
www.michaelkeaneweddings.com / [email protected] / FACEBOOK / INSTAGRAM / PINTEREST

 

[jprel]