I have a love hate relationship with Styled Shoots, after last years readers pole told me you lot didn't like them I stopped featuring them. Then a couple of weeks ago I featured this winter shoot from Photos by Zoe and it went down a treat. For that reason I have decided to dip my toe in the styled shoot water again and see what you think of this one!
When I first saw this submission I fell in love with it! The bride, THAT flower crown, the hair (I have serious hair envy going on) the location, the light, the moss….oh and the cat! gotta love a cat in a styled shoot! So with all those factors added up together there was no way I couldn't share this shoot with you.
Thank you to Kelsea Holder Photography for sending me in these amazing images. Do make sure you tell me what you think of the shoot, and if you are happy to see styled shoots make a return to the Blog!
Kelsea tells us more about the shoot………….
A lovely garden in the woods has flourished at Lago Giuseppe Cellars & Event Site! This styled shoot is perfect for the nature-loving bride, providing a gorgeous outdoor wedding venue and all the little flowery details you could dream up.
Lago Giuseppe Cellars is nestled on the banks of a small lake surrounded by the tranquility of a waterfall and ancient oak trees. It truly is a photographer's dream! Working with the natural landscape at this venue, Lilies of the Field created a beautiful table design that is swoon-worthy. This smilax-covered table seems to grow out of the earth, embellished with flowers, moss, and deer antlers. Apothecary jars holding fresh mushrooms and flowers create fun, unique centerpieces.The bride's soft red hair is topped with a crown made of peach and white roses, fiddleheads, green ranunculus, and begonia leaves. She holds a bouquet to match. We have even featured a custom piece; a heart frame made of fresh willow and flowers. You can use this piece as décor or even as a fun addition to your wedding photos! To top off this classic and whimsical look, the oversized headpiece is paired with an Allure Bridal gown with a lace overlay, keyhole back, and Queen Elizabeth neckline.
A fun element Taylor Made Events and Design brought to this shoot was subtly bringing the indoors outside by using vintage chairs and a velvet couch with the head table, which are also rentals from Lilies of the Field. Funky lampshades and a gorgeous chandelier were also used to embellish the land and provide a unique, fun wedding design! The mixture of overgrown, flowery décor as well as refined classic pieces emulates the sense of effortless, natural beauty on your wedding day!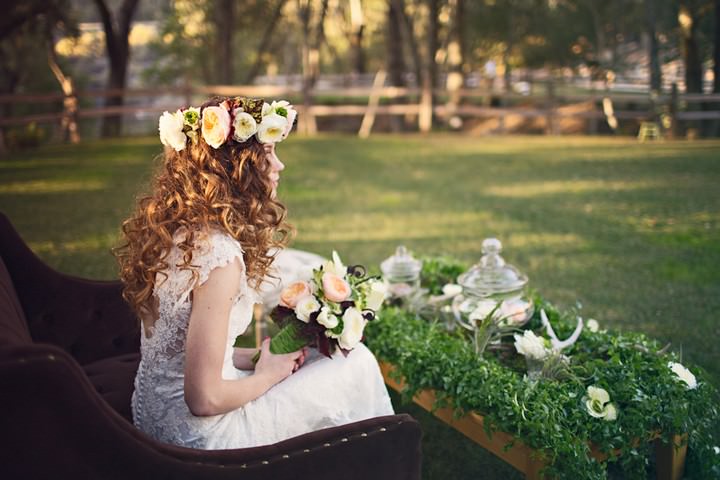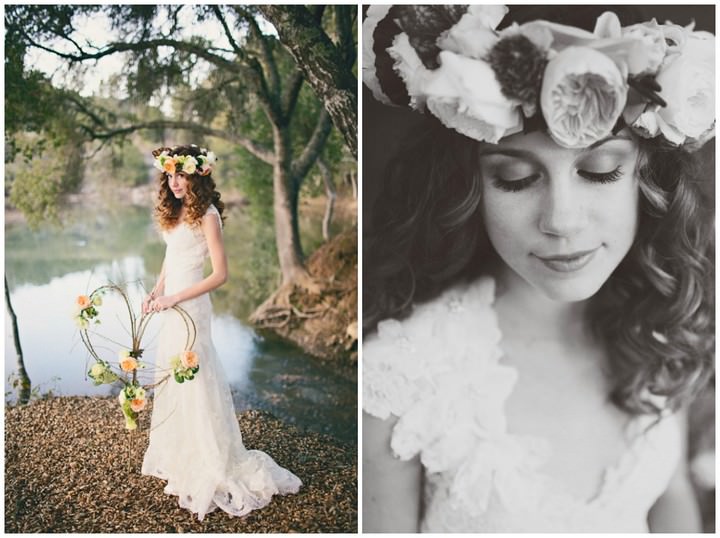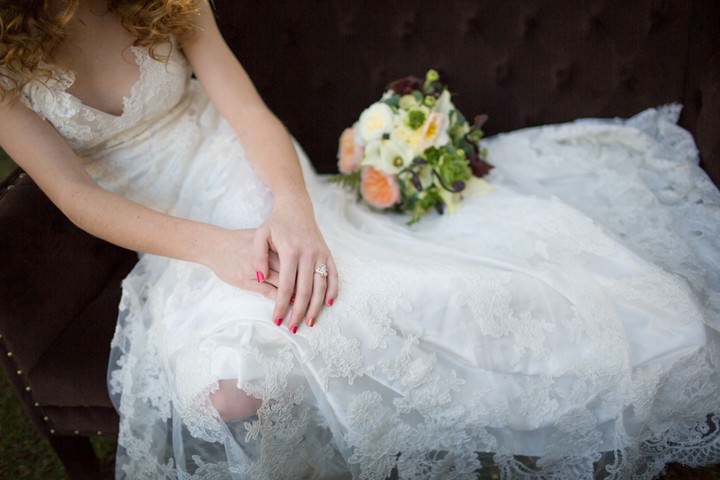 The People who made the Shoot Possible
For more information on Kelsea's work go to
www.kelseaholder.com
www.kelseaholder.com/blog
FACEBOOK
@KelseaHolder