It's a bit of a sombre day here in the UK as we start our first day in 'lockdown'. It certainly is a very strange time indeed. And with the PM 'banning' weddings for the next 3 weeks it really isn't looking good for the wedding industry. However, if you are reading this and you are currently planning your wedding please remember that this isn't going to last for ever. The ban will be lifted, weddings will carry on and you will get married. Now is the time to support your local wedding supplier, to book their services for next year or the year after and keep them in business. Read blogs, share wedding articles, re-tweet your favourite suppliers, like those Instagram posts and share those Facebook posts. Keep the wedding world moving and they will be there for you when this is all done.
So onto today's wedding and I have a bright and colourful wedding from Oregon to cheer us all up.Caroline and Scott were married on 29th June 2019 in Portland. A gorgeous winery wedding, high ceilings, lots of colour and greenery and a super fun couple. All captured perfectly Jessica Hill Photography
How they met
We met on a blind date after a mutual friend (who became the Best Man) introduced us. We were engaged on a trip to Puerto Vallarta after 4.5 years of dating.
Outfits
My mother and I travelled to New York to meet up with a designer from the British House of Mooshki. I was set on having a tea length gown inspired by the 50's style I love, and that I could dance the night away in. My aesthetic that day was "sparkle". The dress had the perfect amount of crystals and sparkle on the tulle. Scott rented his tux from The Black Tux, and went through multiple iterations of suits until we found the gray one he loved. He added the navy blue bow ties to match the bridesmaids, and of course, had to have the Oregon State Beaver socks!
Theme or colour scheme
Our hope for our wedding was a dance party with family and friends. We were hoping for a relaxed, really fun day with our most important people, and we definitely got it! The look we were going for was "classic". We wanted to be able to look back on our day and consider it timeless.
Decoration
Cooper's Hall is beautiful on its own, so we really wanted to let the venue shine. We added floral garlands on the tables and stair handrail, but let the beauty of the venue, with the wine barrels and bistro string lighting, take centre stage.
Flowers
We wanted all colours of floral in the bouquets and throughout the venue. I wanted something bright and fun in my bouquet that would make me smile, and definitely didn't have a particular colour in mind. We also wanted flowers to be a part of the ceremony, and were able to get a lovely installation of flowers on a copper arch that the venue had. Alyssa at Here Comes the Bloom did a wonderful job with not much direction from us. We got so many compliments on the flowers that day! Also, to surprise our mothers, we had their bridal bouquets recreated, and placed next to our parents wedding photos. Both sets of parents have been married over 30 years, and it was a nice way to remind everyone of the legacy of love that we were a part of.
Food
Eating dinner family style with a three piece band in the background playing some of our Favorited songs was definitely a highlight! Everyone enjoyed not having to choose an entree and the ability to try everything at dinner, and it was a great time. We chose to serve pies from Willamette Valley Pie Company for dessert, giving our guests plenty of options.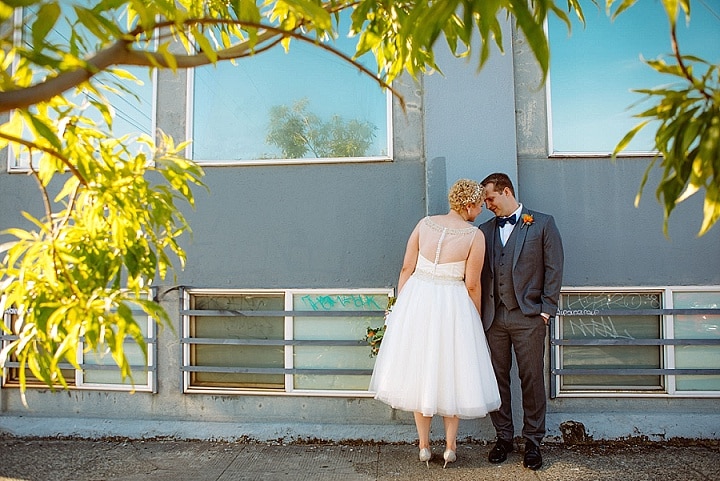 Special Moments
I really looked forward to walking down the stairs of Coopers Hall and down the aisle with my father to the song "Sweet Caroline". The song was a surprise to our guests, but they all enjoyed joining in the chorus! Our first dance was also a wonderful moment, accompanied by John Ross playing acoustic guitar. It was nice to enjoy the moment together, and we both were excited that all the formal parts were over, and we could dance the rest of the night away with all of our guests! We also loved taking pictures with Jessica all around downtown Portland. Having complete strangers congratulate us and enjoy the day with us is something we won't forget.
Advice for other couples 
Choose the things that are important to you, and let everything else go. Otherwise you'll get stuck in the spiral that is wedding planning, and lose sight of the fact that the act of getting married is the only thing that really matters that day.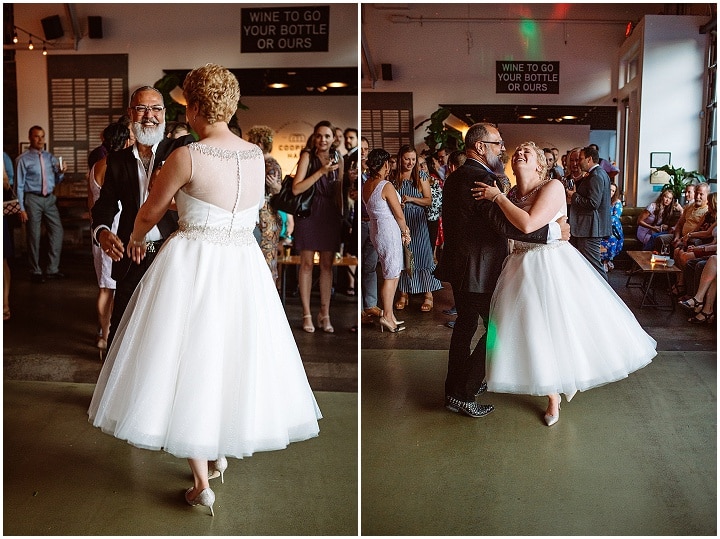 Supplier Shout Outs
For more information on Jessica Hill Photography go to
[jprel]