Today I am taking you off to wonderful Wales for this gorgeous wedding held at FForest weddings that went on for the whole weekend. Zara and Rachel wanted their wedding to be a relaxed affair, chilled, full of happy vibes and lots of colour. The colour was brought in by their use of wildflowers which they used in abundance. They kept the day relaxed with their gorgeous forest ceremony, which was both touching and super chilled. The reception carried on inside with a great selection of food, face paining, great speeches and lots of dancing. The whole day looks like so much fun and has been captured by Joe Lewis Photography.
Our wedding day was colourful, happy and relaxed. We were surrounded by beautiful people in an amazing venue. We laughed, cried, drank, ate, danced and sang
Zara and Rachel were married on 14th September 2019 at FForest weddings, fforest farm in Wales. 'We fell in love with the feel of the venue. It was the perfect place for the relaxed, outdoor wedding we wanted. It was simply breath-taking, and the food was phenomenal. We had 120 guests. We booked the wedding about 2 years before but really started the planning 1 year before.'
How they met 
We met through a family friend…..Rachel picked me up on our first date in her leather jacket and tight jeans in an immaculate golf and I jumped in wearing leopard print top a green skirt and had an umbrella with frogs on……Rachel still laughs at my dress sense and I laugh at the state of Rachel's car now….9 years and 4 children later.
The proposal
Was in my favourite place…. cafe mambo's in Ibiza, while the sun was setting.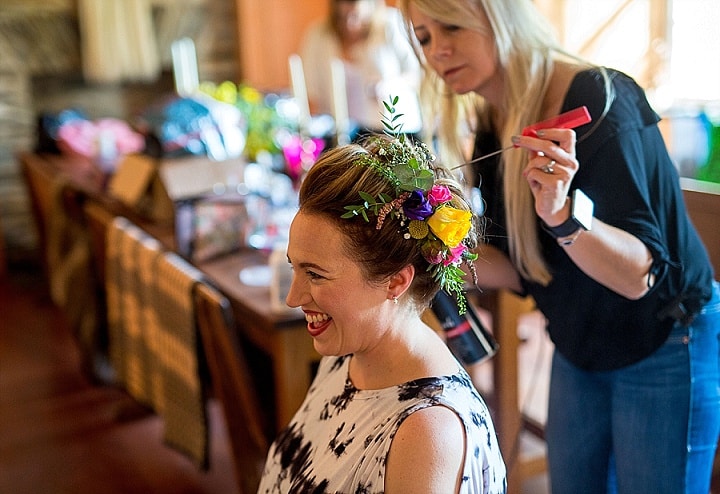 How did you allocate your budget?
I (Zara) spent and Rachel worked lots of overtime….
Where did you splurge and where did you save?
Rachel has said that I splurged where I wanted and saved on the things Rachel knew about. Really though I would say we had everything we wanted for the wedding; we didn't honeymoon as the wedding was a mini holiday.
How did you choose your photographer?
We were recommended to use Joe through a friend. We looked at Joe's work and instantly knew his style was how we wanted our day captured…natural, the laughs, the tears and the unseen moments. When I look at my photos, I get a sense of the day, all the parts I didn't get to see. We love them.
Who were your outfits by?
My dress was from a bridal shop called Pleser in Pontardulais. It was a Rembo dress called emerald city, which happens to be favourite colour.
And bridesmaids?
My bridesmaid were all outstanding and would have rocked black bags but the all wore ivory tops; in whatever style they were comfortable in….and sage green skirts with flat shoes…. dancing was a must.
Theme or colour scheme 
I guess our theme was wildflowers, they were a key point of the wedding, in vases for the table names, in our hair and all around the venue. The venue grows wildflowers on site, and they are always on show.
What sort of flowers did you have?
Wildflowers
Food 
What didn't we eat? It was a weekend wedding, and this was another reason we wanted the wedding at Fforest, just the idea of a weekend away with everyone we loved and getting married in the middle of it.
Friday was homemade pizza's in the outside pizza oven and soup
Saturday morning was a delicious breakfast on fruits and bread and yogurt
Saturday lunch time was a rustic picnic…. Think, homemade, salad, vegetable tarts, savoury pastries, cheese and biscuits…mmmmm mmmmm
Saturday evening was herb marinated chicken with crushed potatoes with salad and coleslaw…dessert was crumble and custard.
Sunday morning was a BBQ breakfast brunch…this was so good, especially when feeling delicate.
Wedding cake
The wedding cake was by cake deevine. It had 4 tiers, and had four different flavours, raspberry and white chocolate, chocolate, lemon and strawberry and cream. It was so yummy, and we served it during the night while everyone was getting merry, this was a welcome treat.
Entertainment
Fonz and the Poet. They were acoustic during the day and the full band was there at night. I DON'T THINK ANYONE LEFT THE DANCE FLOOR.
Stationery
www.etsy.com/shop/jessharringtondesign
Personal touches
We made tambourines……I wanted everyone to jingle them as we walked back up the isle…. this didn't happen we walked the wrong way and confused everyone, but the tambourines were a massive hit and we love looking at photos which captured them being used.
Special moments 
Our son dancing on a massive rock behind the registrar throughout the service… everyone was laughing, and the registrar had no idea why. Our daughter had also been practising a solo with the band that was a massive surprise. She has the dreamiest voice; everyone was in tears.
Advice for other couples 
Make it special to you and everyone will enjoy for that very reason.
For more information on Joe Lewis Photography go to
www.joelewisphotography.co.uk / www.joelewisphotography.co.uk/blog / [email protected] / 07542753168 / FACEBOOK / INSTAGRAM