Today's wedding sees us head over to Wales for the gorgeous wedding of Kelsey and Andy, as they get back to nature for this wonderful woodland adventure. The outdoors loving couple wanted a laid back weekend long wedding, so their guests felt they were on a mini break, not just a days celebration. By sourcing local suppliers they kept their wedding ethical and environmentally friendly, and really focused on their 'beauty of nature' theme. With a stunning venue, an outdoor ceremony and lots of DIY details and personal touches this rustic wedding is a real beauty, I just love the overall relaxed feeling of this wedding and how chilled the couple are. The whole day has been captured beautifully by Judith Parkyn Photography..
Our wedding day was the perfect fit for us as a couple, the mix of family, nature and activities was everything we could have wanted. The weekend is somewhat of a whirlwind, the main thing we both took from the day is a memory of the feeling of happiness and appreciation.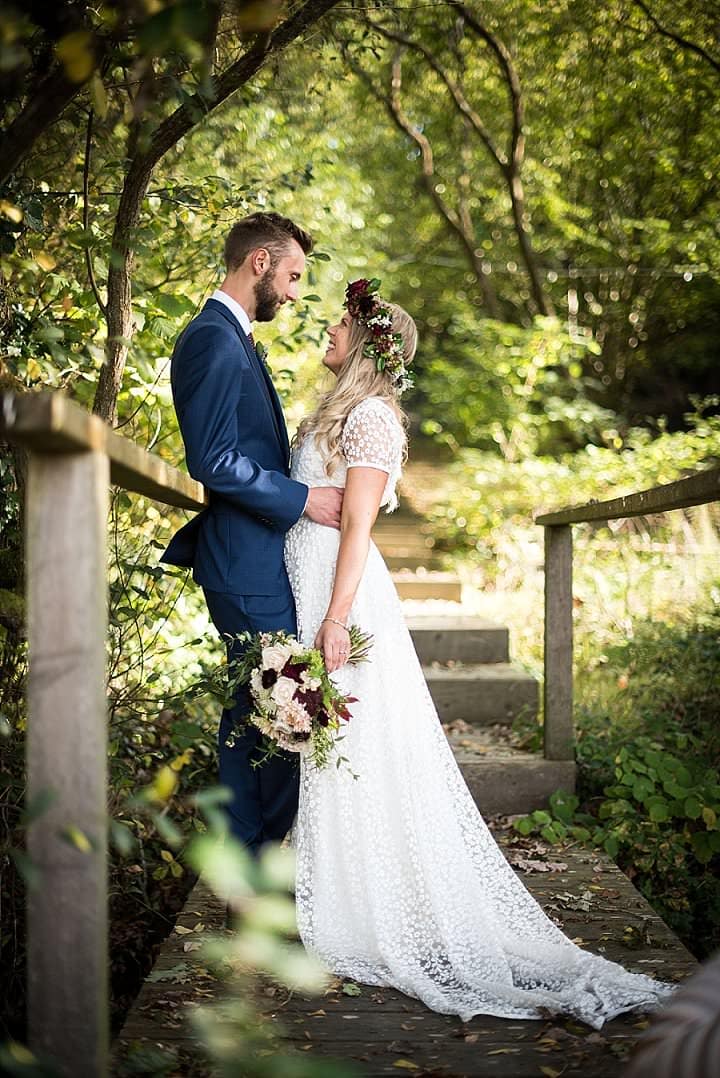 Kelsey and Andy were married on 20th october 2018 at Fforest Weddings cilgerran in Wales. 'We always wanted our wedding to be somewhere with a sense of wilderness and nature, the venue was perfect. For us the opportunity to have a full weekend celebration was a huge factor as we wanted our special day to feel like a mini break for our guests. The accommodation, as well as the different areas of the sprawling countryside allowed so much diversity that we just loved. We had 120 guests, from the date we chose the venue we spent around a year planning, obviously this isn't solid day after day of planning but different things come up along the way.'
How they met
We met on separate ski holidays in St Anton, Austria, through mutual friends who happened to bump into each other. We have been together for nearly 9 years.
The proposal
Whistler, Canada. I searched for the perfect moment, although as soon as we got to whistler I knew that this was the place, so I set off on a walk to find the ideal location, with Kelsey obviously oblivious to my intentions as well as my increasingly escalating nerves. I found a spot by a glacier river in the trees, the water was bright crystal blue, there was nobody around and it felt surreal, exciting and I knew it was right. I had no set romantic speech or routine, so it was very much a natural process which was in keeping with the setting and planning!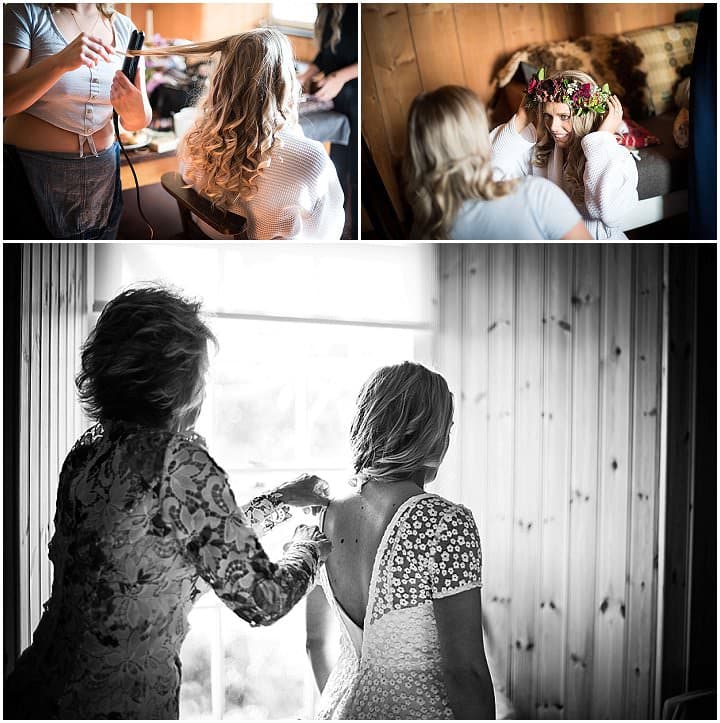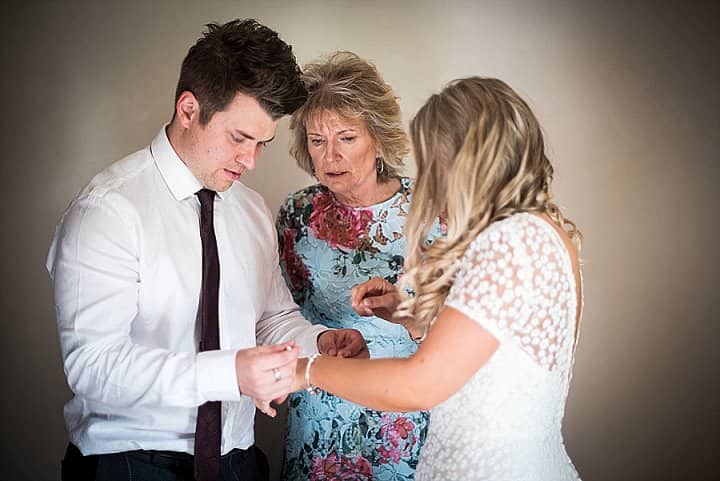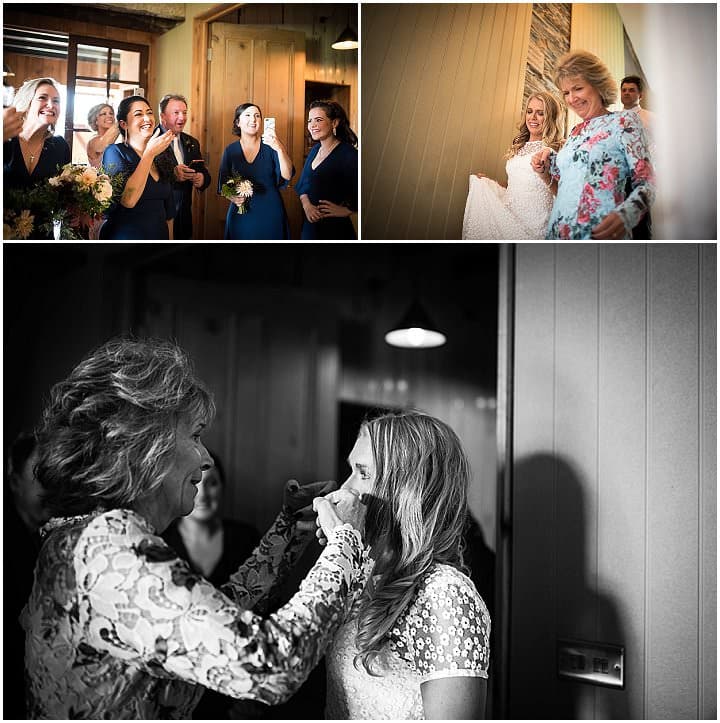 How did you allocate your budget?
We went over budget, in the end we decided it was easier to have a venue where the bulk of the outgoings go direct to them, we allocated money for the venue and everything that came with it, and then knew the remaining allowance we had for expenses such as photographer, videographer, band, outfits etc.
Where did you splurge and where did you save?
We spent a lot on the venue as our party size was quite large, and the venue is incredible so worth every penny. We did save on not having a starter, which with the volume of food throughout the day would have been completely unnecessary. We had amazing videographers and a great photographer who were very competitive in their pricing. Our band were awesome and again, cheaper than many in my opinion inferior bands and musicians.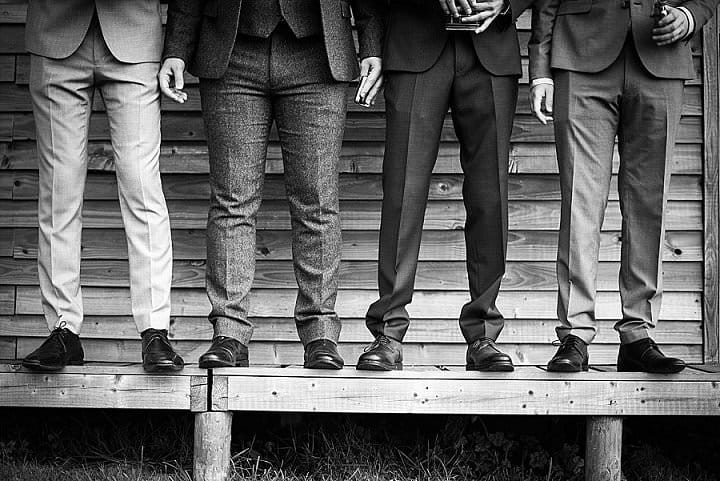 How did you choose your photographer?
We looked at a collection of Judith's photos, they looked incredible. We then had a 10 minute FaceTime and we both knew that it was a perfect fit for us
The dress 
Kelsey- my dress was from 'Rachel Burgess Bridal Boutique'- it was an 'Isla' dress created by E&W couture. The dress was made locally in Wales and when I put it on- my Mum and I knew it would make me happiest on my wedding day- it was comfortable and had beautiful little flower patterns, which suited perfectly for our forest wedding. Rachel's shop is just perfect, Rachel is so welcoming and joyful to be around. I wore a pandora bracelet on the day borrowed from my cousin to resemble the love to my Grandad. I had a jacket designed by 'The Mermaid Effect' for the evening- I loved it, I'd asked
Jemima what I would love to be designed on it- mountains, flowers and she created the most epic jacked I could've imagined.
The suit and bridesmaids
Kelsey- Andy's suit was from Hugo Boss in navy and it fitted so nicely- he did look rather
handsome. The bridesmaids were in navy – matching Andy and my shoes actually. I didn't mind which
dresses they wanted and I'd thought that they would each have a different style- but I did a large order from ASOS and they all loved the exact same dresses – it couldn't have worked better if we had tried.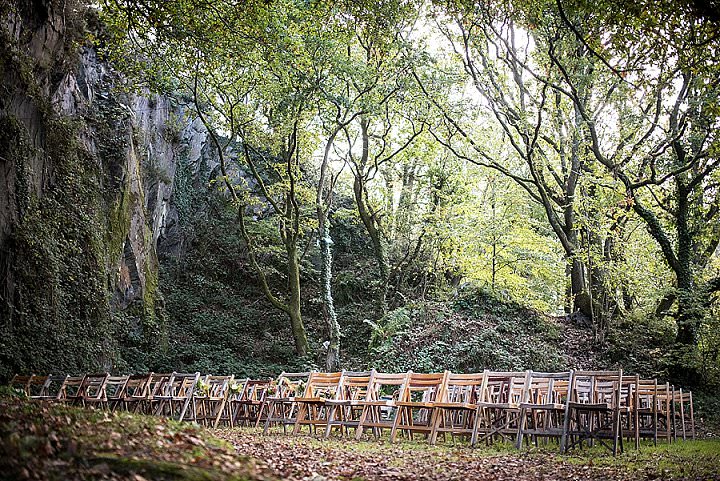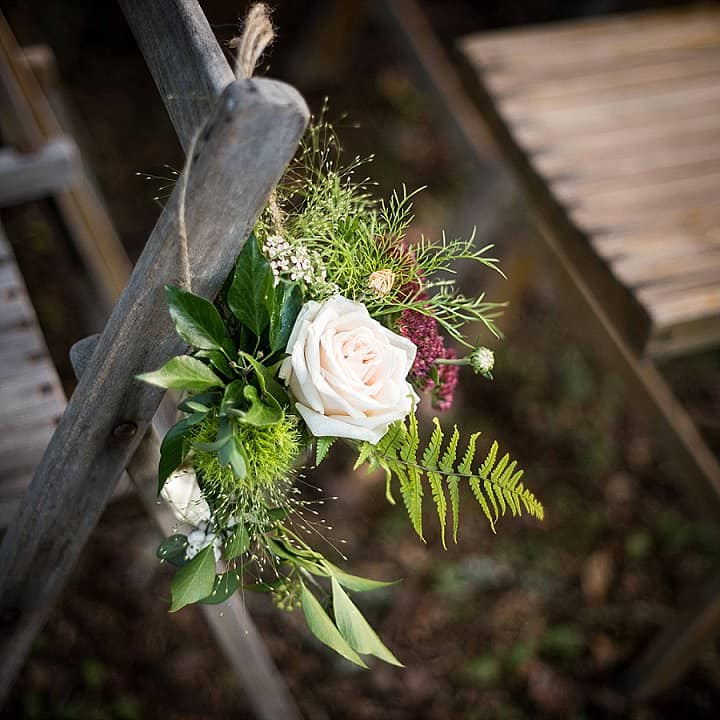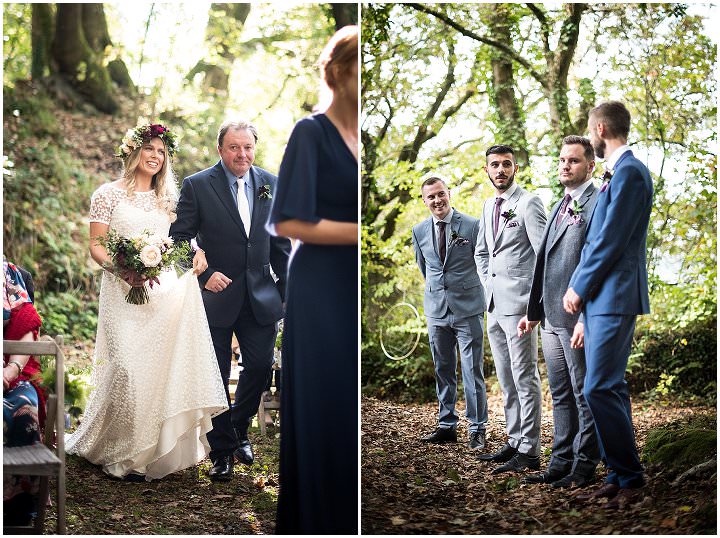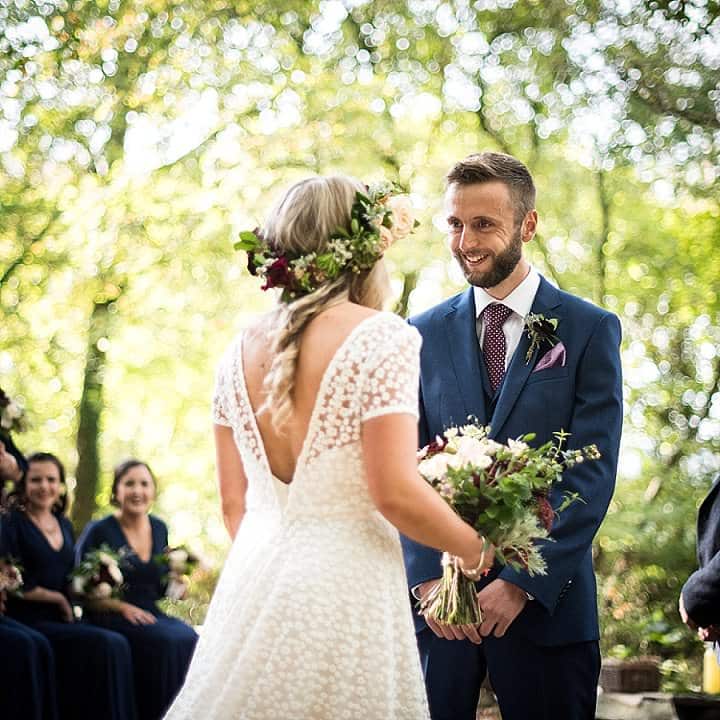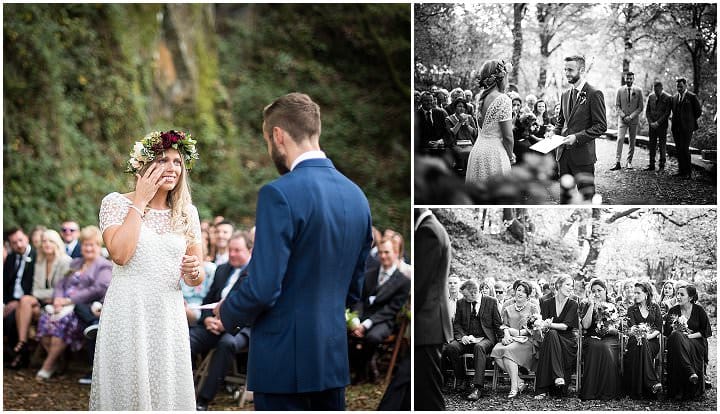 Theme or colour scheme
Kelsey-The theme and colour scheme was essentially- the beauty of nature- due to getting hitched late October- Autumn was upon us, so our colours just matched the beautiful autumnal tones and the love we have to travel and be in the mountains. A general thought of mine, was making the wedding personal and using local people and trying to use ethical environmentally conscious small businesses too.
Flowers 
Kelsey- Our flowers were created by 'The woodland farm'- I reached out to Linda- and she was wonderful, the flowers were burgundy and autumnal and in season- she gets them locally in Pembrokeshire. I loved them and my favourites were my flower crown and bouquet! Linda went above and beyond- she even collected herbs to place as confetti and produced tiny cards to resemble their meaning.
Decoration 
Kelsey- our decorations were handmade by our wonderful friends and families- we had dream catchers in the forest and barn, pebbles for place names, log cuttings for centre pieces, a map of the World for seating plan, mini wooly hats scattered around and lots of fern to place on the tables. My Mum also got some old jaeger bottles decorated with mountains and filled with fairy lights done by a friend – they were a perfect addition! It sounds mis-match but to us, it resembled our love to travel and be in the mountains.
Food 
Most of our guests arrived on the Friday afternoon, that evening we had a soup and wood fired pizza by the fire, this was a great way to welcome everyone as well as nicely integrating our guests, getting to know one another if they had not met previously.
On the wedding day we had a lamb tagine, with amazing vegetables, cous cous and sides, we then had a salted caramel tart for dessert. For our evening food we had beef brisket, this was amazing, the meat was so soft and it was certainly a favourite among our guests.
We had a cheese board just after this and by that time I think everyone had eaten as much as they could manage.
Wedding cake
The wedding cake was made by Tracey Hutchings, Kelsey's mum, it was then decorated professionally. The top layer was actually jagermeister flavoured which was both interesting and relevant due to our style of wedding! It was decorated with snowboarders resembling the two of us as well as different features such as mini chalets and other really personal touches.
Entertainment
We had an amazing band, the revolverlites were incredible and being such a recognised apres ski mountain band we knew they would bring atmosphere and energy to the evening. We also had our friend hula hooping, as well as myself and Kelsey joining in to the delight of our guests.
Who supplied the stationery?
Billie Bryant did our invites and thank you cards- they were great, she really captured the mountainous and outdoorsy feel of our day! Billie also added the cutest map on the back page. The invites were mini guides explaining the whole weekend to our epic guests. My friend Alice from Peaches wellbeing also made some boxes to give my bridesmaids on the day and they included a rose quartz crystal necklace and earrings, lavender, essential oils and herbal tea- they were so beautiful and she made me one to open just before also as a surprise.
Personal touches
Kelsey- The cake organised by my Mum was a lovely personal touch but generally the whole day was perfect and everything felt so personal to us. We did do a little Cha Cha as our first dance so we weren't swaying for too long on the dance floor- we aren't generally a super romantic couple but on the day- every other feeling seems to vanish other than love for each other and everyone around us.
Special moments 
Kelsey- we felt so privileged to have had so many wonderful people in our lives travel so far. The time we spent with our friends and families over the weekend was so special. We can't thank everyone enough.
Advice for other couples?
In terms of advice I do think that it's important to not panic into making a decision, we were pretty sure on two locations before we eventually committed to Fforest. It's vital to be fluid and to accept that there will be times when it can be slightly stressful, you will have to make the odd tricky decision. Having said this on the day the details fade away into the distance, to be honest our day would have been the same whether we chose the salted caramel tart or a cheesecake, however at the time these decisions feel so crucial. If you are having an outdoors themed wedding then my advice would be to forget the weather. It may rain all day, it may be glorious sunshine, the point is that I know if it did rain on our day (which it didn't) then it wouldn't have taken anything away from the joy we felt, it just would have given us a different set of awesome memories. Finally I think take the time to appreciate that this will be the one day where you can have all of the most important people in one location and celebrating. Do not worry about the details, as the importance and happiness of the event will overshadow any possible hiccup
that could occur.
Biggest surprise 
Kelsey- One of our our close friends handmade a rustic wooden album for us and was taking photos of guests throughout the day to place in it and asking them to write us a message for our Wedding day- a keepsake we can treasure forever. I also got a lovely box to keep from my Mum which is very special to me now.
Kelsey- the day after our Wedding we booked to go cliff jumping in Pembrokeshire with some of our guests and we were so very lucky because we had seals swimming in the lagoon around us. What an awesome way to end our Wedding weekend.

Supplier Shout Outs
For more information on Judith's work go to
 www.judithparkynphotography.co.uk / www.judithparkynphotography.co.uk/blog /  [email protected] / 07979 676360 / FACEBOOK / INSTAGRAM / PINTEREST / TWITTER
Based in the Cotswolds, Judith Parkyn is a versatile photographer whose greatest joy in her work is to capture images that evoke emotion and excitement. Candid moments are Judith's speciality because of her ability to beautifully capture raw emotion, so she's an ideal photographer for those who typically shy away from staged photographs. She works closely with her clients to ensure her photos truly tell the story of their day.