Happy Monday everyone, and how are you all? Did you have a good weekend? Mine was lovely, it involved the theatre with Dexter on Saturday, then Nik joined us for dinner. Sunday we went for a walk and then we had friends round for Sunday dinner and I made sticky toffee pudding! I'm still full! What about you? How are the wedding plans coming along? Good I hope. Today I am taking you to Cheshire for this fab, fun filled wedding of Jade and Jonathan. The held a festival style wedding and called it 'J Fest' and what a great day it was. They filled it with amazing food, lots of entertainment and a whole lot of fun and of course lots of love and laughter. Laura May Photography was there to capture the day for us.
Our fun fuelled festival style wedding was absolutely amazing. We both would love to relive every second of the day again.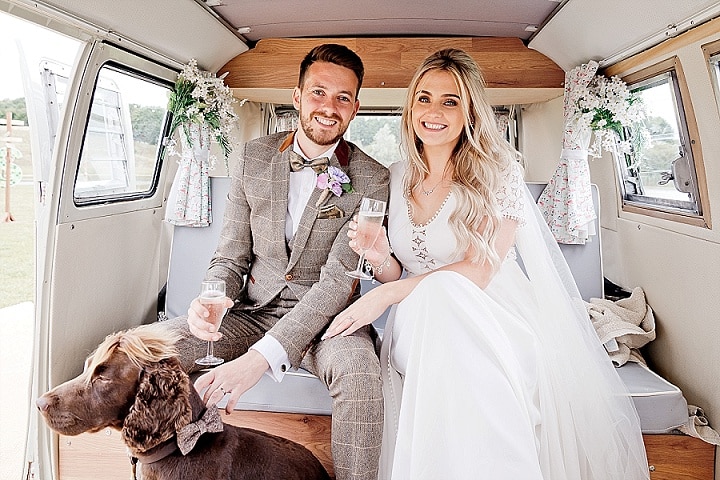 Jade and Jonathan were married on 10th August 2019 at St Marys Church , Hale Village, Liverpool with the reception at Cherry Orchard Lake, Cheshire. 'The church is in the village where Jonathan has grown up and both his Mum and Dad then his Sister and Brother In Law got married at this church. So it has quite a special sentiment to us. Growing up and as adults, we both loved the outdoors and music festivals! Delamere Forest is a place we both regularly went to as children with our families and had the best adventures. Our adult lifestyles have also continued the love for the outdoors but now we live in West Yorkshire near a beautiful country park named Newmillardam -Where Jono also proposed But we wanted the wedding local to family so decided with our childhood favourite in Cheshire. Our goal was to create a laidback, festival themed wedding  called J Festival that would be full of food, great music, drinking and dancing-Which we most definitely accomplished! We had approx 250 guests. We always knew we wanted to have a relatively short engagement and get married as soon as. We planned the wedding for about 16 Months.'
How they met
Myself and Jonathan met at V Festival in 2010. We had mutual friends but hadn't met each other before. We got to know each other a bit better and got together in October 2010. We have been together 9 and a half years.
The proposal
Ah, I get goosebumps just thinking about it. I was planning on going out with some friends on Saturday so was slowly prepping for the night ahead. Jonathan asked me to go on a walk with him and the dog, as I was busy I was a little reluctant but I went anyway. I was not looking the most glamorous in my hiking gear! Walking around Newmillardam. As we approached the boat house Jono said, lets go and pop our heads in and have a look.  At this point I was nervous as I saw a council van and I thought we would get in trouble as we were looking around the small listed building Jono gestured to go on to the balcony.  I walked outside and there was a picnic basket that I recognised from our house… I continued to think it was him just being romantic, as over the years there have been many occasions I thought he would propose and he didn't. Inside the basket was a few of my favourite things, Monster Munch, Kinder Egg, Diet Coke, Champagne and Haribo. I sat down with him as he poured some champagne and I was just stroking Todd our doggy child. In my head I was just thinking what on earth is happening. Jono asked me jokingly, 'Would you marry me if I gave you this Haribo ring', I said 'Of course I would, stop being stupid Jono. What's happening'. He said, being a joker again 'I just wanted to make sure you wouldn't be bothered about a ring' He then reached into his pocket, grasping a box in his hand, got down on one knee, opened the box and revealed the most beautifully delicate engagement ring and asked me to marry him. My head was spinning, the emotion I felt can never be explained, I thought I was dreaming and of course I screamed YES!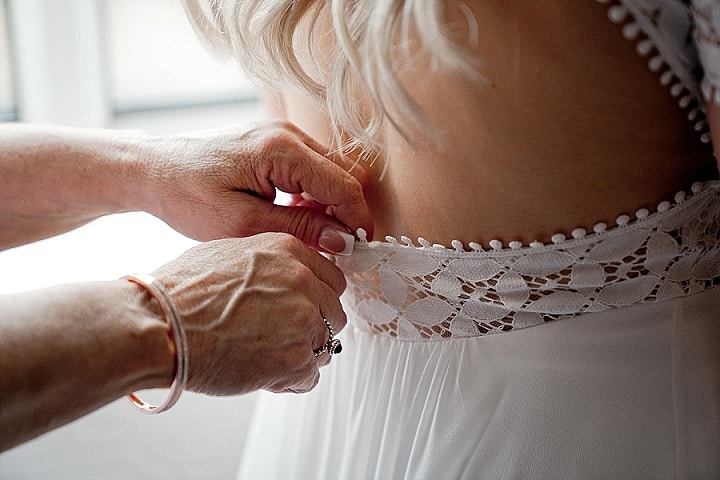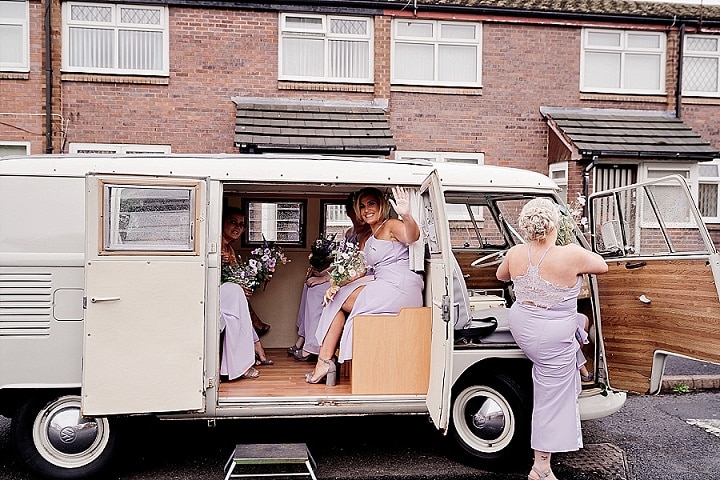 How did you allocate your budget?
We did a lot of research and Jonathan has a love for spreadsheets so we kept a track of everything. We tried to be as realistic as possible but still having our idea come to fruition.
Where did you splurge and where did you save?
I did splurge a little on my dress but the venue was quite pricey probably more than we anticipated initially but we loved it. Due to the nature of our wedding we did spend a lot at the reception due to having to hire a marquee and everything separately.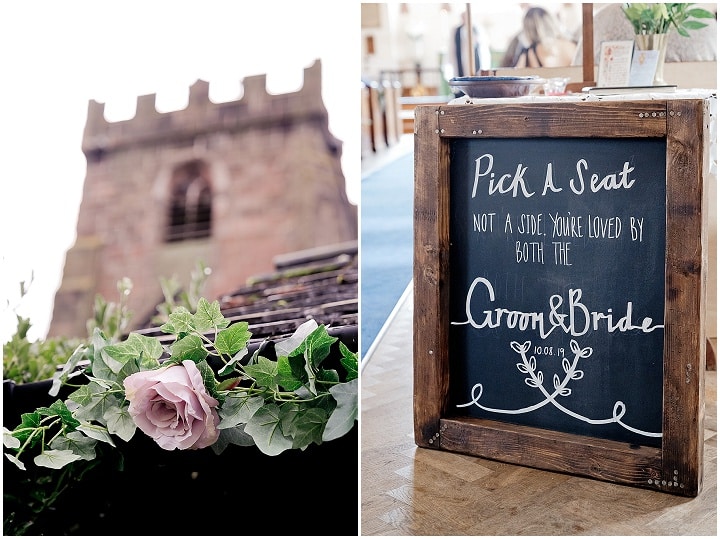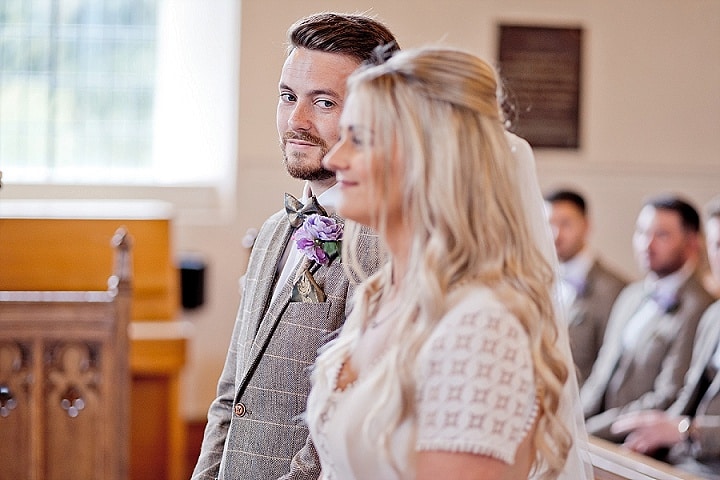 How did you choose your photographer?
I follow a lot of Boho inspired pages on Instagram and Pinterest and I stumbled across Laura May Photography. I had a skype call with Laura and she was so professional, thorough and created the most beautiful images. Her style was relaxed, her edits where really light- which was key for us- and her overall persona when communicating was great and definitely what we wanted in our wedding photographer.
The dress 
I purchased my dress from Lace and Co Bridal in Horbury Wakefield My dress was Rembo Styling in Alice Blue. Hair piece was from Ebay! Veil from JJs House. Earrings and Necklace from Debenhams. Bouquet/Flower Crown- Sophia Vincent. Hair- Hair by Coral Tickle
Suit and bridesmaids
Bridesmaids dresses where Chi Chi London. They wore floral crowns by Sophia Vincent. Suits- Mark Darcy.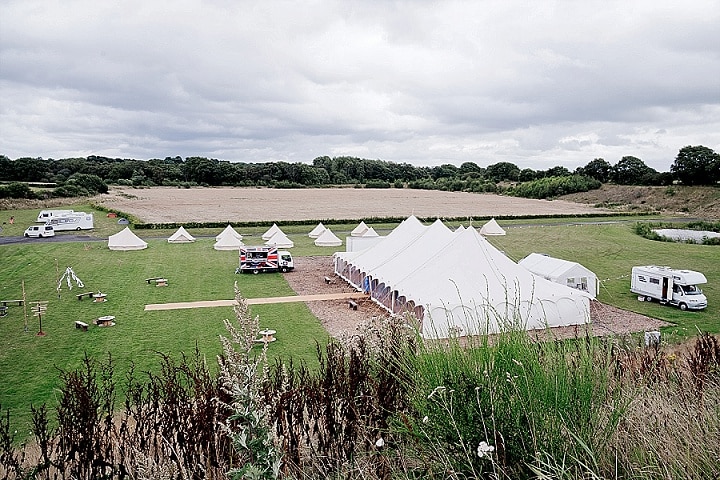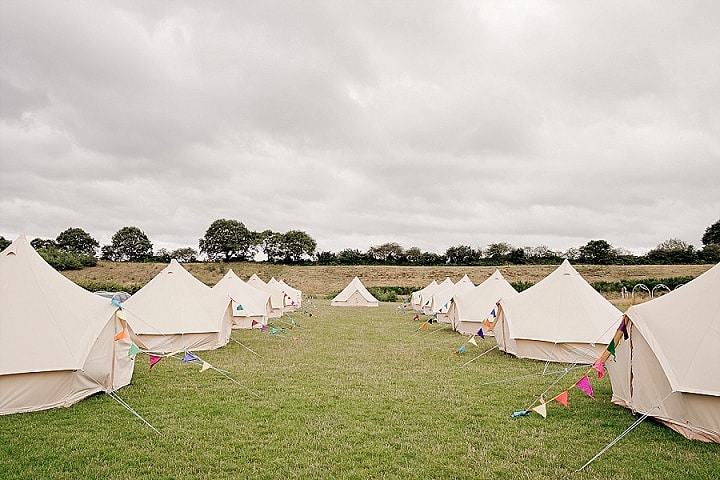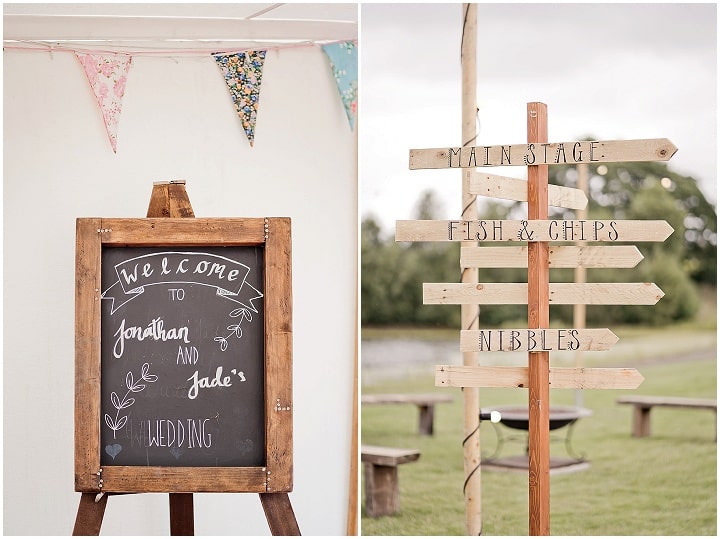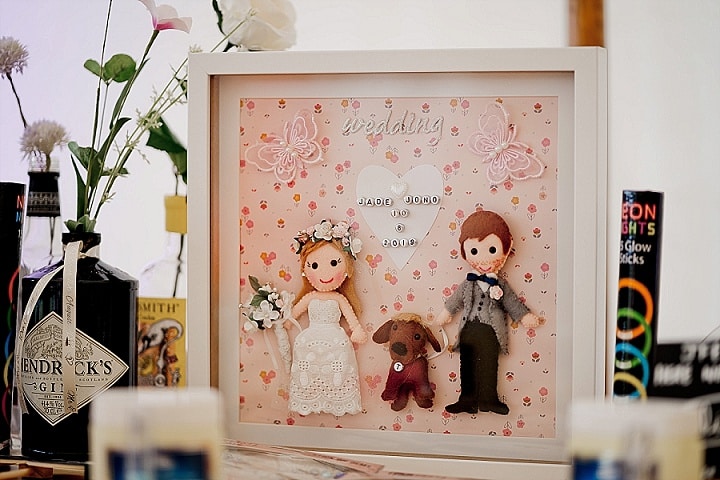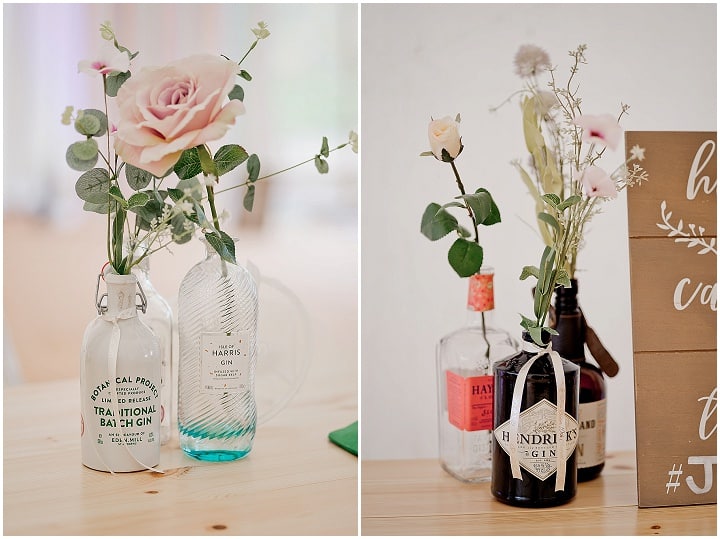 Theme or colour scheme
Theme: Festival. Colour Scheme: Greens, Pale Pinks, Purples, Soft summer florals.
Flowers
We had silk flowers by Sophia Vincent Design , Liverpool.
Decoration 
Minimalistic approach, gin bottles with a single flower stem and foliage.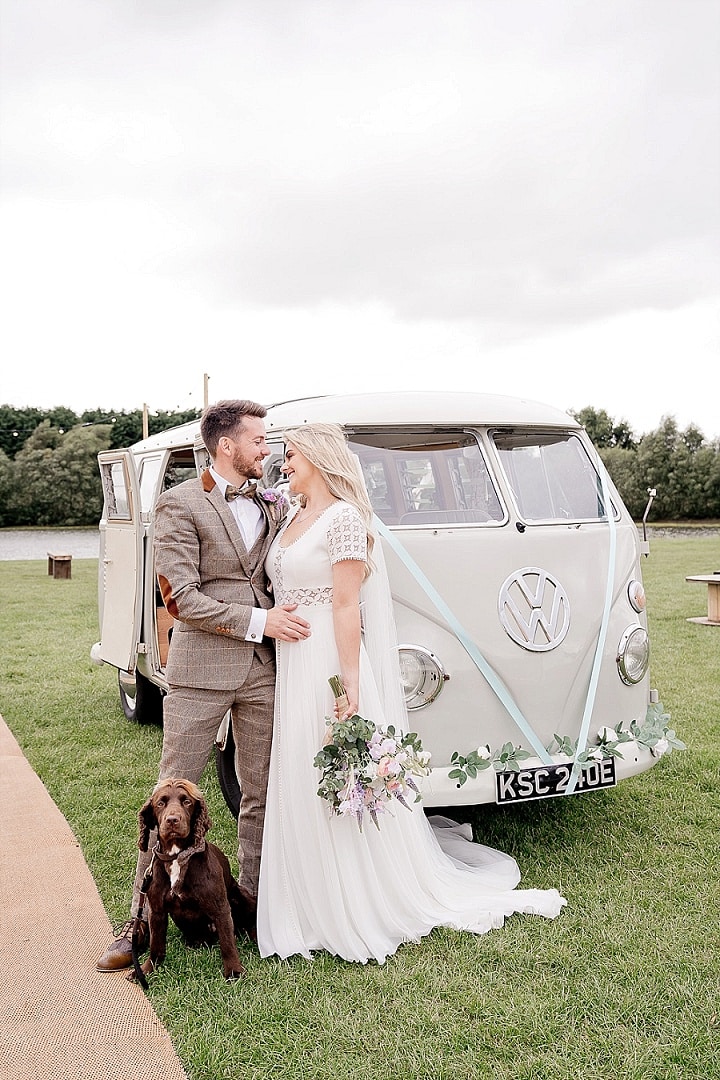 Food 
For the daytime meal we had a Ploughmans grazing table prepared by a close friends parent.
-The Great British Chip Shop van- that served a variety of different meals, such as loaded fries, hot dogs, burgers, fish and chips you name it!
A family friend made a huge variety of different curries, side dishes and poppadoms for the evening meal.
Wedding cake
Lynn, Jono's wonderful mum made us our wedding cake. It was super last minute decision by Jonathan too, so if you are reading this huge thanks to you Lynn ! It was a 3 tier sponge cake with silk flowers for decoration.
Entertainment
As it was a festival themed wedding we had lots of live entertainment.
Our beautiful friend Francesca Wright is a freelance singer.
I also sang to Jonathan, as he knows I love to sing but it is something that I tend to be a little shy about so I knew it would have meant the world to him.
We had a band named Smile Forecast who were awesome.
Then we had a local band known as 'The Acoustic Odds' who are 2 great lads from our hometown and absolutely know how to entertain and get everyone on that dance floor!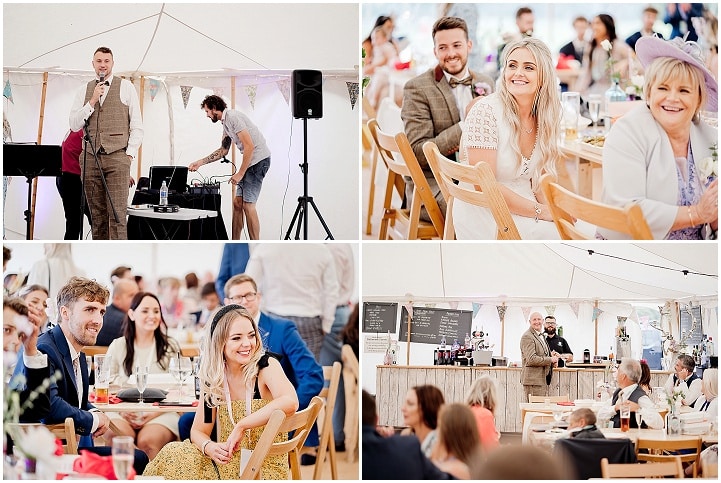 Who supplied the stationery?
We created our own invitations with the help of Jonathans sister Sami.
Personal touches
A lot of the wedding had some DIY elements. Such as a photo wall, Glitter bar, JFEST lettering similar to what you would see at Glastonbury or other festivals.
Special moments
I remember just standing there, looking around the whole grounds, we had tipi camping tents, a beautifully decorated marquee, amazing food and I honestly just thought, wow we did it!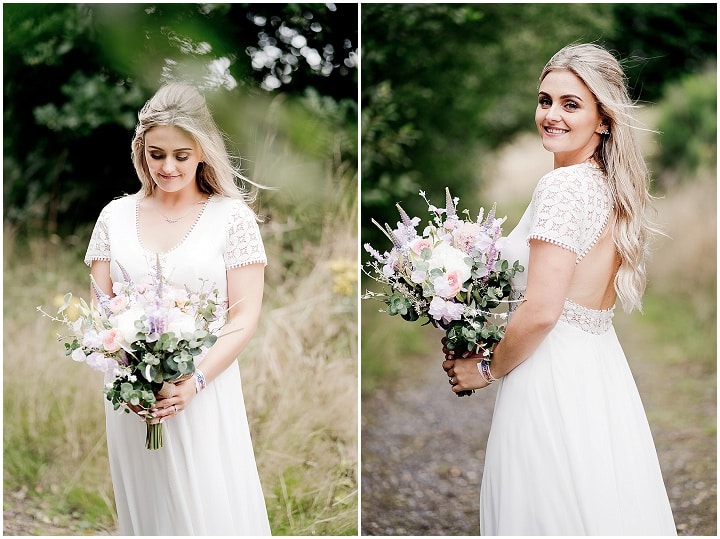 Advice for other couples
I struggled taking advice from people. Try and take more time to do your own thing, I got caught up talking to a lot of people and felt like I had missed out on some dancing. What I would say is don't just invite people because you think it is the right thing to do. Invite the people who invest their time in you and your partners' lives and will always be there for you in the future. Weddings can be real eye openers.
Biggest surprise 
Me and my dad had planned a choreographed dance to surprise our guests, although my dad has problems with his knees, he tried his best and everyone loved it.
Supplier Shout Outs
For more information on Laura May Photography go to
www.lauramayphotography.co.uk / www.lauramayphotography.co.uk/blog / [email protected] / 07734995754 / FACEBOOK / INSTAGRAM / PINTEREST / TWITTER
A wedding photographer based in Shropshire but covering the UK. Capturing your wedding day story; the love, the joy and all the moments in between. Beautiful, romantic and natural photography.