Happy Monday everyone and welcome to another fabulous week on the blog. Did you have a good bonfire night? After a weekend away in London I now feel rested and ready to take on the week, I hope you are too! We are kicking off the week with this awesome wedding from Dan Hough Photography. Natasha and Matt chose a circus tent to hold their reception in and an outdoor handfasting ceremony, which they personalised to make completely unique to them. The results are this fun-filled, festival style wedding, with so many smiles, crazy dance routines and a whole lot of fun. What a fabulous way to start the week.
An incredibly laid back day filled with laughter and love. Completely personal to us and our family & friends.
Natasha and Matthew were married on the 13th August 2016 at their Family Farm in Brereton, Cheshire. 'We knew we wanted to have an outdoor celebration. The farm is both personal to Natasha and close to lots of family. We had 150 guests and the wedding took 12 months to plan'.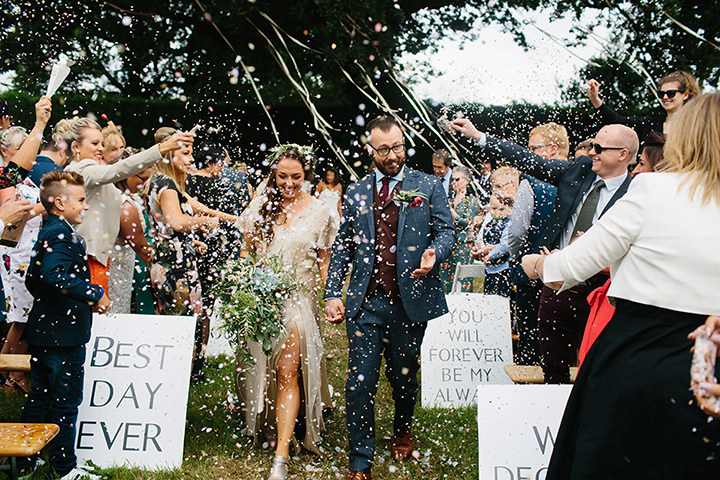 How they met
We met in Leeds as Natasha was graduating University. Matt got a job in the bar she worked in so he could chat her up. We've been together for 7 years.
The Proposal
We both quit our jobs in London to travel to South America for 6 months. Matt proposed at the top of Machu Picchu after a 4-day trek. Natasha thought he was having an attack of vertigo and tried to pick him up of the floor! It was a complete surprise and something they'd not discussed before. Matt carried his Grandmother's engagement ring for 3 months beforehand in his backpack!
How did you allocate your budget?
We were fairly fluid and reassessed as we went along.
Where did you splurge and where did you save?
We knew we wanted good live music and food, and it was important for us to have professional celebrant help us with our service. We're pretty camera shy but we splurged on having both photographer and videographer for our day and it was the best decision as we have the most amazing photos and footage to look back on and relive it all. We saved on things such as venue hire (kindly donated by the family), and we opted for disposable crockery as it fit within the outdoor environment. Favours were handmade and stationary was home printed and designed by a family member. We also used an online wedding website rather than posting bulky RSVP info as there was a lot of information to provide due to our unique set up.
Why did you choose your photographer? 
Instantly we knew Dan was the one for us, we saw him shoot a friend's wedding and seeing him blend into the background and his easy going attitude just instantly put us at ease. He's also local to us which was also important.
The Dress
My dress was made bespoke by Emma Beaumont. I never even stepped into a wedding dress shop. I never dreamt of a white wedding dress (or wedding for that matter) so instantly looked for a designer to help bring something to life that I knew I would feel comfortable and fabulous in. Handbag from ASOS, my shoes were from Clarks and then had bespoke Adidas superstars made for the evening.
The Suit and Bridesmaids
Matt also had his suit made bespoke from Richard Smith. The bridesmaids (or Best Bitches as they were called) all bought their own dresses so they wore something that they were comfortable in and suited their individual style. The flower girls dresses were from Debenhams and Paige Boys suits from Next.
Theme or colour scheme
As my dress was made up of a champagne colour and we had a colourful tent we went for neutral colours with hints of gold. But we weren't strict. Anything goes in the field!
Flowers
Succulents! So many Succulents! All green and natural forest ferns with small sprigs of white flowers.
Decoration
We tried to upcycle things to use as we needed, painting old side boards to use for our popcorn stand and glass doors we used for the table plan. We kept tables simple with just some homemade lace table runners and bare furniture. The tent was so striking we just needed good lighting to accentuate it all in the evening.
Food
We had a sharing starter of breads, dips and pate followed by our version of  "Lechona", a Colombian dish of roast pig, turmeric infused rice and salads. As a pudding we hired an ice cream van to drive onto the field for an hour which Tasha served out of for a time! In the evening we had wood fired pizzas.
Wedding Cake
We held a bake off and then our wedding cake was made of cheese.
Entertainment
We had an acoustic singer to accompany us during our ceremony and post drinks. Then in the evening we had an amazing Ska Band who were so full of energy the whole tent didn't stop dancing for two hours. Music is very important to us so we wanted as much live music as we could.
Stationery
A family member designed and home printed all our stationary as well as designing our wonderful signage we had throughout the farm and during the ceremony.
Personal Touches
The whole site was brought together by a lot of hard work, we had to cut hedges, steam roller the field, dig in power cables and sort water all before we could get to any of the pretty stuff. We luckily have a very skilled family who were able to help carry, lift, paint and clear up. My dad stayed up until all hours of the night programming lights to make sure we danced away the night with a light and sound quality any rock and roll band would be proud of!
On the place cards we listed a song that reminded us of that person and we added all these songs into the playlist during the meal, this was great fun as people jumped up when their song came on and was a great conversation starter for guests that didn't know each other. We also made homemade Limoncello for each table to use for toasts etc. Our favours were homemade teabags filled with locally sourced matcha tea, which is what we drunk when in South America travelling.
We tried to personalise a lot of things even with guests camping pitches marked out with little signs with their names on.
Natasha and best bitches also surprised everyone with a flash mob style dance! Oh and then the inflatable dinosaur (Matt's nickname is TRex) – that got a lot of attention later into the evening as spirits soared!
Special Moments or Highlights
The service was truly bespoke. Liz our celebrant created a fantastic service and we got guests to sing our version of "hymns" = motown songs and distributed tambourines and maracas. We also got family involved asking parents to do readings and grandparents, cousins, brothers to take part in a handfasting, plus our own written vows.
We also chose not to sit with family on a top table and sat in the middle of everyone alone, we enjoyed the whole 15 minutes we got to sit and talk to each other and survey the rest of the room and gloat in the amount of love everywhere! Being able to observe everyone having such a good time will live forever in our memories.
Advice for other couples
Don't worry too much about details, your guests are there to celebrate your love not comment on your choice of plate to eat off. Create something that you would like to do and don't feel you have to go with tradition if this doesn't suit your personalities or beliefs. If you're in a homemade venue such as ours we would recommend an event manager or person you trust to run the day for you making sure that everything is running as you want it too.
Biggest Surprise
The service – it really was so special and personal to us and was only revealed in full on the day itself.
Having our photograph taken….the thing we scared most was actually a whole load of fun! Plus taking footage for the video.
Supplier Shout outs
For more information about Dan's work go to:
www.danhoughphoto.com / 07890 700739 / FACEBOOK /