Happy Tuesday everyone, I hope you are managing to settle into the week now and back into the swing of things after the Christmas break? Yesterday I shared with you my top 25 weddings of 2019 and also the top 10 readers choice, so many amazing weddings to share with you from last year. Today I am kicking off Tuesday with the first real wedding of the year and this superb and super pretty wedding from Maja Tsolo. The first thing I loved about this wedding when it landed in my inbox was the beautiful colour scheme that Imogen and Nathaniel and chosen. The mix of dusky pink, emerald green and golden yellow works perfectly together. I just love their use of the colours throughout the wedding, from the gorgeous table plan, through to the napkins, the paper fan decor and of course the flowers. Imogen and Nat were also lucky enough to hold the whole wedding at Imogen's parents house, which was the absolute perfect location for their day. So relaxed and personal to them. The perfect wedding to kick start 2020 with.
Nothing short of perfect, we will forever remember our day bathed in gold from start to finish.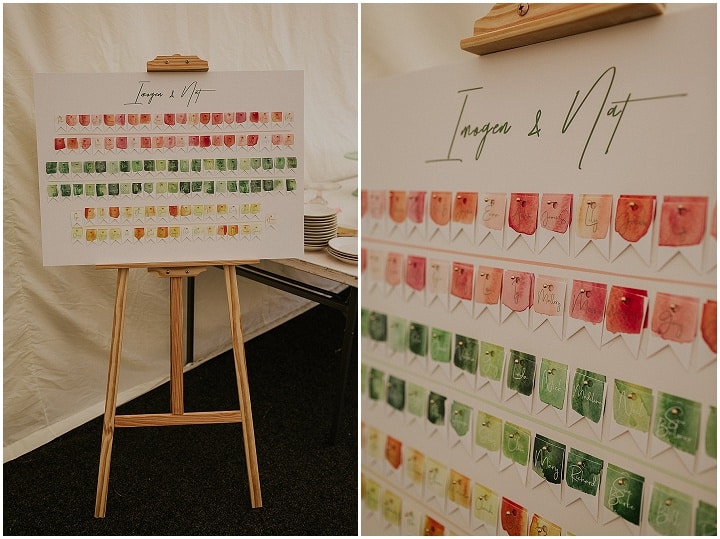 Imogen and Nathaniel were married on 14th September 2019 both the ceremony and reception were held at Nat's parents house in Axminster, Devon. 'We knew we wanted to get married in Devon as there seemed to be many more venues that supported the 'weekend vibe' that we wanted. But we were really struggling to find a venue that ticked every box without costing us a fortune. At the same time as we were looking for a venue Nat's mum and Dad decided to relocate to Devon. They called us to say that the place they had bought would be perfect for 'a big party!'. We went over to look at it with them and we couldn't believe our eyes. It was perfect! Not only as a home but as a wedding venue, it had everything we could ever want. Fields for camping, a barn for dancing, a tennis court for our marquee and an orangery to provide a stunning g back drop for our ceremony. Everything we had dreamed of in a wedding venue was now part of the family and we cannot believe how lucky we were that we got to use it. It will be in the family for many years so we can relive all the amazing memories we have. We had 120 guests and it took 8 to 10 months to plan.'
How they met 
Nat and I met about 8 years ago at Notting hill carnival (though he doesn't remember), he'd come with Seb, my best friend's boyfriend. We then met again a few years later when 4 of us were looking for somewhere to live in East London. We all moved into a warehouse in Hackney Wick (very trendy!!) at the same time as a realised I quite liked Nat. We had a bit of a secret rendezvous and so our relationship began!
The proposal
We got engaged 4 and half years later when we had travelled to a little island off the coast of Tuscany. Nat loves messing about in boats so on our penultimate day we decided to rent a little motor boat and travel round the coast exploring the little bays and beaches that you can only access by boat. I was getting out some food for our lunch when Nat disappeared to the back of the boat, saying 'i'm just sorting something with my camera.'. I turned around and he plopped to one knee and asked me to marry him. My mouth was full with crisps but I managed to splutter out a very excited yes!!
How did you allocate your budget?
We worked out what the most important elements were and decided that we would spend our budget there. i.e Food and booze. Things obviously do add up but we really did stick to the budget that we laid out. It worked for us but we had a generous amount given to us from Imogen's parents in the first place.
Where did you splurge and where did you save?
We tried to save wherever we could but unfortunately we both have quite expensive taste as it turns out. We definitely saved somewhat on the marquee as it was our least favourite element and then I would say that our biggest splurge was the crockery, glassware and cutlery. Imogen wanted it to be perfect and we could only find one company that provided a big enough individual range, Classic Crockery.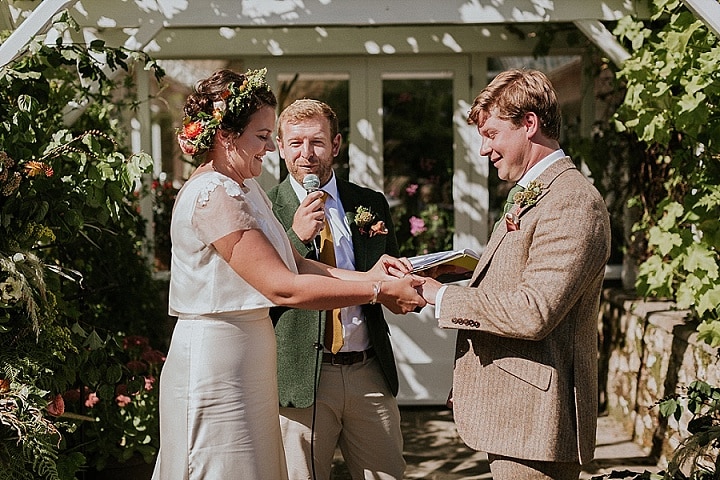 How did you choose your photographer?
I had been following Maja Tsolo on Instagram for a while, admiring her beautiful photos from afar. Once we started to plan the wedding, I got in touch with her and I was absolutely over the moon when I found out she was available and she offered to travel to Axminster from London. We found her incredibly reasonably priced considering how beautiful her shots are and how much experience she has. She was without a doubt one of the best investments we made. She basically became one of the family and took the most stunning photos of our day. We are forever grateful that she was willing to take on our wedding.
The dress 
Dress by Bethany Weatherill, Accessories – bag by Azurina, Sequin cape – Rosa Bloom, cosy jumper – And other Stories, Shoes by Kitty Clogs.
The suit and Bridesmaids
Walker Slater, Groomsmen – Jackets from Asos, Trousers and ties from M&S, Pocket squares from Liberty.
Bridesmaids – Ghost, ASOS, Whistles, KITRI. Yumi
Theme or colour scheme
Yes we had a colour scheme which underpinned basically everything we did. It was a gold yellow, forest/emerald green, dusty very pale pink
Flowers 
All sorts, it was a really mixture of stunning dhalias, a ton of foliage and some amazing late summer, early autumn textures and colours. Emma Whicher from Martha in the Meadow did the flowers and she delivered on every aspect.
Decoration 
We focused on lots of flowers which was the main decoration tbh. However, we also had quite a large paper fan arch in the barn, which was made out of loads of different paper decorations all in our colour palette. My friends built it all the day before the wedding. And we made about 20 festival style flags in the colour palette that we set up around the site.
Food
Canapes: Crab and fermented chilli tacos with nasturtium mayonnaise, Grilled courgette with pickled fennel and feta, Polenta Chips with thyme-marinated Tomato & Basil. Pollack & Red Currant Ceviche.
Sharing boards: A Taste of the Trill Farm Garden with carrot houmous and beetroot borani, Old Dairy air-dried ham, lonza, and salami with pickles, Old Dairy sourdough bread with basil oil and olives.
Main Course: Slow Braised Shoulder of Wellfield Farm Lamb with Preserved Lemon & Thyme, Roasted Leg of Wellfield Farm Lamb with Gremolata, Barley Tabbouleh, Cucumber & Summer Savoury Golden Beetroot Salsa & Tahini Dressing, Roast Tomatoes with French Beans. All made by the incredible Chris Onions at Old Diary Kitchen at Trill Farm
Wedding cake
Me and my two best friends used to have a cake company so the wedding cakes were all made by us. And delicious they were too.
Entertainment
Nat's sister, Cicely put together a Dixxy Land style band for us and it was so special. The most perfect little interlude during the reception on the lawn.
Who supplied the stationery?
Rebecca Brigh, She was the absolute best and catered to our every need. She helped us hone the colour palette and truly brought the day to life.
Personal touches
For the most part we did all of it ourselves and we loved it. We felt very in control of what was going to happen and we had planned every last detail so that it truly reflected us and our relationship.
Nat's Mum and Dad worked tirelessly to help us get ready, there was literally no job too big or small. From removing a section of the tennis court fence so that it was perfectly in line with the marquee entrance, to trimming all the lawns and hedges and ensuring that every part of the venue was safe. Including sectioning off the more dangerous parts of the river with on palette hand made bunting.
Imogen's Mum and Dad were equally as supportive collecting rose petals for confetti, creating an amazing 'old school vibe' Photo Booth with tons of vintage family heirlooms and re-covering loads of directors chairs. Imogen's Dad even made a health and safety report for the entire property so that we knew what needed to happen to make sure every guest was safe at all times.
Nat designed and we hand made over 20 festival style flags. We made all the rose petal confetti and every sign and marker was beautifully hand painted by one of the bridesmaids.
Our friends made a huge paper flower arch in the barn and helped us design all the lights and festoons so that we could light up every part of the venue come night fall. The dessert table was also a massive DIY affair with everyone from Aunties, to mum's, to best friends making and designing cakes and sweet treats to serve!
I also spent months painstakingly choosing crockery and cutlery and designing the wedding breakfast tables. I am so proud of what we achieved and together with the florist and the illustrator we managed to make something absolutely stunning.
We received so much support from friends and family to make and complete everything and we cannot thank them enough. It was magical from start to finish.
Special moments 
Both Nat and I agreed that the day was absolutely perfect but our favourite memory has to be our first dance. We both said how relaxed we felt at that point, as no more was expected of us other than to dance the night away with our friends and family.
We also made sure that we had a few moments just the two of us which was so special. The day being so perfect, it felt utterly surreal that we were finally doing this and it was really good to take a moment together to take stock of the celebration and try and take all the love in.
Another of my favourite memories was revealing to my Auntie that my 'something blue' was an aquamarine brooch that she had given me for my christening. My Auntie hadn't remembered what it was and when I told her she was totally overwhelmed. It was a very emotional moment and one I'll remember for the rest of my life.
Advice for other couples
Do what you want! Don't listen to naggy family members (we were very lucky and no one nagged us!) but there is always such pressure to take advice from other people, at the end of the day it's about you as a couple, no one else! We had the best day because we knew what we wanted out of it. A day to celebrate our love and thank our family and friends for supporting us to become the couple we are today!
Biggest surprise 
How surreal it all feels and how emotionally overwhelming it is to marry the love of your life.
Supplier Shout Outs
For more information on Maja Tsolo Photography go to
www.majatsolo.com / www.majatsolo.com/blog / [email protected] / FACEBOOK / INSTAGRAM / PINTEREST
Maja Tsolo is a London based photographer, travelling across the UK and Europe to capture weddings, elopements and couple sessions. Emotive storytelling is at the heart of her photography and she loves seeking out candid, relaxed moments and beautiful details.