Wedding dress shopping can be a mine field. What sort of dress do you choose for your bridal style? Wedding dress shopping is a popular discussion point in our Boho Weddings Facebook Group, I often get asked where free spirited brides can buy Boho style dresses. Well now, there is a bridal boutique perfect for any Boho loving bride seeking an array of gorgeous bridal gowns. May I introduce you to Bridal Indulgence, a bridal boutique offering a wonderful selection of dresses including designers Savin London, Willowby, Wtoo and Erin Clare. All of these designers have been hand picked to offer Boho brides a great selection of soft, relaxed bridal fashion, while keeping the importance of fashion led designs and edgy offerings. Kerri the owner of the company is hugely passionate about her role and is always on the cutting edge of new designs and hot on her customer service.
With the fashion-forward bride in mind, Bridal Indulgence offers effortless glamour through its luxurious collection of wedding dresses that have been expertly-chosen by bridal boutique owner, Kerri. Throughout the duration of your private appointment you'll receive Kerri's undivided attention and expertise, inside the light and spacious bridal boutique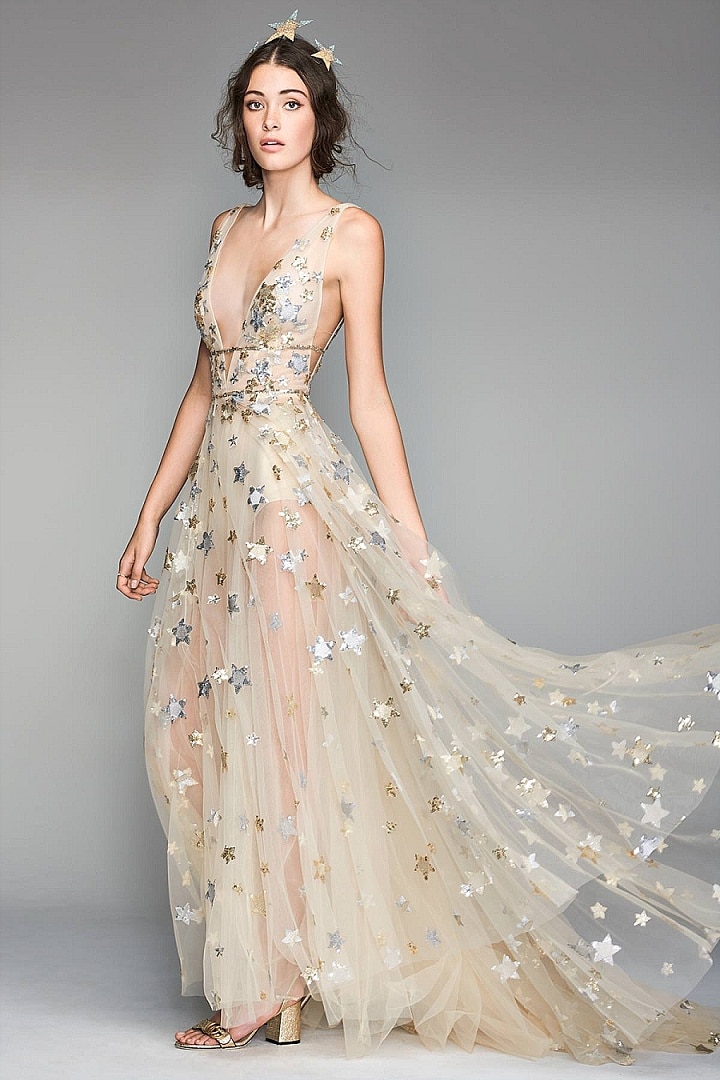 Kerri has been kind enough to answer some questions so you can see if Bridal Indulgence is the bridal boutique for you.
Where are you based And when did you open?
Bridal Indulgence is set in the tranquillity of the English Countryside in Crondall near Farnham in  Surrey. Located in a barn with exposed beams and plenty of natural light, it is a beautiful and relaxing place to find your dream dress.  The doors opened in September 2016.
What were you doing before?
I was worked in PR & Marketing for a number of different fashion brands previously. Whilst studying at university I worked in a bridal shop and loved it.  Opening my own was something I always wanted to do, so when I turned 30 I decided to go for it!
Can you tell me what designers you stock?
I stock Savin London, Willowby, Wtoo and Erin Clare. Savin London is based in London, Willowby and Wtoo in America and Erin Clare in Australia. I love having worldwide designers as it makes for an eclectic mix.
What made you choose these designers?
I've tried to choose an assortment of designers that each have their own unique style and all use beautiful fabrics. Wtoo and Willowby feature a lot of tulle and lace. Savin London uses crepe and beading and Erin Clare a lot of lace and embroidery.  You're in your wedding dress all day so it's really important that all the fabrics are really soft and easy to wear.
What is the price range of the dresses you stock?
Wtoo and Willowby range from £1,000-£2,000 and Savin London and Erin Clare £2,000-£3,5000.
What sort of bride do you feel you attract?
Because of the style of dresses, I attract free spirited brides who are looking for something relaxed and stylish. Their weddings tend to be in barns and vineyards or outdoor weddings in marquees, tipis and gardens.  I also have a lot of destination weddings which my dresses work perfectly for as they are all lightweight and easy to move around in.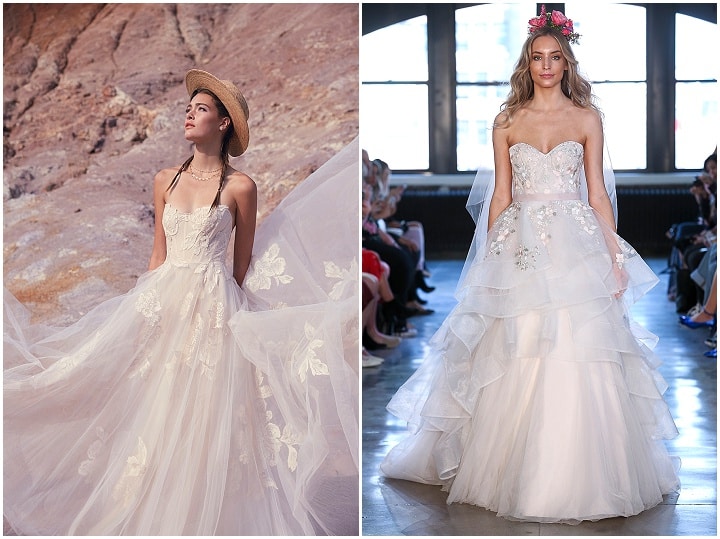 Do you sell anything else other than wedding dresses?
We sell hair accessories by Miranda Tempeton and Alabaster Dream. The collection includes hair vine, combs and pins to complete your bridal look.  We have also launched our own range of bespoke veils which are all handmade at Bridal Indulgence and can be made to match your dress perfectly.  And finally, we offer a personalised embroidery service for veils, denim jackets and many more items.  The embroidered denim jackets are great for you and your bride tribe and make amazing photos!
What makes you different to other dress stores?
We aren't on the high street. Instead we are tucked away in the countryside so it's very private.  Appointments are offered on a one-to-one basis so you will have the shop floor and entire collection of dresses to yourself.  At Bridal Indulgence we also offer in-house alterations in our designated alterations area to ensure that your dress fits perfectly.  Wondering how to have your hair and makeup on the day?  Jen from Lolo & Co has her studio in Bridal Indulgence so you can see your whole bridal look come together.  We often hold hair accessory events for our brides where they can have a complimentary hair trial with Jen who will advise what style will work best with your dress.
What advice would you give a bride when looking for their dream dress?
The most important bit of advice that I can give is to do your research as it can make or break your wedding dress shopping experience. Every bridal boutique is unique catering to different styles, tastes and budgets and so it's important that the boutique you choose to book an appointment at suits your style, taste and budget.  What sort of bride are you?  Traditional? Glamorous? Modern? Bohemian?  Most boutiques will feature which designers they stock on their website to give you a feel of their style along with price range.  There will be nothing more disheartening than visiting a boutique with dresses that don't suit your taste or that are out of your budget.  By choosing a boutique that does, means that you're off to a good start!
Is anything new coming to Bridal Indulgence in 2020?
I am really excited that I have designer Victoria Sanders coming to Bridal Indulgence. When I saw Victoria's collection I fell in love with it immediately as it uses a lot of colour, exquisite fabrics and features jumpsuits!  We are holding a designer day on Saturday 18th January and Victoria will be at Bridal Indulgence showcasing the collection, including some of her brand new designs.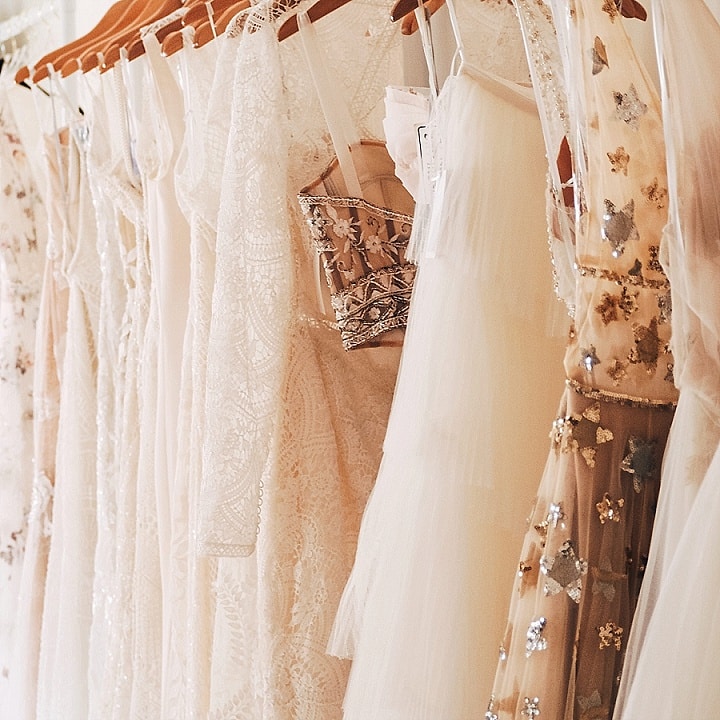 For more information on Bridal Indulgence go to
www.bridalindulgence.co.uk / www.bridalindulgence.co.uk/journal / [email protected] / FACEBOOK / INSTAGRAM / PINTEREST
this is a sponsored post